Industry
Mimaki to showcase versatile solutions at FESPA Eurasia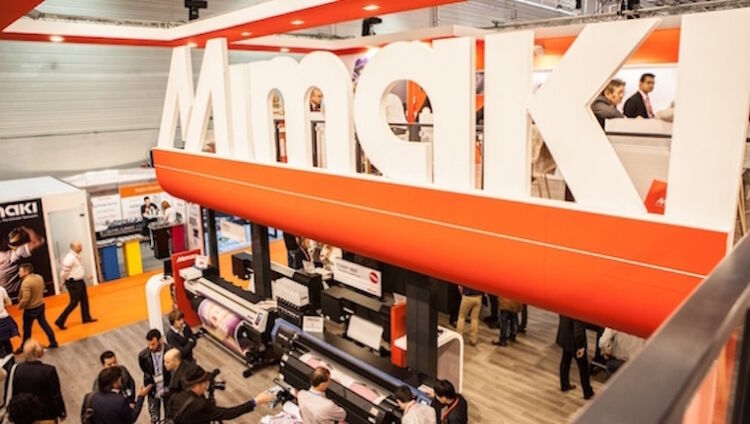 Mimaki is demonstrating for the first time in the region the new UCJV Series at FESPA Eurasia 2017, from 7-10 Deember in Istambul, Turkey.
Mimaki has revealed that it will use FESPA Eurasia this week to demonstrate its new UCJV Series, with the aim of showcasing to visitors how the print-and-cut machines in the range offer users a "versatile" solution to production.
Unveiled earlier this year, the range comprises the UCJV150-160 and UCJV300-160, with the devices featuring a combined function of both printing and cutting mounted with UV-curable ink.
The UCJV300-160 is the faster of the two new models, with the ability to print at speeds of up to 25.8sq m/hr at a top resolution of 1200dpi. The machine can also offer four-layers print and can run with new, environmentally-friendly UV inks LUS-170 and LUS-175.
Meanwhile, the UCJV150-160 can reach a top speed of 13.4sq m/hr and boasts many of the same features as its sister machine, including productive cutting functions such as new option 'ID Cut', which Mimaki said helps to improve the overall efficiency of work.
This option features on the updated RasterLink6 plus software, which Mimaki has billed as a "feature-rich" version of its RasterLink RIP product. As well as ID Cut, RasterLink6 plus offers FineCut plug-in for Adobe Illustrator, allowing a print preview for four-layer printing so that operators can preview the transition day and night effect before printing.
Features on the UCJV300-160 also include four-layer day/night printing, which Mimaki said enables designers to build layered graphics for backlit applications.
John de la Roche, national sales manager at Mimaki's exclusive UK distributor Hybrid Services, said: "This process gives print companies the opportunity to offer a unique product. It's possible to produce a dynamic graphic that morphs its image or colour scheme depending on the light source.
"This is a distinctive capability that enables print companies to produce high impact, high margin output while maintaining low operational costs and reduced production time."
The manufacturer said the integrated cutting functionality on the printers enables users to create applications including labels, decals, window clings, floor graphics, POP displays, vehicle markings, packaging and prototypes in a single unit.
Additionally, the UV ink technology is said to prevent problems such as film separation and other issues related to post-cutting that can occur with solvent and latex inks. Prints are instantly cured, eliminating drying times or outgassing.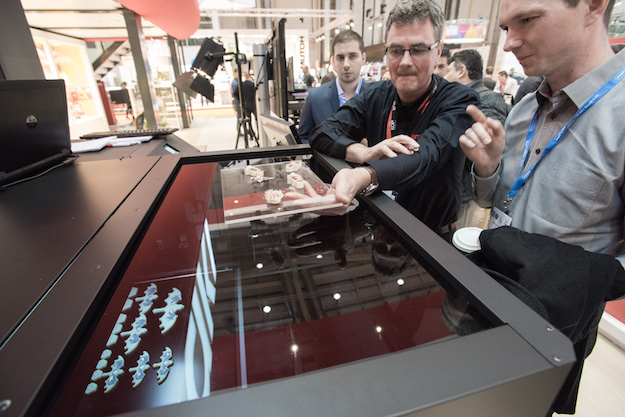 According to Mimaki its new device is the world's first 3D printer with more than 10 million colours. It'll be on display at FESPA Eurasia 2017
Aside from the UCJV Series, visitors to Mimaki Eurasia on Stands D20 and D30 this week will have the opportunity to view the new Mimaki 3DUJ-553, which the manufacturer has billed a the world's first 3D printer that can offer more than 10 million colours and UV-curable inkjet printing.
Detailing the new machine, Mimaki said: "The 3D printer market growth continues to spread globally upon commencing from North America and Europe and its application is mainly entered in manufacturing industry and then penetrating to education, construction and medical business segment.
"The 3D printer has achieved the full colour modelling with the capability of world-first over 10 million colours based on our developed technology of 2D inkjet printers of professionals use.
"We will propose a new business utilising 3DUJ-553 as its having rich colour expression is better suited to create a final product such as real object sign or building model, of which an extra colouring has been difficult after the completion of modelling."
FESPA Eurasia will take place from December 7-10 at the CNR Expo in Istanbul, Turkey. To find out more about the show and register to attend, visit the official event website here. Don't forget to use the promotional code: EURH717 for free entry.
Interested in joining our community?
Enquire today about joining your local FESPA Association or FESPA Direct