Industry
Mimaki to have largest ever presence at the Global Print Expo 2019
Mimaki will exhibit at the Global Print Expo 2019 with its largest ever FESPA booth and will launch new feature-rich products to drive customer differentiation and profitability.
Mimaki Europe, a leading manufacturer of inkjet printers and cutting systems, today announces that it will host visitors to FESPA Global Print Expo 2019 (Munich, Germany – 14-17 May 2019) on its largest ever FESPA booth. The company's increase in stand size reflects not only Mimaki's broad portfolio offering, but also its international growth, market leading position and commitment to customer success. Mimaki will also use the show platform to launch new feature-rich products to drive customer differentiation and profitability.

The Mimaki booth (stand B6-A30) will encompass four key business areas – Sign Graphics; Industrial Products; Textiles and 3D. In a celebration of application diversity, the Mimaki stand will demonstrate how customers can leverage its cutting-edge inkjet technology to deliver increased revenue and address new markets with new application opportunities.

"By showing the smartest portfolio of cutting-edge technologies at our largest FESPA ever, we aim to demonstrate our clear commitment to the industry. In part, this is enabled by some of Mimaki's key business strengths – our flexibility and R&D expertise. Unlike some of our competitors, we're able to adapt quickly to market changes and customer opportunities to deliver constant system improvements or brand-new innovations," comments Danna Drion, Marketing Manager, Mimaki EMEA.

"We head to FESPA 2019 with a product portfolio that epitomises this capability. In addition, we will use the show to educate the market – showing a wide range of successful and profitable applications enabled by our printing solutions, driving increased customer revenue," says Drion.
Sign Graphics
Mimaki will showcase its flagship UV LED and eco-solvent roll-to-roll printing systems, providing versatile, reliable and high-quality print and cut capabilities for sign graphics applications. Ranging from entry level to high-productivity printers, these solutions are designed to enable print service providers to 'print and profit' using Mimaki technology.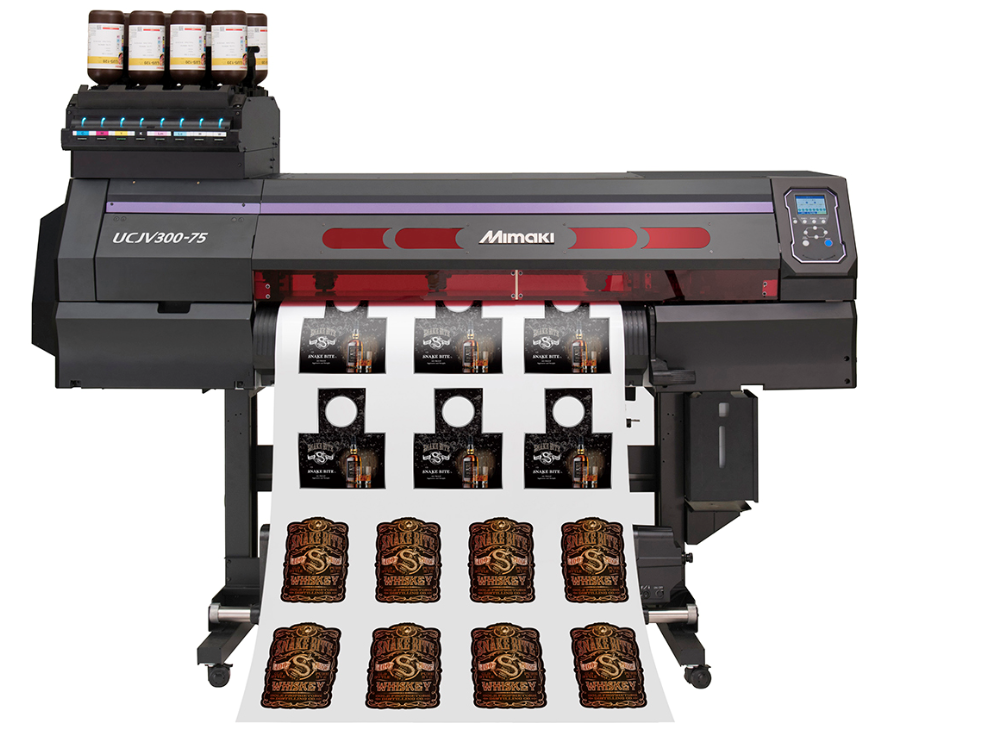 Caption: The award-winning UCJV300 integrated printer-cutter will be present alongside Mimaki's flagship solvent and UV printers.

Mimaki UCJV300-75: An award-winning UV integrated printer/cutter, featuring white ink capability. Uniquely enabling four-layer printing, this system is ideal for creating transformative graphics for backlit applications. Also exclusive to Mimaki – five-layer printing allows different designs to be printed on both sides of a substrate simultaneously, perfect for transparent film applications. The smallest model of Mimaki's versatile UCJV300 series, it also features Greenguard Gold certified LUS-170 inks.

Mimaki CJV150-160: An entry-level eco-solvent integrated printer/cutter, offering high performance, versatility and richness in colour. Equipped with vibrant ink types including silver, orange and light black, it delivers a cost-effective solution for sign makers, display graphics professionals and printshops.

Mimaki JV300-160: A next-generation eco-solvent/sublimation printer, the JV300-160 sets a new benchmark for professional wide format printers. Offering the unrivalled versatility of multiple ink types (namely, orange and light black), it delivers photo-quality prints at outstanding speeds (up to 105.9m2 per hour in super-draft mode). Altogether making the JV300-160 the ideal solution for sign and graphics professionals, sportswear and fashion manufacturers, as well as print shops.

Mimaki UJV55-320: This 3.2m-wide LED UV inkjet printer uniquely combines high quality, super wide output and high-volume production (up to 110m2 per hour). White ink, transparent media capability, as well as twin-roll simultaneous printing, are among the features that make the UJV55-320 ideal for producing banners, retail, exhibition and window graphics and similar applications.
Industrial Products
For the industrial market, Mimaki will showcase three of its flatbed direct-to-shape UV LED digital printers from the UJF Series – the Mimaki UJF-7151plus, the Mimaki UJF-3042 MkII and the Mimaki UJF-6042 MkII.

Offering print sizes from 710mm x 510mm to A3 and A2, and substrates up to 153mm thick, Mimaki's UJF portfolio is designed specifically for the promotional products market. Visitors at the booth will be inspired by a wide range of creative promotional products in various materials, demonstrating how advanced digital printing enables value-adding and profit-driving personalisation and versioning capabilities.
Textiles
Central to Mimaki's textile showcase at FESPA is the company's latest dye sublimation printer – the Mimaki TS55-1800. Offering continuous operation and an unprecedented price-quality ratio, this business-enhancing printer addresses the entry and mid-level markets and is designed for users that demand high productivity and high-quality print with vibrant colours and vivid imagery. Equipped with Mimaki's core technologies, such as MAPS, NCU and NRS, it prints with the new Sb610 inks, that hold the coveted ECO PASSPORT by OEKO-TEX® certification, meeting specific sustainability requirements. The TS55-1800 is suitable for interior fabrics, sports and fashion apparel, flags and tapestries.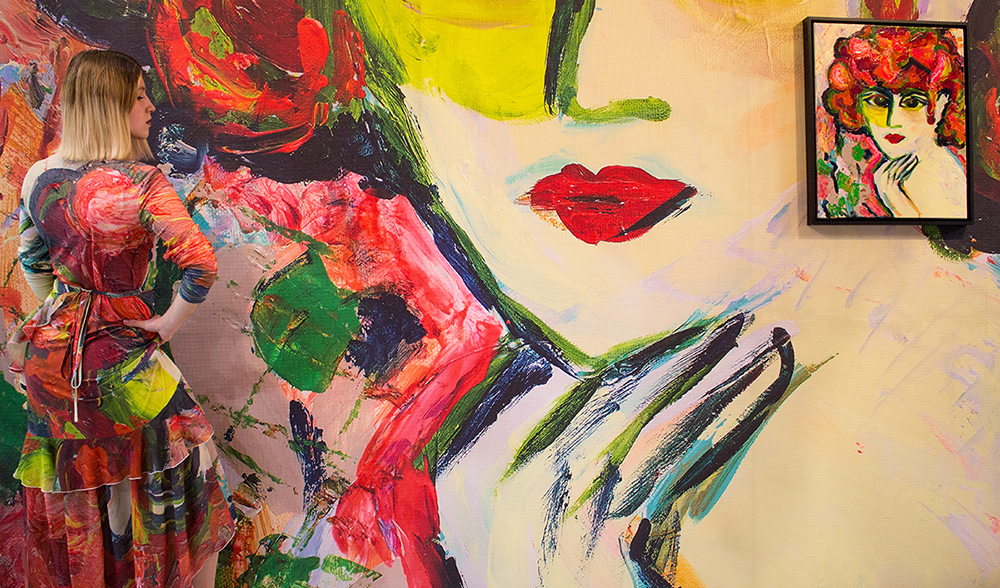 Caption: Mimaki's print capabilities across various segments, from sign graphics to textile and apparel, will be demonstrated at FESPA.

A Gold Sponsor of FESPA Global Print Expo, Mimaki will also be a key participant in FESPA's special textile feature 'Print Make Wear'.
3D
Mimaki will 'shape the future in colour' with its advanced colour additive manufacturing technology. The Mimaki 3DUJ-553 is recognised as the first ever polymer 3D printing system enabling more than 10 million different colours. Using CMYK with white and clear inks, it produces photo-realistic products, with rich colour expression including spot colour, shades and gradients, as well as special effects, such as full transparency and semi-transparent colour.

Visitors to the Mimaki booth will see the 3DUJ-553 3D printer running live and delivering objects with super fine details and smooth surfaces. Mimaki's 3D printer is ideal for such applications as scaled models, mock-ups and prototyping through to 3D art, figurines, as well as medical and educational tools and equipment.

FESPA Global Print Expo 2019 is Europe's largest specialty print exhibition for screen and digital wide format print, textile printing and signage solutions. It will take place at the Messe Munich between the 14-17 May. Visit Mimaki Europe at stand A30 in hall B6. Please use promo code FESG902 to register for free.

Interested in joining our community?
Enquire today about joining your local FESPA Association or FESPA Direct