Industry
Mimaki sets to inspire digital print heroes at FESPA Digital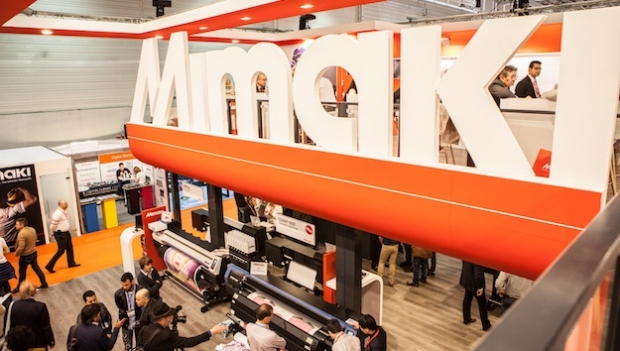 Located in Hall 1, Stand E15, Mimaki's exhibit will be one of the first that visitors to the show will experience, and it will not disappoint.
At this year's FESPA Digital, Mimaki will showcase its TS300P-1800 wide-format printer, a dye sublimation inkjet machine for apparel and textile applications that was launched last year.
The firm has recently expanded its sublimation ink range with light black, neon yellow and pink fluorescent inks, which will expand apparel production possibilities for users and increase the versatility of the TS300P-1800 printer.
"These new spot colours can add real value to fashion and sportswear," says Stephen Woodall, National Sales manager for textile and apparel at Mimaki's UK and Irish distributor, Hybrid Services Ltd.
"The new light black improves the already high print quality, enhancing photographic images and gradations even further. Alongside the fluorescent pink and yellow inks, users now really have the capability to create highly unique garments."
Woodall concludes; "The fluorescent samples we have produced on the Mimaki TS300P-1800 are spectacular, so we anticipate that combining this with the new light black will deliver even more eye-catching output. We look forward to demonstrating this to visitors to FESPA Digital in March."
The business has also unveiled the super-wide format TS500P-3200 inkjet printer, a dedicated transfer paper printer for the textile industry, with applications including home furnishing textiles and indoor soft signage.
"At FESPA Digital, we will be showing our broad portfolio of printing and cutting systems," says Mike Horsten, General Manager Marketing EMEA at Mimaki Europe.
"And you can also expect to see some surprises in the form of new product announcements. Visitors will see real-world examples of the innovative applications Mimaki systems can create in both signs & display graphics, as well as digital textile printing and garment decoration."
"In line with the superheroes theme of the show, be sure to look for the superheroes portrayed in our samples, which visitors will be able to take away with them."
"We are again sponsoring the Wrap Masters competition, and we will be wrapping a vintage Audi at our stand as part of the final competition! We also invite visitors to relax in our Coffee Corner with refreshments and good conversation. FESPA Digital is always an exciting show, and we expect it to be so again this year."
Wrap Masters competition: Crowning a superhero
Mimaki and Avery Dennison are joining forces as sponsors of the World Wrap Masters competition, which will run across the four days of the show.
On 8-9 March, the competition begins with the FESPA European Wrap Masters competition, where wrappers will battle it out to participate in the World Wrap Masters Series Final on 10-11 March, where the European Wrap Master will join winners from South Africa, Mexico, Denmark, Eurasia, Brazil, Ireland and France, who have already qualified.
Series finalists will compete to become FESPA World Wrap Master 2016 by wrapping Audi A1 Sportback vehicles using materials printed by Mimaki, as well as more challenging items, including clogs and a superhero-related item. This annual competition is an event that show's visitors will not want to miss.
Digital Textile Conference
The one-day Digital Textile Conference being held on 8 March in conjunction with FESPA Digital 2016 will feature an international line-up of digital textile printing experts, including Mike Horsten.He will be speaking at 15:30 on the hot topic of Digital Print in Fast Fashion.
"We had great success at Heimtextil in January with our full line-up of solutions that make it easy for visitors to expand their digital textile printing capabilities or implement new ones, printing vibrant, durable colours on a broad range of materials. We are pleased to be bringing these solutions to the FESPA Digital audience as well," Horsten added.
Inspiration for a profitable future
"With our full portfolio of current and brand-new products showcased at the Mimaki stand,there will be no lack of inspiration. We believe that visitors to our booth will leave the show with several new ideas that will make their businesses more profitable in the future, and we look forward to talking with them to learn how we can help even more," Horsten concludes.
Interested in joining our community?
Enquire today about joining your local FESPA Association or FESPA Direct