Industry
Mimaki presents new 3D printer at FESPA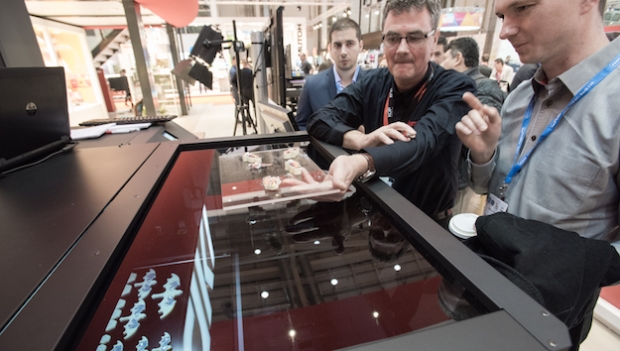 Mimaki announced the first details of its new 3D inkjet machine at FESPA 2017 last week, due to be commercially available by the end of this year.
The machine, which was announced at FESPA 2017, is still in prototype stage and is being called the 3DUJ-P for the moment.
Mimaki describes the 3DUJ-P as the "world's first full-colour modelling machine", offering up to 10 million colours.
It uses high-definition modelling based on Mimaki's advanced UV inkjet technology and prints at a maximum modelling size of 500x500x300mm. It can achieve 84% of the Fogra 39L Colour gamut and prints using water-resistant acrylic resin modelling material, with a strength equivalent to ABS.
3D objects are created through repeated curing, layer by layer, with the ink and supporting material being ejected simultaneously.
"We are proud to announce that this is the world's first full-colour model, offering up to 10 million colours," said Mimaki Europe managing director Yuji Ikeda to PrintWeek, who was appointed to the role on 1 April 2017.
"The markets are growing and this is just the first 3D machine we would like to run with. From our side listening to the market and from other continents there are possibilities with our 3D printer, for example outdoor signage, product prototypes, mock-ups and modelling."
In standard mode, the machine can print five "pieces" in around 10 hours, but it also runs in high-definition and high-speed modes.
Mimaki president Kazuaki Ikeda said that this was the biggest ever FESPA for Mimaki, and also announced a €1bn sales target for the end of the next financial year, with €400m targeted for Mimaki EMEA.
The Japanese-headquartered manufacturer is also launching the latest in its UJF range, its UJF-3042 MKII EX, along with its new TS30-1300 sublimation transfer inkjet printer.
The UJF-3042 MKII EX UV-curable flatbed joins a number of machines in the UJF range. While running at the same speed as the UJF-3042 (2.48sqm/hr), which was launched last year, it has two extra ink channels with additional printheads to load varnish, white ink and primer.
The 1.3m-wide roll-to-roll TS30 is intended for low-volume runs, targeted at clothing and apparel companies looking for a simple dye sublimation printer. It prints at up to 20sqm/hr and can print full-colour images on polyester fabrics, including on bags, scarves and socks, along with mugs and glasses.
Mimaki will also show its TX300P-1800 direct-to-textile printer, which recently had a module added to simultaneously load textile pigment and dye-sub inks, along with its Tiger-1800B high-speed direct-to-textile machine. The machines are available in the UK from exclusive Mimaki distributor Hybrid.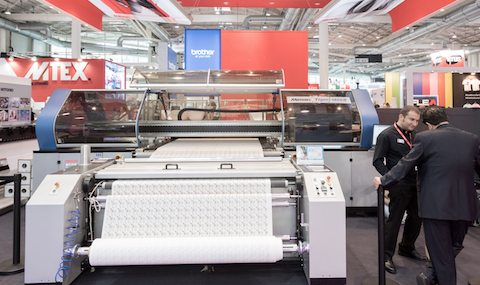 The Tiger-1800B has a maximum print speed of 385sqm/hr
Hybrid UK national sales manager John de la Roche said the price of the TS30 will be "very competitive" and "may surprise a few people".
"For Mimaki to be showing three different textile machines aimed at totally different markets shows our commitment to the industry," said de la Roche.
"FESPA is an important show for Hybrid and we will be supporting Mimaki and looking forward to seeing the British and Irish visitors that will be travelling to Hamburg."
Miss any of the action from FESPA 2017? Catch up here with full show coverage.
Interested in joining our community?
Enquire today about joining your local FESPA Association or FESPA Direct