Industry
Mimaki launches new direct-to-object LED UV printer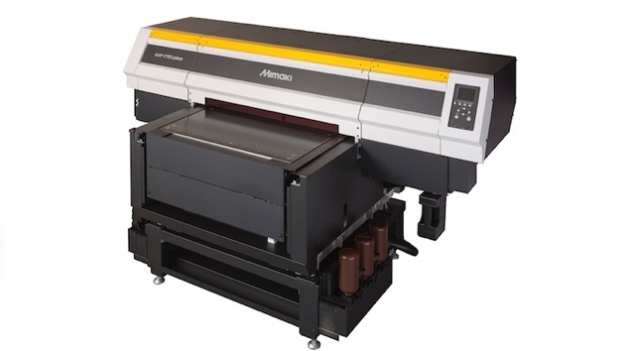 Mimaki has extended its UJF small flatbed range with the launch of the UJF-7151 plus direct-to-shape printer.
Being marketed as an industrial, small-format printing solution for the screen printing industry, this direct-to-object LED UV printer is said to deliver fine lines, edges and small text and enable double-layer printing and colour printing on a white base layer.
The model features a maximum workable area of 710 x 510 mm and is capable to run at the maximum speed of 3.3 sq m/h producing 600 x 600 dpi.
The daily operation is enhanced by the patented MFD1 dithering technology that processes image data along with retaining the original image quality and the highly improved quality control MAPS4 that reduces banding and uneven colour printing.
Uninterrupted printing and reduced waste is aided by new printheads that incorporate a continuous ink circulation system to help prevent ink sedimentation and clogged nozzles and a nozzle check unit (NCU) that automatically detects and cleans the clogged nozzles.
FESPA spoke to Mike Horsten, General Manager Marketing EMEA at Mimaki Europe, about the new product launch.
"From the beginning, Mimaki has been a leader in the development of inkjet printers. In comparison to conventional analogue printing, recently, there has been a growing demand for digital, on-demand, and plate-less inkjet printing because of its ability to quickly provide high-mix and low-volume printing."

"That's why we launched the UJF-7151 plus as the industrial small format UV Inkjet flatbed printer. Direct to shape, you cannot escape it. JIT delivery schedules combined with tailored branding request at a low cost requires a direct to shape printer that will be able to accommodate that request. The UJF-7151 plus is the best digital on-demand printing solution for the screen printing industry."

"The UJF-7151 plus is a high performance UV Inkjet printer that enables high-precision ink dot placement and beautiful printing through Mimaki's proprietary technology and top-level productivity. It's perfect to print gifts and novelties, packaging, cards, industrial print, proofs and mock-ups. The market is growing – we're keeping our finger on the pulse to deliver the solutions it needs."
Having advanced knowledge and the expertise in UV printing technology, Mimaki's range of UV inkjet printers provides quality and versatility, opening up several business opportunities for printers. The first model of the UJF-3042 was launched for the first time in 2010 with much success, as the first affordable UV entry level machine of it's kind.
Key features include:
Mechanical structure for high-precision printing

Superior print-image quality control technology

Mimaki Advanced Pass System 4 (MAPS4) that reduces banding and uneven colour printing with blurred boundaries

Mimaki Fine Diffusion 1 (MFD1) that reduces noise due to dithering through hybrid processing of patterns

Maximum 3.3 m2/h productivity delivered via six staggered printheads increases the printing speed and achieves top-level productivity

Uninterrupted printing as a result of high-stability printing through an ink-circulating mechanism within the head.

NCU that automatically detects and recovers clogged nozzles by cleaning them, thus reducing waste.

Reliable operating support package (NRS) that ensures maximum uptime
According to the company the UJF-7151 plus will be available from November 2015.
Stuart Cole, National Sales Manager at Mimaki's exclusive UK distributor, Hybrid Services Ltd, welsomes the addition to the range. "The UJF-7151 plus offers a unique solution that combines peerless print quality with excellent productivity. Its distinctive size, industrial design (including the larger 1 litre ink bottles) along with cutting edge features set it apart and we're very confident of a strong initial uptake."
Interested in joining our community?
Enquire today about joining your local FESPA Association or FESPA Direct