Industry
Mimaki launches hybrid TX300P-1800 range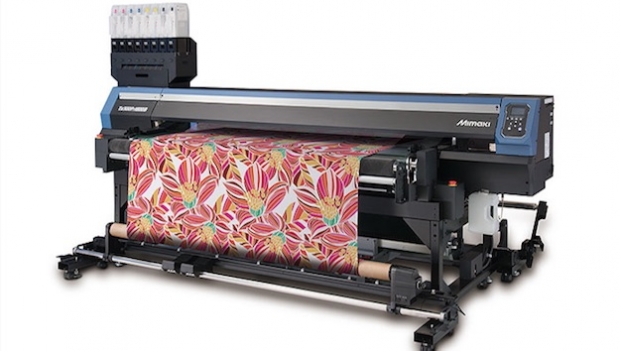 The Tx300P-1800 and Tx300P-1800B direct-to-textile printers have been updated to simultaneously load both textile pigment and sublimation dye inks for flexible textile printing.
This enables the use of a single printer to print directly on a wide range of textiles without the need to change out ink systems. The company said this new technology, that wasn't possible until now, is a breakthrough that will improve productivity and increase flexibility for these Mimaki textile printers
"Recently, in the textile and apparel markets, quick deliveries and short, customised production are becoming increasingly important. This new system is specifically designed to address this need for cost-effective short run printing of textiles for products or samples," said Mimaki Europe general manager Ronald van den Broek.
"It means that producers can switch fabric types quickly and easily, selecting the appropriate ink system for each fabric. And these inks do not require usage of water or steaming in the post-treatment process, making them environmentally sustainable as well."
Mimaki offers five different ink types for textile printing, including sublimation dye ink, dispersion dye ink, textile pigment ink, reactive dye ink and acid dye ink. In the normal course of operation, one ink per printer must be selected. But now textile producers will be able to use the two most popular ink types in one single printer.
The Tx300P-1800 and Tx300P-1800B direct-to-textile printers will be able to simultaneously load TP400 textile pigment ink for cotton and hemp materials as well as Sb420 sublimation dye ink for polyester material whithout changing inksets for each run.
Since neither ink type generally requires steaming or washing in the post-treatment process, there is no need for a large space, a huge quantity of water, or special expertise in handling the printed fabric.
All that is required is the printer and colour fixing equipment, making these entry-level printers suitable for use by designers, fabric workshops, and educational and research institutions.
"We are very excited about this breakthrough," van den Broek added. "We understand the need for an affordable printer with a compact footprint for these users, and we moved swiftly to address this need with a very unique approach."
"As digital textile printing continues to gain traction, placing these printers in design and educational environments will help educate more people about the possibilities presented by on-demand printing of textiles and spur further demand for digitally printed textiles."
The hybrid ink system for the Tx300P-1800 and Tx300P-1800B direct-to-textile printers will be commercially available in summer 2017.
Industry members that are keen to learn more about this new update, as well as the many other solutions on offer from Mimaki, can visit the manufacturer at FESPA 2017. Taking place from May 8-12 at the Hamburg Messe, in Hamburg, Germany, the exhibition will play host to many major brands from across the global market.
Mimaki is just one of a host of industry heavyweights that will be in attendance at FESPA 2017, with visitors able to find the company at booth A25 in the sold-out Hall A1, alongside the likes of HP, Canon, Esko, Mutoh, Epson, 3M, Grafityp and Hexis.
For more information on FESPA 2017, the companies that will exhibit and to sign up to attend as a visitor, please visit: www.fespa2017.com. Delegates can save 70€ entry fee to the exhibition by registering via the website and quoting reference code: FESG702.
Interested in joining our community?
Enquire today about joining your local FESPA Association or FESPA Direct