Industry
Mimaki and YPS helping HEAROES to break down the stigma of children's hearing products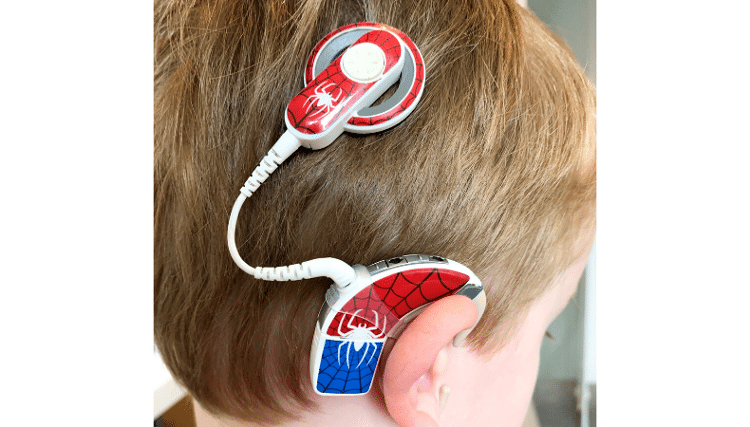 HEAROES is an independent family run business that creates unique and personalised skins and accessories for hearing equipment, particularly for children. The company has recently acquired a Mimaki CJV150-75 integrated print and cut machine and Vivid Laminator from Newcastle based reseller, Your Print Specialists (YPS). The new equipment has helped HEAROES meet the ever-increasing demand for their products and allows them to grow the business even further.
Marc Murray and Carly Duffield, co-founders of HEAROES, wanted to find a way of personalising hearing products in order to help remove the stigma around them, particularly for children. "We have two sons who are profoundly deaf and when our second son was diagnosed, we wanted to personalise their devices and make them special to them. They wear Cochlear Implants, which have an external device and typically they only come in a limited range of plain colours. We wanted them to be able to choose how their processors looked so we could encourage them, and others, to be proud of them."
For his first three years, their older son wore his Cochlear implants undecorated. "We became aware that there were skins to decorate them, but they were only available from the US and Poland. By the time they were bought and shipped it was pretty expensive. I decided to employ my graphic design skills to come up with a home-made solution, based on his then love of all things Captain America. With just a standard desktop printer and a hobbyist cutter, I managed to make some new skins for him and I'm delighted to say he loved them!"
Testing the Market
It was such a revelation to see his son embracing his new-look device, Marc decided to set up a web site to dip his toe in the market to see if others would be interested. "I wasn't really expecting to get more than handful of orders per month and was shocked when we received 250 orders within 24 hours. Those first few days I was flat out making the skins, but we had clearly hit on something that people really wanted."
HEAROES is about more than simply creating something that looks better. The standard NHS prescription devices are very dull and uninspiring, which doesn't help parents who are encouraging their children to wear them. HEAROES is about raising self-esteem and encouraging children, and adults alike, to be proud of their equipment.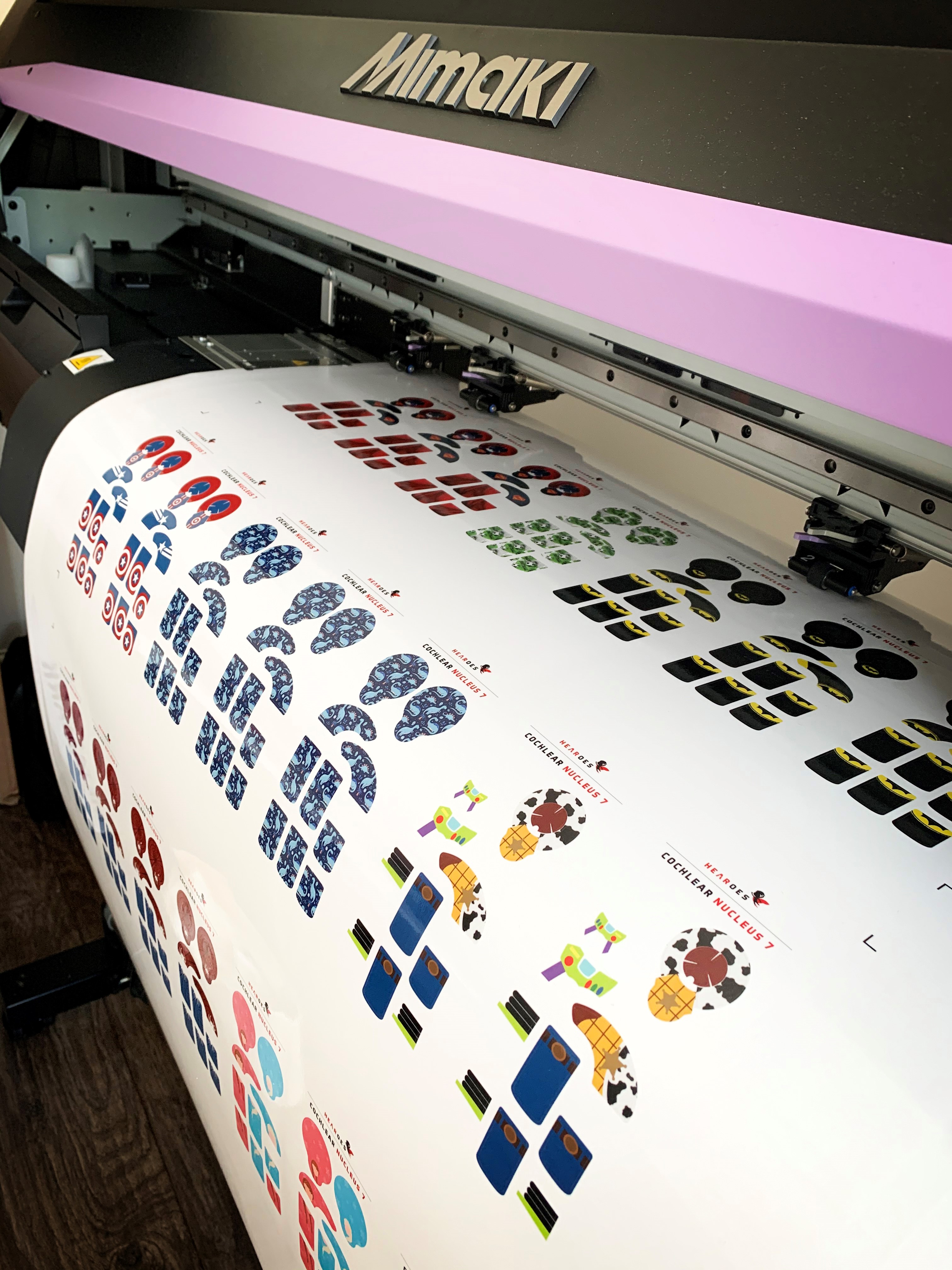 Marc explains, "The HEAROES skins create a feeling of familiarity and acceptance for the children and this is backed up by my own experience and the feedback I have had from parents. Many have said that other children in the classroom, when they see the devices with the latest cool images or funky colours say 'Wow, I want those' rather than ask what they are or why they have to wear them. This is so important for the children themselves to help them feel better about their devices and simply accept them as a normal part of their lives. Being able to make them look how they want can be the vital difference between a child wanting to wear them or not."
Meeting Increased Demand
Having seen the number of orders far exceed expectations, Marc decided to look around for better equipment to help them cope. "I did some research and found YPS based nearby and gave them a call. We had a good chat and they were able to offer some very sensible and valuable advice. We weren't quite ready at that time, but a couple of months later I was back in touch and we agreed to purchase the Mimaki CJV150-75 print and cut machine."
He continues, "I was printing the skins using an A4 printer and then cutting them out one at a time. It was very time consuming and had become unsustainable for the demand we were getting. Orders were stacking up both for the UK and all around the world. With the Mimaki we were able to print more stickers at a time and could set it to automatically cut them out. Also, having an integrated machine meant a significant space-saving, which was vital as we were still running from our spare room."
Having agreed on the printer, Marc then worked very closely with YPS to find the right media. "I can't thank YPS enough for their patience and support, particularly Lauren on the consumables side. Finding the best media was very important and they worked with us all the way to make sure we found what we needed. We wanted a sticker that was very tacky, but also able to be removed without leaving any residue. This was important because tastes change and we didn't want children to be stuck with an image that no longer met the 'cool' criteria."
Garry Brown, Managing Director of YPS, says, "I was completely blown away by what Marc was doing with HEAROES. It was such a simple product idea, but one that would clearly have a very positive effect for very many children and their families. We were more than happy to work very closely with Marc to find the best possible solution and we are delighted that the company continues to go from strength to strength and has now supplied thousands of stickers for children around the world."
HEAROES has now added a Vivid Laminator to the workflow process. "The hearing products go through a fair bit of wear and tear and by laminating the stickers we have improved the skins meaning that they are more robust, waterproof and last longer. It is an extra process, but definitely worth it as the look and quality of the product is all-important. The Vivid laminator is an excellent product and very easy to use. The whole system now works really well and we can now design and produce stickers at a level I never expected when we started."
In June 2020, HEAROES entered its second year of trading and was into the thousands in terms of products sold, with numbers steadily increasing, even through the lockdown. Marc Murray concludes, "We are really happy with how the company has developed and the way that YPS has worked with us to provide a print, laminate and cut solution that perfectly fits our business. We now have the capability and scale to grow the business further and this means helping thousands more children personalise their hearing devices, making them proud to wear them and, ultimately, improving their quality of life."
Interested in joining our community?
Enquire today about joining your local FESPA Association or FESPA Direct