Industry
MHM reveals DTG focus for FESPA 2017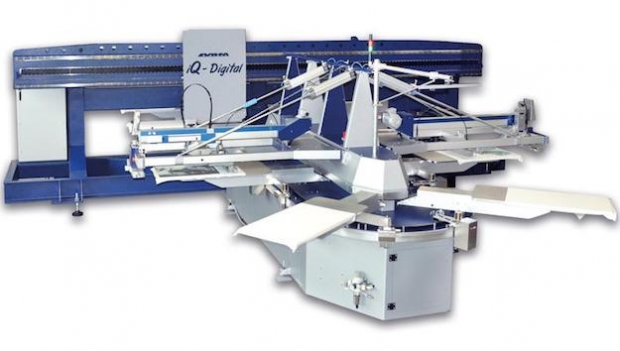 MHM has said it will use its presence at FESPA 2017 to show its solutions for the direct-to-garment printing, with a key focus on the iQ Oval Digital and ArioPrint.
The iQ Digital is a hybrid digital/screen printing machine that MHM said is the only machine of its kind that can compete in both fields. The machine is able to produce up to 1,100 shirts per hour.
"With the new MHM iQ Digital, you enter a new world with unlimited options and costs per piece," MHM said. "For the first time a digital solution will be presented, which is also productive for the industrial sector.
Also on display at FESPA 2017 will be ArioPrint, which developed by Arioli, is a digital textile printing machine that has a maximum print width of 2,000mm. In maximum resolution mode of 1,200 x 1,200 dpi, the ArioPrint can operate at speeds of up to 122sq m/hr, and when in the top speed mode of 1,000sq m/hr, the press can still produce output at qualities of 300 x 300dpi.
Thomas Fröhlich, procurator general manager at MHM, said: "I am proud, that MHM with our partners Arioli Digital and Tesoma are a main exhibitor at FESPA 2017.
"The requirements of the market increase rapidly and are higher than the years before. Therefore it is more important to create active partnerships and use collective core capabilities. Arioli Digital and MHM Screenprinting have used their Know-How together to create something unique: The iQ Digital and the ArioPrint."
MHM will be based in Stand A22 in Hall A4 of the show next month and Fröhlich is hoping that the company's presence at a major show like FESPA 2017 will help to kick-start sales of the iQ-Digital, following the initial release of a demo version last year.
"FESPA is also the kick off for sales and to make reservations for the new iQ-Digital," Fröhlich said. No matter if only digital or combined with screen print, industry standard production rates are now possible, and don't remain a dream.
"With our worldwide network and partners in sales and technical service we act global and use the regional know how and excellent skills of our employees in Austria. They are part of MHM since many years and one key factor for the big success in the last years."
Industry members that are keen to learn more about the latest printing solutions from MHM can visit the manufacturer on the stand A22 in the Hall A4 at FESPA 2017.
Taking place from May 8-12 at the Hamburg Messe, in Hamburg, Germany, the exhibition will play host to many major brands from across the global market.
To learn more about other companies that will exhibit at the show, as well as the conference programme and various other in-show features at this year's event, visit the official FESPA 2017 website: www.fespa2017.com

Interested in joining our community?
Enquire today about joining your local FESPA Association or FESPA Direct