Industry
Marabu to unveil new range of printing inks at FESPA 2017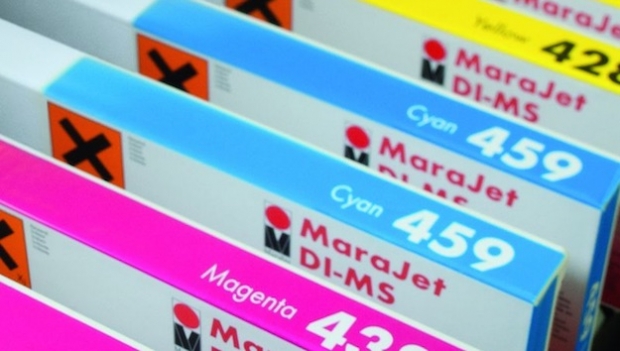 Ink manufacturer Marabu is set to present its latest range of inks for screen, digital and pad printing at FESPA 2017, from May 8-12 at the Hamburg Messe, Germany.
Following this year's FESPA slogan 'Dare to Print Different', Marabu will be taking part by presenting a completely new range of inks.
This includes advancements in ink technology for the efficient production of touch screens, and as well as recent additions to its portfolio, such as the Mara Jet DI-SX and DI-MS digital ink lines.
A further highlight is the brand-new Ultra Pack UVFP system for screen printing, a UV-curable, low-migration system for food packaging. There is also a pioneering product for pad printing: Tampa Tex TPX, with a remarkable range of applications.
Touch screens and pads are now found in many scenarios, including harsh industrial environments, high-tech healthcare, and consumer electronics. But no matter where they are deployed, the inks used to print on them must fulfill high standards.
For membrane switches, the company recommends the use of a combination of screen and digital printing, exploiting the advantages of both methods. In this instance, the PET material used to make the switch is decorated by digital printing using the Ultra Jet DUV-A ink system – which is also compatible with screen printing.
This approach accelerates printer set-up, and enables short production runs and customization of the individual switches for each print job.
A highly user-friendly eco-solvent-based white has been added to the range of shades available for the Mara Jet DI-SX and Mara Jet DI-MS ink systems. Both lines are fully compatible and combinable with original Roland Eco-Sol Max 3 inks.
"At FESPA 2017, we will be showcasing two completely new and user-friendly eco-solvent-based whites of the ink systems Mara Jet DI-SX and DI-MS." commented Marabu.
"The special feature of those whites are the high opacity and the excellent chemical and mechanical resistance.A further strength with the highly advanced formulations is that neither of the inks forms sediment while in the printer, ensuring seamless production processes."
Also on display at FESPA 2017, will be the new Texa Jet DX-DTE digital printing ink based on pigmented resin that boasts all the major advantages of transfer technology. In addition, the Screen Truepress Jet W3200 UV II, suitable for graphics, will be showcased, as well as the Spyder Xi digital printer from Inca Digital.
The company will also present the Tampa Glass TPGL developed on the basis of state-of-the-art raw materials specifically for pad printing decorations on 3D objects. It offers ease of use, brilliant results, and exceptionally high chemical and mechanical resistance. This ink is suitable for glass and ceramic items, metals, chrome-plated and varnished substrates, and thermosetting plastics.
The innovative, eco-friendly line of Maqua Coat MAF base shades and Maqua Colour MAC concentrates will be part of the show. The rapid-drying blend of the two elements can be applied to non-absorbent materials with airbrush equipment, spray guns, or with brushes with synthetic bristles – and is perfect for decorating toys.
Finally, the company will show the Mara Shield UV-CGL system that offers brilliant colours, and dries quickly for efficient, reliable production processes. These liquid coatings can also be employed to produce opaque blocking layer for digital wall prints, for interior wall panels, kitchen work surfaces and splashbacks, and glass doors.
"FESPA 2017 provides a perfect platform for print professionals to exchange information and insights. Marabu will be amongst the exhibitors to present its new product portfolio and to get in touch with prospective clients. The popular trade show is going to be a perfect place to get into deeper discussions with the experts, so no one should miss it," the company concluded.
Taking place from May 8-12 in Hamburg Germany, FESPA 2017 will play host to many major brands from across the global market.
Marabu is just one of over 600 industry firms that will be in attendance at the show, with visitors able to find the company at booth C60 in the sold-out Hall B7, alongside the likes of Roland DG, Durst, EFI, Orafol, Drytac, SwissQprint and Avery Dennison.
For more information on FESPA 2017, the companies that will exhibit and to sign up to attend as a visitor, visit: www.fespa2017.com.
Delegates can save 70€ entry fee to the exhibition by registering via the website and quoting reference code: FESG702. Discover how a visit to FESPA 2017 can benefit your business and register today.
Interested in joining our community?
Enquire today about joining your local FESPA Association or FESPA Direct