Industry
MakeCover shining bright after FESPA Gold win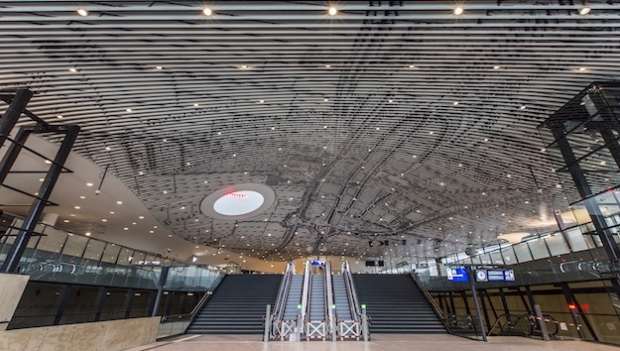 FESPA speaks to Ronald Steenkist, director of Dutch company MakeCover, about the work that won the firm a FESPA Gold Award last year and the impact this win has had on business.
Can you give us a brief summary of the services you offer to the market?
The name of our company is MakeCover; our core business is interior signage, such as wall graphics, way finding signage and glass graphics, as well as window frame films and window films, including safety and sun guard films.
We have a total of three people that work here, in addition to a team of six self-employed applicators that support our service offering. We are also a 3M Select partner.
Which of the FESPA Awards did you win and what work was it for?
We won a FESPA Gold Architectural Signage Award for our project 'Ceiling Trainstation Delft'. For this work, we used a HP Latex printer with 3M inks, 3M IJ70-114 transparent film, with 3M SC 8520 matte laminate, and a Zünd flatbed plotter for contour cutting.
Reflecting on your victory, what would you say you and the company took away from the Gold Award?
The award, and the publicity that surrounds the competition helped bring a lot of attention to our company and the various services that we offer.
In your opinion, why should other print companies enter the FESPA Awards?
While our company was able to get a lot of publicity from the award, on a more personal level, I was very proud to win Gold at the 2016 Awards. It is a recognition of our work and how much effort we put into the project. I would encourage as many companies to take part as possible; I'm really hoping to be surprised by the type of entries this year.
On the back of the FESPA Gold Award win, how was the last year in business for MakeCover?
To be honest, 2016 was a very good year for us here at MakeCover. We were able to achieve growth of 80 per cent, so I am very happy to have reached this level.
And finally, looking at the wider print industry, where do you see the print market in 12 months' time?
In my opinion, I think that the market will grow and expand because of the growth in the wider economy. Focusing more on market sectors within the print industry, I think textile printing will expand faster than before.
The deadline for this year's edition of the FESPA Awards is January 27, and those considering putting forward their work for consideration are being urged to do soon. Last year, the Awards attracted more than 350 entries across 15 different categories, and FESPA expects interest to be even higher this year.
The final round of judging will take place on March 1 and 2, with the winners to be announced at the FESPA 2017 exhibition in Hamburg Germany, at the FESPA Gala Dinner on Wednesday May 10th at the Grand Elysee Hotel.
To find out more about the FESPA Awards 2017 and for information on how to enter, visit: http://www.fespaawards.com
Interested in joining our community?
Enquire today about joining your local FESPA Association or FESPA Direct