Industry
MACtac responds to installers' needs with big innovations at FESPA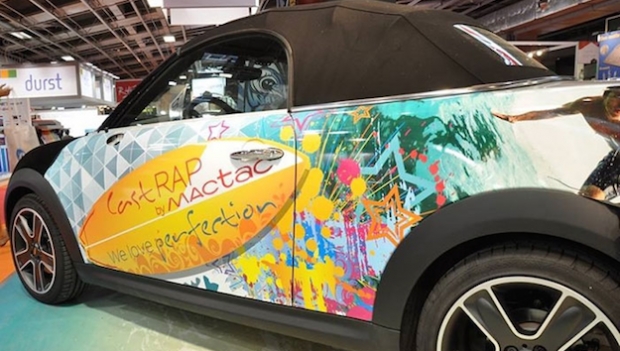 Graphic and label media manufacturer MACtac aims at addressing customer needs by showing a range of innovative new products at FESPA 2017.
Star performers at the show will include a ground-breaking chrome wrap with a matt surface. Competitive Impressive 'self healing' films, which eliminate small scratches and maintain showroom-fresh looks over long periods of time, will also make a debut, and the stand will feature the latest additions to the Mactac range of architectural and promotional products.
Martine Bouvet, Market Manager, Mactac Europe, said that the Mactac team will be showing visitors how to find the best fit for their projects, so they can offer customers new services and applications.
"Our installers are at the centre of our business, and these new materials give them a whole new set of creative choices and performance improvements. Materials like our self-healing wraps and our 'liquid meets metal' film mean that applicators can offer new and exciting solutions whether they are working on vehicles, furniture or buildings," she added.
The new TF 900 FlexChrome BF series is one of the show's highlights, creating a truly different look for vehicle and furniture wraps. Available in ten chrome-finish colours, with a unique matt effect, the new bubble-free material gives exciting new visual effects both when dry and when wet – effects that can be best described as 'where liquid meets metal'.
Martine Bouvet said that one activation zone at the stand will reveal to visitors the stunning 'self healing' properties of vehicle wraps: "These wrapping films achieve what at first seems impossible. Using nothing more than a heat source or hot water, the surface can reform itself to eliminate scratches."
In the car wrapping demonstration area, Mactac will present its CastRAP 629 B-Free, the printable cast media that allows stunning designs to be created.
When using CastRAP 629 B-Free and CastLAM gloss and matt overlaminates, installers benefit from the right combination of highly conformable cast vinyls and high-quality print, while also reducing application time thanks to the bubble-free adhesive technology that is easy to apply.
Installers looking for new applications in the architectural market will also find a lot to explore. MacBlock film for window graphics offers very high opacity, so that double-sided graphics can be created without any concerns about direct light and show-through.
FESPA 2017 will also be the venue for the 2017 Mactac Creative Awards ceremony, on Wednesday May 10th at 4pm. These awards are open to all applicators and designers using Mactac products.
The project judged to be best by a professional jury and the public will receive wider exposure and recognition, with a chance to widen professional connections. It's one way that Mactac contributes to the professional community of visual communication and design.
Industry members that are keen to learn more about the latest graphics solutions from Mactac can visit the manufacturer on the stand D20 in the Hall B4 at FESPA 2017.
Taking place from May 8-12 at the Hamburg Messe, in Hamburg, Germany, the exhibition will play host to many major brands from across the global market.
For more information on the event, the companies that will exhibit and to sign up to attend as a visitor, please visit: www.fespa2017.com
Delegates can save 70€ entry fee to the exhibition by registering via the website and quoting reference code: FESG702. Discover how a visit to FESPA 2017 can benefit your business and register today.
Interested in joining our community?
Enquire today about joining your local FESPA Association or FESPA Direct