Industry
Landa sells Metallography tech to Altana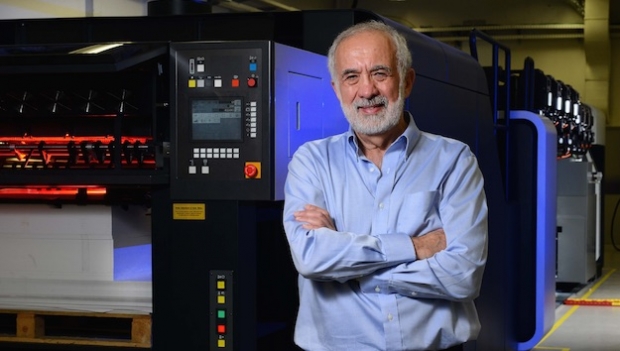 Landa has sold its Metallography technology to its partner Altana and will transfer the remaining development and engineering work to Altana's Actega Coatings & Sealants division.
Altana will set up a new company, Actega Metal Print, with Jan Franz Allerkamp, who has been with Altana since 2010, named managing director.
The Metallography process promises an alternative to conventional foiling that eliminates the large amount of waste foil generated by conventional foiling techniques. It works by depositing metallic nano flakes to create a metallised effect.
Landa chairman Benny Landa said the move would allow Landa to focus on bringing its Nanography digital presses to market. "We are delighted that Altana has embraced our zero-waste Nano-Metallography technology, for there can be no better owner for this business than Altana. As an innovative partner of its customers Altana has a wealth of experience and know-how in graphic arts."
"This transaction is also a testament to the outstanding collaboration between Landa and Altana, which is also our partner in Landa Digital Printing. It will enable Landa to focus on Nanography, our breakthrough digital printing technology, while Altana takes over the final development work and commercialization of our Metallography technology."
Altana has acquired all of the Metallography technology along with the patents related to it. Landa said there would be a transition period while the Landa team would continue to work on the product, during which time Altana will progressively take over the whole operation as it works to commercialise the technology "over the coming years".
Martin Babilas, chief executive of Altana, said: "We are excited about this acquisition, which opens up new growth opportunities for Altana and strengthens our position as a leading solution provider for the printing industry".
"We are looking forward to our continued close and trustful cooperation with Landa as we prepare to bring this promising technology to market".
Dr. Roland Peter, president of Actega Coatings & Sealants, added: "Landa's Metallography technology has the potential to become a sustainable mainstream technology for metallization graphics, supplanting foil-transfer in applications such as labels and folding cartons."
The novel Metallography technology is both economically attractive and environmentally sustainable, saving a significant amount of material, cost and production time compared to the conventional cold foil and hot foil stamping technology.
Watch this animation explaining the Landa Nano-Metallography technology.
Interested in joining our community?
Enquire today about joining your local FESPA Association or FESPA Direct