Industry
Kornit Digital to show mass customization "ecosystem" at FESPA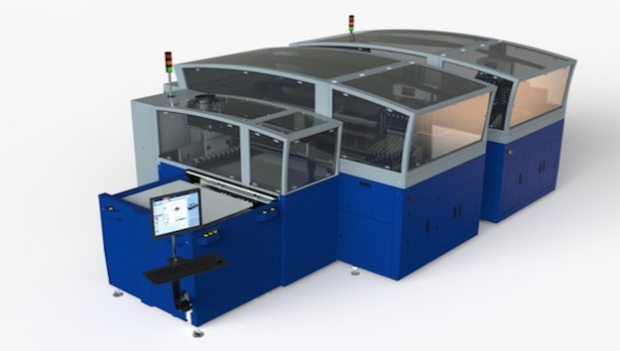 Digital textile specialist Kornit Digital has announced details of its corporate presence at FESPA 2017, taking place from 8-12 May at the Hamburg Messe.
Three state-of-the-art direct to garment printing systems for textile mass customization will form the core of Kornit's 256 sqm presence.
FESPA 2017 will see the public launch of Kornit's new Storm Duo direct-to-garment printing system. With its 16 print heads in a double CMYK configuration, the Storm Duo is optimized for the production of light garments, with a productivity of 200+ prints per hour. It will be a useful addition for garment decorators intending to centralize their white garment production or that produce special products such as tea towels.
Alongside the Storm Hexa and Storm 1000, the Storm Duo is another member of the third generation Storm platform and includes advanced features such as a recirculating ink system, an integrated ultrasonic humidifier, a battery backup system, a quick replace pallet mechanism and many more.
Kornit Avalanche Hexa R-Series: the preferred online fulfilment workhorse, now with recirculation technology
The Kornit Avalanche Hexa R-Series is the successor of Kornit's direct-to-garment flagship Avalanche Hexa with CMYKRG+W support. Its recirculating ink system optimizes print quality, reliability and ink efficiency.
Users of the Avalanche R-Series benefit from up to 20% ink savings. With the system's double bridge architecture, the white and the color print phases can happen in parallel, leading to a productivity of up to 220 light and 160 dark garments per hour.
The Avalanche R-Series has been available since January 31, with multiple systems already running in mass customization production environments such as Cimpress. A field upgrade for existing Avalanche Hexa systems is available.
Kornit Vulcan: the digital equivalent to screen printing carousels
Kornit's Vulcan, commercially available since beginning of 2017, is a digital rival to screen printing carousels. This heavy-duty production system is targeted to screen printers producing collections and short runs for retailers and promotional purposes.
The Vulcan offers the lowest cost per print for run lengths between 50 and 500 garments. Unlike Kornit's traditional direct-to-garment printing systems, the Vulcan sports a conveyor system for the printed pallets with pre-treatment, white and CMYKRG printing happening in parallel.
The Vulcan's unique architecture allows it to print up to 250 garments per hour, both on dark and light garments.
Custom Gateway web-to-print solution
Kornit's collaboration with UK-based web-to-print specialist Custom Gateway marks an important step in the company's efforts to surround its textile printing systems with an ecosystem of workflow and job management solutions.
Kornit will connect its systems at FESPA 2017 with Custom Gateway's end-to-end workflow platform. This platform covers the entire supply chain, from website and personalization front end through automated production and printing to packaging and shipping. The solution is flexible and suitable both for B2B customers (e.g. fulfilment) as well as B2C (e.g. customers with an Ecommerce website).
"As the market leader in industrial textile mass customization, we are in a position to further expand and diversify our offerings," commented Kornit's vice president of Marketing and Business Development Guy Zimmerman.
"The new Storm Duo, which has been optimized for fast double CMYK printing on light garments is a leading example. At the same time, we keep expanding our software and workflow offering so our customers can benefit from our technology as much as possible."
Register to attend FESPA 2017 and discover the new digital textile solutions from Kornit
Industry members that are keen to learn more about the latest digital textile printing solutions from Kornit Digital can visit the manufacturer on the stand D10 in the HallB6 at FESPA 2017.
Taking place from May 8-12 at the Hamburg Messe, in Hamburg, Germany, the exhibition will play host to many major brands from across the global market.
To learn more about the hundreds of other companies that will exhibit at the show, as well as the conference programme and many other exciting in-show features visitors can look forward to at this year's event, visit the official FESPA 2017 website www.fespa2017.com.
Delegates can save 70€ entry fee to the exhibition by registering via the website and quoting reference code: FESG702. Discover how a visit to FESPA 2017 can benefit your business and register today.
Interested in joining our community?
Enquire today about joining your local FESPA Association or FESPA Direct