Industry
Kornit Digital adds HD print technology to Avalanche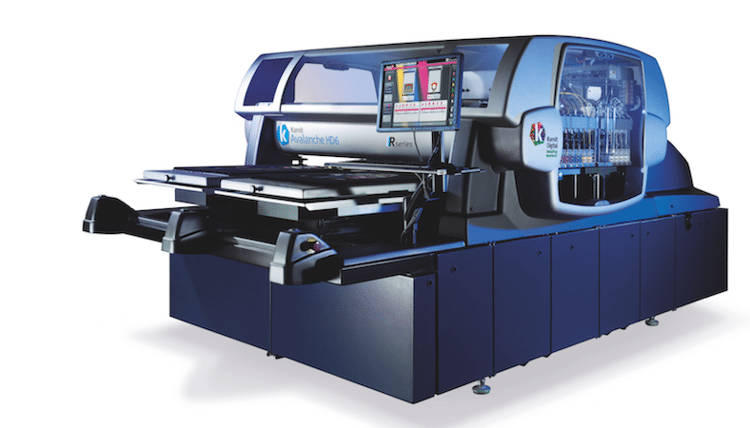 Kornit Digital has built on the success of its Avalanche platform of direct-to-garment print systems by introducing a new, high-definition print technology.
Serving as the successor of the Avalanche Hexa, the Avalanche HD6 will feature Kornit's HD print engine and NeoPigment Rapid ink, which the manufacturer said will help to cut down on ink consumption.
The HD6 will save ink consumption by up to 30 per cent compared to Kornit's existing R-Series model and as much as 46 per cent compared to Non R-Series versions of the Avalanche Hexa.
Kornit's Avalanche HD6 will include six colour channels: CMYK, red and green, plus white. The manufacturer said that this wide colour gamut will enable users to reproduce the colours of licensed sports team and accurately match corporate logos – which it said are both critical factors in the direct-to-garment print market.
In addition, as a further show of support to the sector, Kornit is to launch an HD version of the Avalanche 1000, which will be named the Avalanche HDK. Kornit said this offers existing customers an upgrade path for both the Avalanche Hexa and Avalanche 1000 systems.
Omer Kulka, vice-president of marketing and product strategy at Kornit Digital, said in a statement: "Today's market trends put traditional screen printing service providers under pressure given increased demand for short run production with frequent inventory cycles, coupled with the online and direct-to-customer business models, the demand for personalised garments, and demand for shorter delivery times.
"Added to these trends is the current retail meltdown, which particularly impacts fashion and apparel outlets. Kornit's HD technology, based on our 15 years of digital textile printing experience, provides an excellent and profitable alternative for print runs of one to 500 pieces with quick turnaround times."
Kornit said the new Avalanche HD6 will be made available for delivery during the first quarter, while the Avalanche HDK will come to market in the second quarter. In addition, previous versions of the Avalanche Hexa and Avalanche 1000, with or without ink recirculation technology, are field upgradeable to the HD versions.
Join Kornit Digital at FESPA global print expo
Industry members keen to find out more about both the Avalanche HD6 and the Avalanche HDK can visit Kornit Digital at FESPA global print expo this year. Visitors will have the opportunity to speak with Kornit about the technology, as well as its wide range of other digital print solutions that it has on offer.
Kornit will be 1-A20 at the global event, which this year will take place at in Berlin, Germany, from May 15-18. To register for the event, view an up-to-date floorplan and find out more about the various special features that will run at FESPA 2018, click here to visit the event's official website.
Interested in joining our community?
Enquire today about joining your local FESPA Association or FESPA Direct