Industry
Klieverik goes large with new launch at FESPA 2017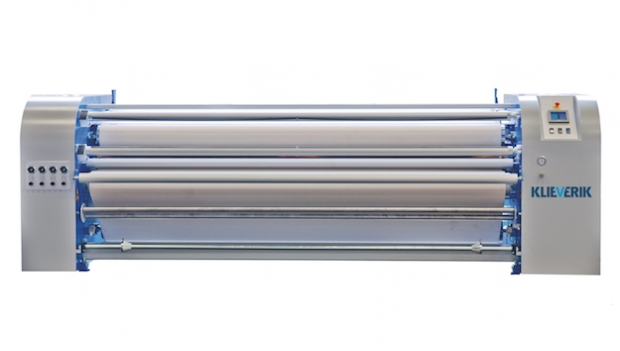 Klieverik has announced that it is to launch its new GTC111-5400 extra large-format printing machine at FESPA 2017, from May 8-12 at the Hamburg Messe in Germany.
The industrial rotary thermo-processing equipment provider said that the solution allows users to achieve the best possible fixation results on materials up to 5m wide, as well as narrow width shafts from direct textile printers.
User will also benefit from reliability and consistency through the use of multiple heating elements over the full width, while other features include touch screen operation, pneumatic tension settings, incorporated textile through feed.
John Selfhout, head of marketing at Klieverik, said: "In our design we made all necessary provisions to ensure ease of operation. Because of the incorporated easy feeding it only takes two persons to feed the calendar."
Also on display at Stand C70 in Hall B6 will be Klieverik's new GTC131-2000 SP F high capacity single piece transfer printing calendar, with a 760 mm heating drum. Features on the machine include single piece transfer printing and roll-to-roll functionality, a long glass table and movable separation bar for easy paper feeding.
This presentation marks the extension of the portfolio of GTC products and will completed by a 3.2m roll-roll machine as well as a 1m-drum diameter calendar.
In addition, visitors can for the GTC101-3500 large format transfer and fixation calendar with 365 mm diameter drum.
De Jong added: "Our technology differs from the technologies our colleagues use. This makes our calendars reliable and easy to work with. And above all, our calendars deliver constant quality in the production process.
"Visiting FESPA 2017 is a great opportunity to see our machines on display and in action. Our advisors can show the visitors all possibilities of our product line and find the right calendar to do the job," De Jong concluded.
Register today to visit Klieverik at FESPA 2017
Industry members that are keen to learn more about the latest printing solutions from Klieverik can visit the manufacturer on the stand C70 in the Hall B6 at FESPA 2017.
Taking place from May 8-12 at the Hamburg Messe, in Hamburg, Germany, the exhibition will play host to many major brands from across the global market.
For more information on the event, the companies that will exhibit and to sign up to attend as a visitor, please visit: www.fespa2017.com.
Delegates can save 70€ entry fee to the exhibition by registering via the website and quoting reference code: FESG702. Discover how a visit to FESPA 2017 can benefit your business and register today.
Interested in joining our community?
Enquire today about joining your local FESPA Association or FESPA Direct