Industry
Karibu sets new benchmark in roll to roll printing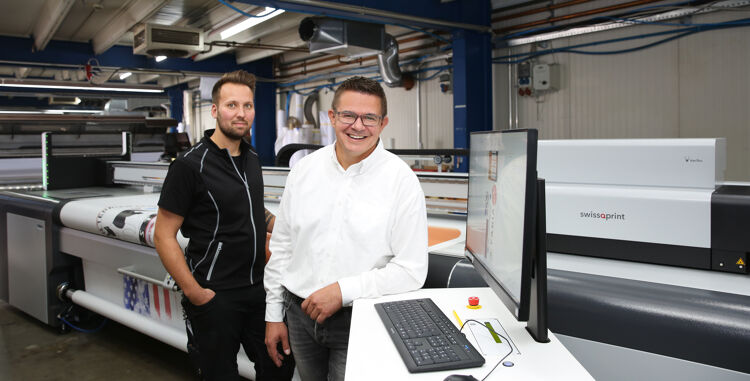 Stiefel Digitalprint has begun operating the first Karibu roll to roll printer, significantly raising the quality bar in roll to roll print production. swissQprint first presented the new model in May 2019; worldwide deliveries started in September.
Stiefel Digitalprint GmbH in Lenting near Munich recently became the first customer to begin operating a Karibu roll to roll printer. Both the managing director and the machine operator are enthusiastic about the output quality that Karibu is applying to substrates: "The best I've ever seen in roll to roll printing." The company has been a committed swissQprint user since 2011 and Karibu is the fourth large-format swissQprint printer to be installed on their premises.
Reliable all-rounder
Karibu complements the existing machinery at Stiefel Digitalprint and handles various kinds of roll to roll orders. Managing Director Bernhard Stiefel is happy: "As expected, Karibu delivers impeccable quality and is a reliable all-rounder." Although the new roll to roll printer currently spends much of its time producing various PVC tarpaulins, it also gets to process wallpapers, a broad swathe of different textiles, and backlit media. "The day-and-night applications are fantastic," enthuses Bernhard Stiefel.=
High efficiency
Karibu has special features that ensure high efficiency. The operator, Dennis Weinrich, points out in particular the cassette system and material handling: "Roll changes are fast and easy." And he adds: "Working with Karibu is a real pleasure, it's such a user-friendly printer." He also appreciates the edge hold-down devices, which ensure trouble-free processing of thin textiles and widths of wallpaper.
Worldwide deliveries started
Karibu premièred in May at the FESPA Global Print Expo 2019, with deliveries starting in September. Customers around the world are currently putting their new swissQprint roll to roll printer into operation.
Interested in joining our community?
Enquire today about joining your local FESPA Association or FESPA Direct