Industry
Israeli business moves ahead with new EFI VUTEk 3r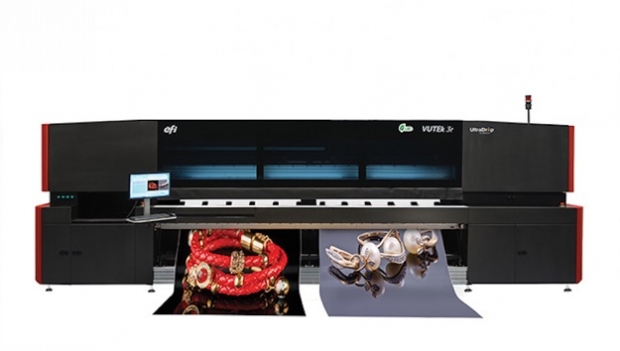 Campus Digital Imaging last year become one of the first companies in the world to take delivery of a new EFI VUTEk 3r superwide-format roll-to-roll LED inkjet printer.
Installed in the fourth quarter of 2016, the VUTEk 3r can operate at speeds of up to 345sq m/hr, in resolutions as high as 1200dpi. The machine also boasts a width of 350cm, making it suitable for a wide range of applications and products, and is available with an optional, built-in cutter and slitter.
The VUTEk 3r was not officially launched to the market until this month, when the manufacturer unveiled the model at its Connect event in Las Vegas. However, Campus Digital Imaging has already been running the machine for a number of months and general manager Rami Cohen has been quick to pay tribute to the impact it has had on his business.
"It's faster than the three machines it replaces combined," Cohen said. "New customers usually ask how soon we can deliver before sending us their order. That often amounted to two or three days. Now we can offer same-day delivery or the day after at the latest.
Campus Digital Imaging specialises in printing point of purchase displays and window branding for retail, and provides wide-format printing, production and installation services across Israel.
Cohen said that the flexibility of the new EFI machine not only supports the company's work on materials such as magnetic paper, textile, vinyl, PVC, polypropylene, flags and paper, but has also enabled it to speed up production and offer customers a faster turnaround on work.
"Part of our dramatically increased productivity comes from the integrated slitter and cutter," Cohen said. "Before, we had to move the printed rolls to an offline cutter/trimmer. Now, the finishing happens on the printer itself, synchronised with the printing process.
"At the moment, we are running the printer from 9am to 10pm. When we purchased the machine, we had already planned to grow the business so that, eventually, the VUTEk will be running for five consecutive days 24 hours a day."
The VUTEk 3r was unveiled by EFI alongside the larger VUTEk 5r model, as well as the VUTEk FabriVU 520, the manufacturer's largest soft signage printer that can handle media up to 5.2m wide. The latter of these models can run at speeds of up to 446sq m/hr, as well as produce output in resolutions of 2400dpi.
To learn more about EFI and its various solutions, visit the company at FESPA 2017 on stand B7-E30. Visit the FESPA 2017 website for further details: http://www.fespa2017.com.
Interested in joining our community?
Enquire today about joining your local FESPA Association or FESPA Direct