Industry
Iqdemy dares to print on anything at FESPA 2017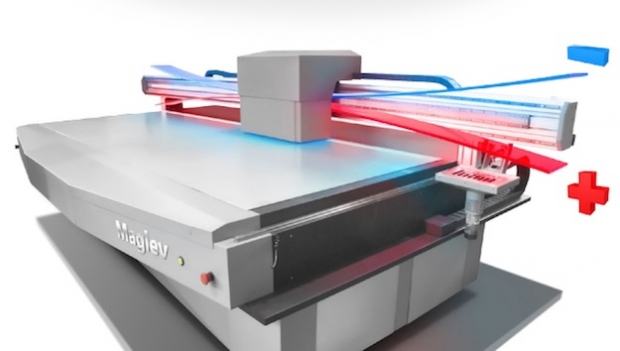 Inkjet printer manufacturer Iqdemy will be showcasing its Maglev 1228 UV-LED printer at FESPA 2017, from May 8-12 at the Hamburg Messe in Germany.
Maglev 1228 features a print table of 1.2 x 2.8m and can accommodate heavy materials up to 400kg, including stone, marble, glass and others. Its honeycomb table is divided into 6 vacuum zones operated independently thus reducing power consumption when only some parts of the table are used.
The UV-LED printer is equipped with levitation technology, enabling printing without noise. Eight different dot sizes achievable via a combination of Variable Dot technology and Technology of Invisible Dots ensure outstanding image quality.
Able to print with 8 colours (CMYK+W+LM+LC+V) the Maglev also has a white ink recirculation system and 10 tanks for ink supply featuring ink level sensors among others.
Its environmentally friendly UV-LED technology ensures low operating costs in comparison with traditional UV printers. Its LEDs can operate for up to 10,000 hours without having to be replaced. The printer comes with a warranty for up to five years.
Another outstanding feature is the Maglev 1228's ability of layered printing. This is sometimes also referred to as "3D-print" in the large format sector, as different amounts of ink layers enable a haptic feeling, thus images and prints, for example wood reproduction, make for an outstanding impression as well as a feel for the surface.
"Maglev 1228 is our best solution in the context value for money," explains Iqdemy chief executive officer Vladislav Mirchev.
"Maglev 1228 has been designed especially for medium scale production. Advertising, including signboards, backlit projects, exhibition booths and POS, among others, are its primary application. In addition, the UV-LED printer enables printing on glass, furniture, stone, wood, marble as well as metals."
It is exactly this multipurpose of applications underlining Maglev 1228's attractiveness. According to Vladislav Mirchev, a viable large format printer should be able to print on any media from flexible films to thick wooden beams and glass.
Also present at the booth in hall A4, D35, DPS Innovations presents their solutions for control electronics and software. The Maglev 1228, as well as the whole product line from Iqdemy, is driven by control electronics and software from DPS Innovations. In addition, the company also develops the UV-LED array employed.
Both companies focus not only on the development of their product lines but are also actively involved in R&D and customized projects in their respective markets.
Register today to visit Iqdemy at FESPA 2017
Industry members that are keen to learn more about the latest printing solutions from Iqdemy can visit the manufacturer on the stand D35 in the Hall A4 at FESPA 2017.
Taking place from May 8-12 at the Hamburg Messe, in Hamburg, Germany, the exhibition will play host to many major brands from across the global market.
For more information on the event, the companies that will exhibit and to sign up to attend as a visitor, please visit: www.fespa2017.com.
Delegates can save 70€ entry fee to the exhibition by registering via the website and quoting reference code: FESG702. Discover how a visit to FESPA 2017 can benefit your business and register today.
Interested in joining our community?
Enquire today about joining your local FESPA Association or FESPA Direct