Industry
Inca Digital returns to FESPA with an expanded presence in 2018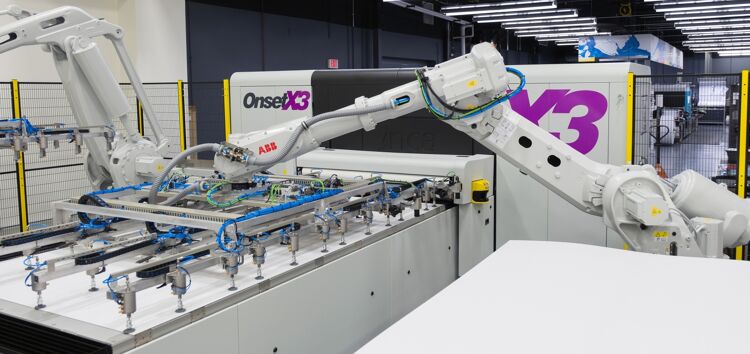 Inca Digital will exhibit across two stands at FESPA 2018 and will partner with Fujifilm at the Digital Corrugated Experience and will showcase their new Onset M, Onset X3 series and SpyderX
After an extremely successful debut at FESPA 2017, Inca Digital has now expanded its presence and will be exhibiting across two stands at FESPA 2018 where they will partner with Fujifilm at the new 'Digital Corrugated Experience' (Hall 1.1, Stand C40) and where their wide format machine, the Onset X3 will be featured as a showcase for digital technology for the corrugated industry (Hall 5.2, Stand C30).

The CEO of Inca Digital, John Mills says: "FESPA 2018 is set to be another milestone exhibition for Inca Digital. With two stands across two halls that includes a showcase stand for the Onset X3 in the Corrugated Printing Hall, FESPA 2018 provides us with one of the best opportunities to demonstrate the exceptional versatility and depth of our digital printing technologies. We have a wide portfolio of innovative digital printing solutions that allow print businesses to take charge of their productivity and profitability. Solutions that will be featured at FESPA 2018 will include the Onset M, the SpyderX and the Onset X series.

Last year at FESPA 2017, we previewed a proof-of-concept technology demonstrator for our new B1 Onset M digital inkjet cut-sheet machine. I am happy to say that just one year on, for the first time we will be exhibiting a fully commercial model of the machine. With the commercial launch of the Onset M due to take place at FESPA 2018, we believe that the Onset M will make a huge impact on the productivity of businesses who have been the first to invest in this new innovative B1 digital technology."
Shortest Run, Highest Quality
The new Onset M printer has been built on the same architectural platform as the successful Onset X Series and the SpyderX and has been specifically developed to provide a short run, high quality B1 solution for the screen, offset and industrial printing markets.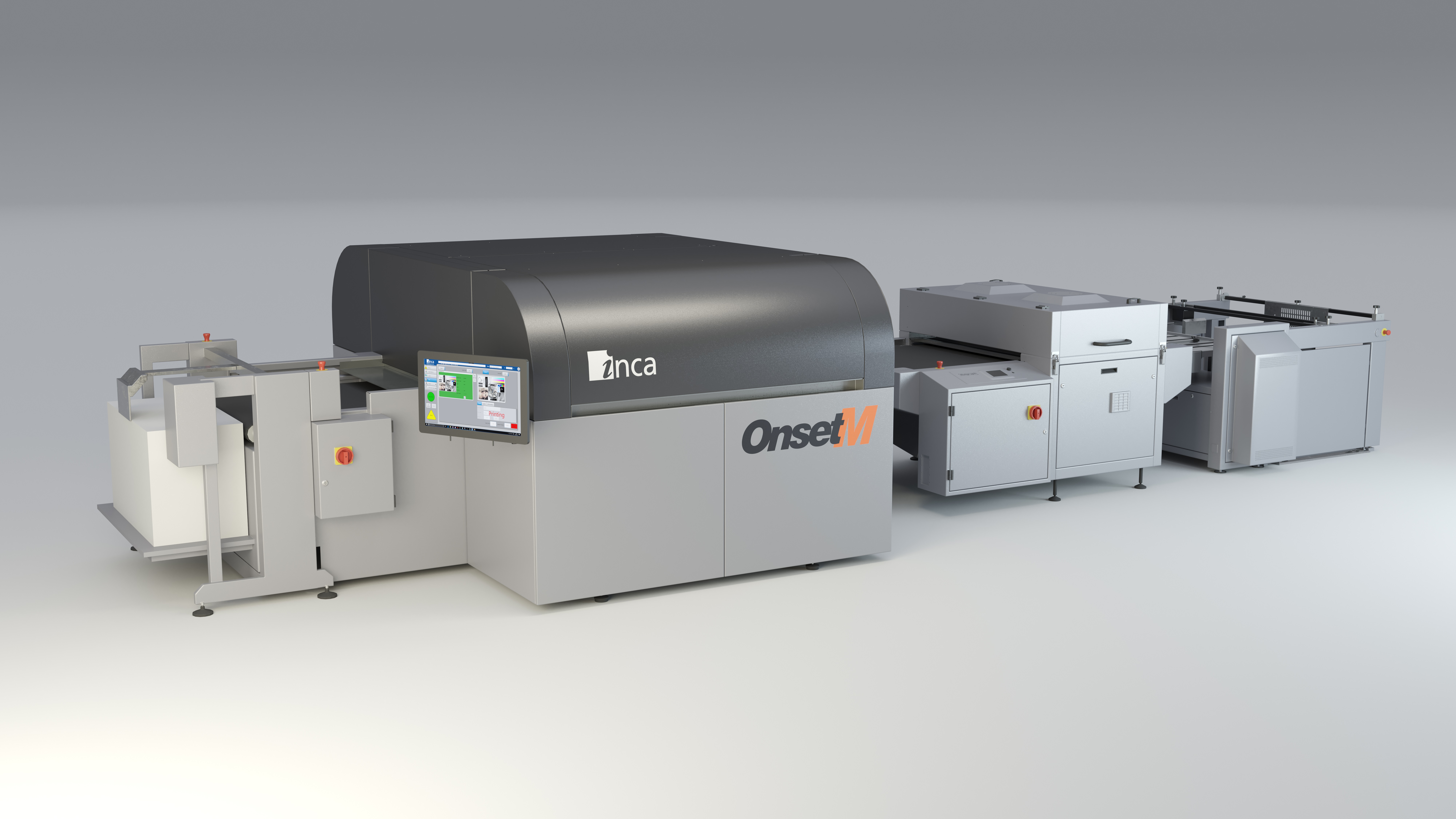 Caption: The Onset M printer

The Onset M is configured as an 8 channel B1 printer, since it benefits from Inca Digital's fully scalable architecture it is easily configured and has the ability to grow with the printers' business. Due to its inherent versatility the Onset M is also suitable for a wide range of applications, including those that are deemed too thick to be printed on offset.

The Onset M offers a fully automated system with feeder and stacker and modular lay table and Fujifilm small drop, QFR7 print heads for crisp 4pt text and smooth colours and next generation optical print head alignment and calibration systems guarantee high quality and precision results are sustained throughout the life of the product.
Flexibility Is Key
The SpyderX will also be featured at FESPA 2018, it has been developed to meet the growing demand for a cost-effective mid-range printer that can deliver the highest quality prints on a wide range of substrates. The SpyderX features a 3.2m x 2m flatbed and roll-to-roll printing capabilities and offers maximum flexibility and allows printers to open new revenue streams. Its precise registration and robust printhead technology provides continuous high-quality output void of any degradation in quality over time.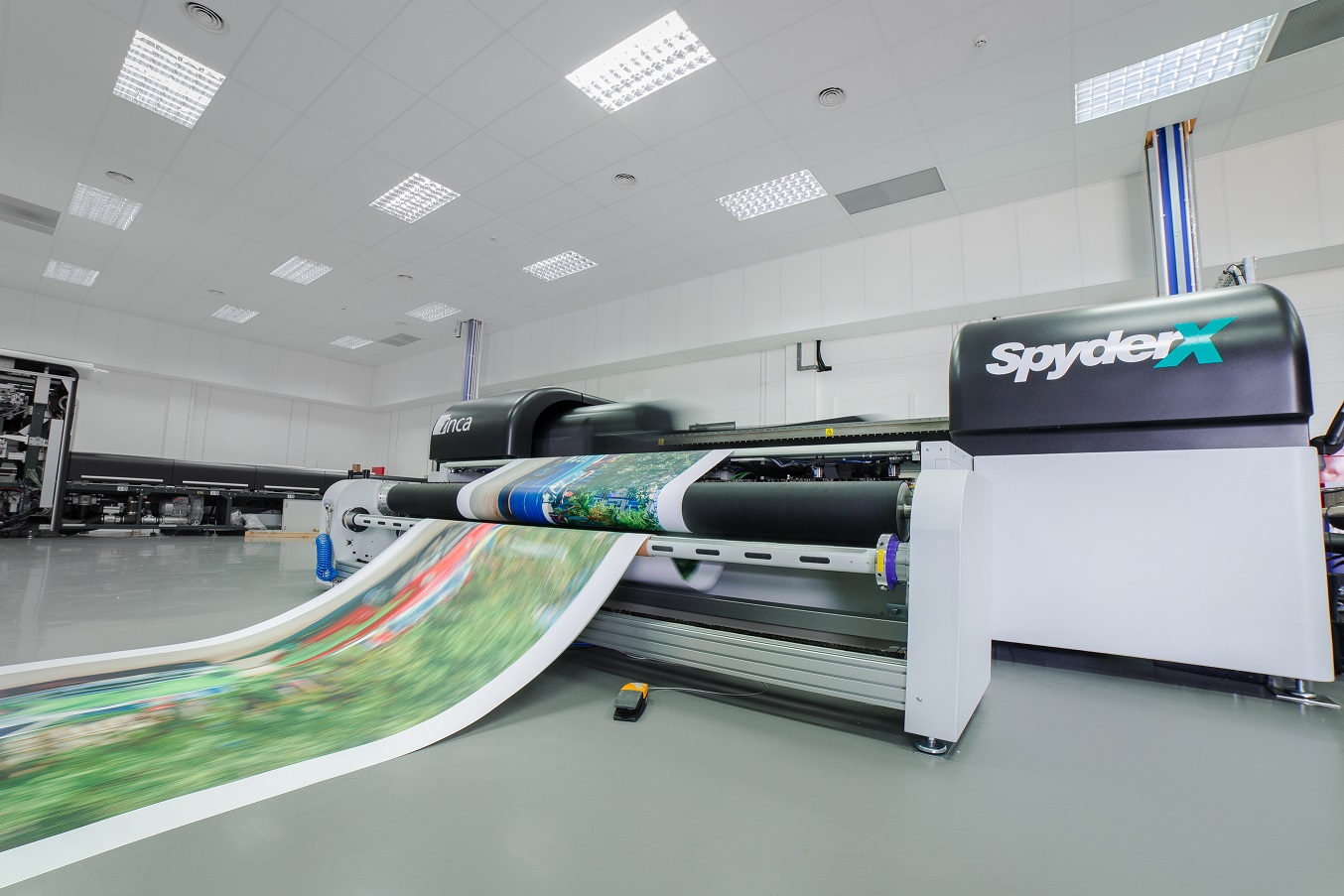 Caption: The SpyderX in function

The SpyderX can act as complementary production workhouse alongside the Onset X series for smaller runs or for businesses that require all the advantages of high end inkjet platform a mid-range machine. It is globally available via Inca's growing network of distributors, some who will be present at Inca's stand to greet visitors and to discuss how this machine can be a new addition to a printer's production portfolio.
Have You Experienced The Power of the Onset X3?
Another printer that will be featured is the Onset X3 which will be showcased in FESPA's Digital Corrugated Experience. The Digital Corrugated Experience is an experiential area showcasing the potential of digital print for corrugated packaging and display applications, aiming to educate converters and box-makers about integrating digital technology into their production mix.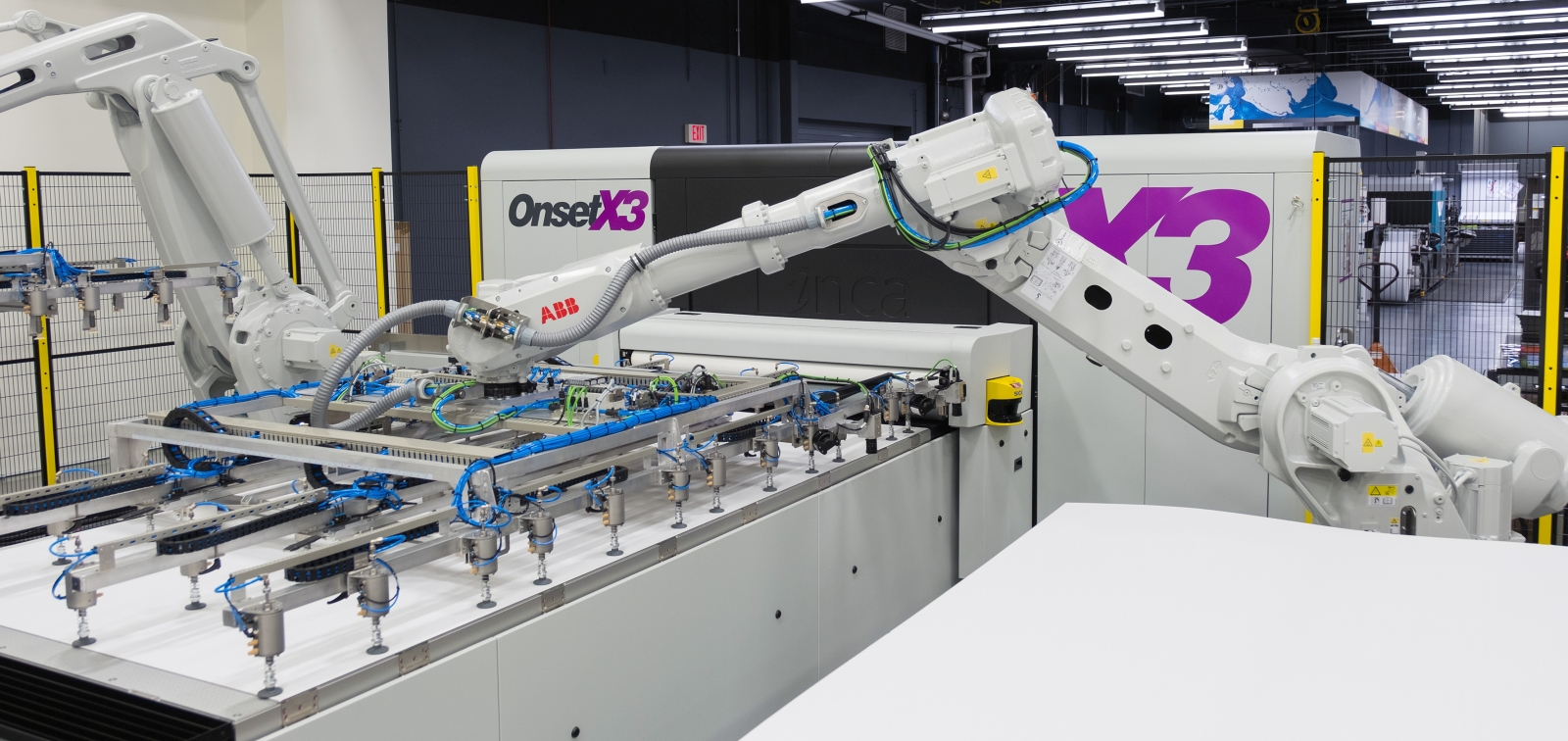 Caption: The Onset X3

The Onset X series includes the Onset X1, Onset X2 and Onset X3. These series allow print service providers to produce the widest range of products from POS graphics to corrugated packaging applications, signage and the highest quality backlit displays for demanding markets like luxury consumer goods.

The Onset X3 offers a single-platform and scalable solution where users are able to configure just as they want, to get the exact combination of speed and/or colours they require. Printers can start with the Onset X1 and as their business expands can upgrade to the Onset X2 and then to the top of the range Onset X3.

The key to this flexibility and unique among high-end large format flatbed printers is the 14 channel design of every Onset X. This means that an 8 channel Onset X1, with one set of CMYK plus LcLmWO can be fitted with an additional 6 channel carriage to become the Onset X2 then transformed again into a top of the range Onset X3. Upgrades can be conducted at customers' sites and completed in a few days which minimizes downtime since Inca has engineered modularity into the new platform.

John Mills concludes: "for Inca Digital, exhibiting at FESPA 2018 is about showing visitors from numerous industry sectors that robust digital inkjet technology meets all their productivity, flexibility and quality requirements. As pioneers in the digital printing industry, we are always striving towards the next break-through that moves digital inkjet and the industry to the next level. Great examples include our latest B1 Onset M machine and the SpyderX. The Onset X series that will be featured on our stand with Fujifilm in the Digital Corrugated Experience Hall continues to set the standard and defines what the digital inkjet industry can accomplish when a passion for technology, a desire for innovation and a keen focus on return on investment come together. I encourage all visitors at the show to visit our stands so they can see first-hand the full product portfolio of Inca Digital and how our technology can transform their businesses."

Inca Digital will be located in Hall 1.1 stand C40 and Hall 5.2 stand C30. To find out more about the Global Print Expo, see the full exhibitor list and to see information about how you can register to attend, visit the event's official website: www.fespaglobalprintexpo.com

For free entry use code FESJ801 when registering.
Interested in joining our community?
Enquire today about joining your local FESPA Association or FESPA Direct