Industry
HP unveils the HP PageWide web press T235 HD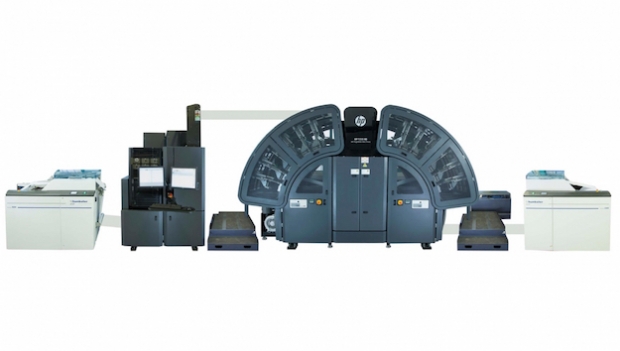 HP has launched its HP PageWide Web Press T235 HD, an entry-level inkjet web targeted commercial printers.
The new continuous-feed inkjet web press uses HP's High Definition Nozzle Architecture (HDNA), which was first announced for HP's inkjet web presses in Se 2015. HDNA has a native resolution of 2,400 nozzles per inch.
The T235 HD is a low total-cost-of-ownership platform for publishing, production mail and commercial print needs. It can be upgraded to the HP PageWide Web Press T240 HD for increased productivity.
"With the introduction of the HP PageWide T235 HD, it's easier for more PSPs to make the analog to digital transformation," said Eric Wiesner, general manager of HP PageWide Industrial Division. "As the HP PageWide Web Press platform reaches a milestone of 210 billion customer-printed pages, it further reinforces the market's adoption of HP Thermal Inkjet technology."
The press prints at a maximum speed of 122m/min in performance mode and 61m/min in quality mode, which is around half the maximum speed that the HDNA technology is rated for and around 25% slower than the T240.
"HP's high-volume PageWide solutions allow print service providers to add greater value to high-volume data-driven print communications with uncompromising performance and color quality that brands demand," said Wiesner. "The HP PageWide T235 HD makes it possible to deliver cost-efficient, relevant and targeted print that engages customers in more creative ways."
"We found an opportunity at a lower end where we could offer a lower-speed entry-point for some of those print service providers that may now be entering the market," said PageWide director of marketing and business development David Murphy.
PSPs expand possibilities with HP Indigo digital presses
HP used the briefing to discuss a number of global milestones on its PageWide and Indigo presses, including its customers having now printed 210 billion pages on PageWide presses and it having more than 400 installations of the Indigo 10000 worlwide.
"Having a B2 Indigo gives us litho quality in addition to the flexibility to offer fully variable images and data in short run lengths," said Anton CEO Malcolm Lane-Ley.
"Commercial printing providers are looking for a partner that continuously innovates, delivers and keeps them profitable in a changing world," said Alon Bar-Shany, general manager, HP Indigo. "Our customers are enjoying double digit growth as we help them remain a step ahead of the market."
HP to inspire print providers at FESPA 2017
HP is just one of a host of industry heavyweights that will be in attendance and has committed to taking one of the largest stands at the show, with visitors able to find the company at booth D15 in the sold-out Hall A1, alongside the likes of Canon, Mimaki, Mutoh, Epson, 3M, Grafityp and Hexis
For more information on FESPA 2017, the companies that will exhibit and to sign up to attend as a visitor, please visit: www.fespa2017.com

Delegates can save 70€ entry fee to the exhibition by registering via the website and quoting reference code: FESG702. Discover how a visit to FESPA 2017 can benefit your business and register today.
Interested in joining our community?
Enquire today about joining your local FESPA Association or FESPA Direct