Industry
HP offers sign and display opportunities with new Latex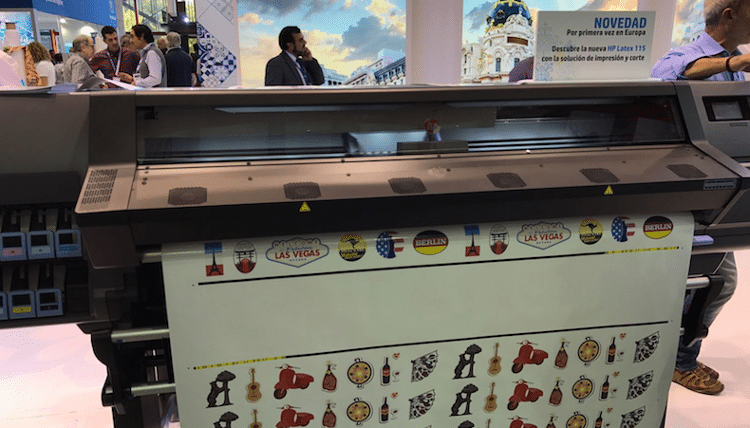 HP has moved to enhance its range of Latex solutions with the launch of the new HP Latex 115 printer.
The 54-inch device is able to produce a range of applications for both indoor and outdoor signage. Features on the HP Latex 115 include the ability to produce high-resolution prints delivered by up to 1200 native dpi across a wide range of applications, as well as six-colour printing and also delivering prints that come out dry
In a further show of support for the market, HP will be offering the new printer as a print-and-cut solution that is able to create products such as labels, decals, stickers, customisable clothing and window graphics.
HP said that the dual-device offering will deliver simultaneous and continuous printing and cutting in a single, integrated workflow.
Additional features on the print-and-cut solution include HP Latex Basic Cutter with HP barcode and Optical Positioning System, as well as HP FlexiPrint and Cut RIP, which the manufacturer said will optimise workflow management from a single point and with barcode integration.
Joan Pérez Pericot, general manager, Large-Format Graphics Business at HP, said: "The introduction of the HP Latex 115 products expands the HP market-leading portfolio of HP Latex printers with an attractive entry price point, making it easier than ever for newcomers to large-format, small sign shops or copy shops willing to start or bring their business to the next level, and experience the benefits of water-based Latex printing technology."
The HP Latex 115 and the HP Latex 115 print-and-cut solution will now join the HP Latex portfolio, which includes a host of other options suitable for a host of customers, ranging from small sign shops to high-capacity print houses.
HP said the Latex 300 series printers – comprising the HP Latex 315, 335 and 365 – deliver "high image quality, productivity and durability" at high speeds and can be used to offer customers same-day delivery. Also featured in this section of the expansive Latex range are the HP Latex 315 and 335 print and cut solutions, which, launched earlier in the year, are suitable for high-capacity printing and cutting.
Elsewhere, the HP Latex 560 and 570 printers can be used for high quality print jobs and last-minute high-volume peaks in production, while the HP Latex 1500 printer is suitable for both super-wide indoor and outdoor applications.
In addition, HP said its Latex 3200 and 3600 printers are both "ideal" for high-volume, high-quality application production and allow for unattended operation, with a single operator able to manage up to four printers at the same time.
Interested in joining our community?
Enquire today about joining your local FESPA Association or FESPA Direct