Industry
HP launches Latex 3100, 3500 and Scitex 17000 Corrugated presses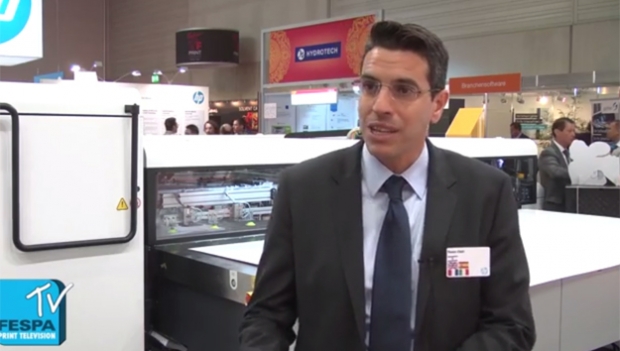 Accelerated productivity for sign & display print providers and corrugated converters as new machines debut at FESPA 2015.
New industrial HP Latex printers for dedicated and diverse application workflows
To remain competitive, high-volume PSPs are constantly challenged to deliver short turnaround times across varied applications, while maintaining top-of-the-line quality. HP is addressing these challenges to better meet the various production needs of sign and display PSPs with the new 3.2-metre (126-inch) HP Latex 3500 and 3100 Printers, which build on the success of its more than 26,000 HP Latex printers installed worldwide.
Ideal for standardised workflows, the new HP Latex 3500 Printer handles high-volume, dedicated application production, boosting productivity and helping to reduce production costs. With heavy-duty roll handling up to 300 kg (660 lbs) and 10 litre ink supplies, the printer enables more unattended operation such as overnight printing. Additionally, dual-roll split spindles offer easier, safer handling of oversized rolls; in-line slitters reduce bottlenecks in finishing; and built-in LED lights support on-the-fly proofing.
"Every day, clients are sending us shorter and shorter deadlines. They want better quality and longer runs. Our team was pushing the limits of our existing print equipment to meet demand and keep our customers happy," said Andy Wilson, managing director, PressOn UK. "The HP Latex 3500 Printer has allowed us to push the boundaries even further. The larger media rolls and ink supplies allow us to produce longer runs and save time by printing overnight, enabling us to drive down operational costs."
Delivering high image quality for a variety of indoor and outdoor applications, the HP Latex 3100 Printer is ideal for large sign and display PSPs with a diverse service offering. Printing indoor quality at speeds up to 77 m2/hr (830 ft2 /hr), the printer can handle peaks in production and deliver on short turnaround times without sacrificing quality.
"PSPs are increasingly faced with complex jobs and shorter lead times, stretching existing equipment to meet client demand," said Xavier Garcia, vice president and general manager, Large-Format Sign and Display Division, HP. "The new HP Latex printers further establish HP's industrial Latex portfolio, delivering a new level of productivity and operational efficiency to help our customers fulfill even the most demanding high-volume sign and display print jobs."
Helping customers increase unattended operation with remote monitoring and print status alerts, the new HP Latex printers are both compatible with the HP Latex Mobile application, with expanded functionality including metrics reporting and extended language support. The new Printer Status Beacon also helps operators stay up-to-date on job statuses and unexpected downtime from anywhere on the production floor.
The new HP Latex 3000 Printer series is also JDF-enabled, a standard language that allows data to pass between different systems to simplify data exchange and collection, helping PSPs reduce labour costs and increase profitability through automation.
Widely recognised as the industry´s most comprehensive finished graphics warranty, the 3M MCS Warranty duration is expanding for HP Latex inks, now offering a six year warranty for film lamination. 3M is also introducing a new UV clear coat for third-generation HP Latex inks that features a five year warranty when used with 3M premium solutions. The 3M UV Clear Coat is expected to be available beginning September 2015.
The HP Latex 3100 and 3500 Printers and complementary HP Latex mobile app are expected to be available worldwide starting 3rd August 2015. A new bright white, FSC-certified HP Premium Poster Paper for use with HP Latex printers will also be available worldwide through licensing partner Brand Management Group (BMG).
HP Scitex expands digital corrugated printing portfolio
Helping converters address market demand for shorter runs and faster turnaround times, the new HP Scitex 17000 Corrugated Press, powered by HP Scitex HDR Printing Technology, can increase digital print productivity for cost-effective corrugated packaging printing.
The new press features the recently introduced HP Scitex Corrugated Grip and HP HDR230 Scitex Inks and prints at speeds of up to 1,000 m2/hr (10,764 ft2/hr) for economical, high-volume production of industrial-grade corrugated boards. Prints made with the HP HDR230 Scitex Inks on a representative coated media have been independently certified as having Good Deinkability.
"With growing customer demand for faster production, our full-service team frequently moves from graphic design to printing in a matter of days," said Louis DeJesus, owner, Third Dimension. "The HP Scitex 17000 will help us increase speed to market, meeting deadlines impossible with conventional corrugated equipment. The new press is a key ingredient in our plans for accelerated digital corrugated growth, extending the same high-volume capacity of the HP Scitex 15000 to power our new Charlotte, N.C. facility."
HP is also introducing the HP Smart Uptime Kit for HP Scitex Presses, a cloud-based inventory management system enabling customers to log parts, track usage and extract reports for increased production uptime and productivity.
The HP Scitex 17000 Corrugated Press is expected to be available worldwide starting 1st August 2015.
HP at FESPA 2015
At FESPA 2015, HP is showcasing the HP Latex 3100 and 3500 Printers along with its broad portfolio of large-format solutions, including the latest technology innovations:
The new HP PageWide XL Printer portfolio, showcased in the HP PageWide VIP experience area in HP booth V10 hall 9, offers the fastest large-format printing available in colour and black-and-white with speeds up to 30 D/A1-size prints per minute, as well as two 775 millilitre ink cartridges per colour.(7)
The recently announced 64-inch HP Latex 370 Printer with 3 litre inks is designed for more unattended printing in large production PSP environments at lower operational costs, while maintaining the high-quality, scratch resistance and drying benefits of HP Latex Inks.
The new HP Scitex 11000 Industrial Press with HP Scitex Smart Coat Technology, which provides PSPs with increased versatility and productivity for high-volume production of indoor sign and display applications.
The recently announced HP Scitex FB750 Printer, which enables PSPs to enter into rigid printing with a compact footprint and tabletop roll holder design for flexible substrates.
Additional information about the new HP Latex and Scitex solutions is available in an online press kit at www.hp.com/go/FESPA2015.
Product videos and updates are also available on Facebook at www.facebook.com/HPdesigners, on Twitter at www.twitter.com/hpgraphicarts using the #FESPA hashtag as well as on YouTube at www.youtube.com/hpgraphicarts.
Interested in joining our community?
Enquire today about joining your local FESPA Association or FESPA Direct