Industry
HP debuts Scitex 9000 industrial press at FESPA Digital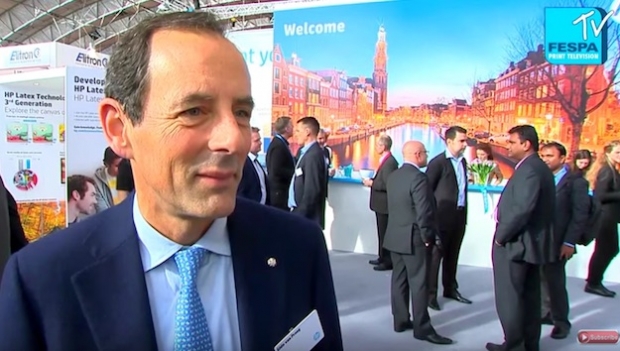 HP unveiled an entry-level Scitex industrial flatbed and a new inkset at FESPA Digital targeted at mid-level sign and display printers.
Mid-volume PSPs face a gap in the market, requiring faster production speeds than what entry-level equipment can deliver but at a lower cost of ownership than high-end industrial presses.
With the new HP Scitex 9000 Industrial Press and HP HDR245 Scitex Inks, HP is expanding its HP Scitex High Dynamic Range (HDR) portfolio, now installed in over 30 countries worldwide, and reinventing the mid-volume industrial category by making high-quality production at speed even more affordable.
"Sign and display PSPs are constantly challenged with finding the right printing solutions that fit both their business needs and budget," said Xavier Garcia, vice president and general manager, Large Format Printing, HP.
"The affordable new HP Scitex 9000 Industrial Press and HP HDR245 Scitex Inks enable more customers to take advantage of the quality and productivity of HP Scitex HDR printing technology for higher-value jobs, while offering a clear upgrade path for customers as their printing needs evolve over time."
Isaac Meged, worldwide marketing manager, HP Scitex Industrial Presses, GSB commented: "We think the 9000 will be extremely popular, because we think we have identified a niche in the market where printers are looking for an industrial press on one hand, but with a lower total cost of ownership on the other."
"It's perfect for mid-volume printers that don't yet require automation, but will as their business grows, and the 9000 can grow with them."
Competitive offering for mid-volume market
The HP Scitex 9000 Industrial Press provides up to 90 beds/hour engine speed. With its manual media handling, productivity is operator dependent and can reach up to 60 beds/hour.
Reaching up to a 500,000 m2/year (5,381,955 ft2/year) duty cycle, the HP Scitex 9000 Industrial Press enables customers to print a range of applications, including point-of-purchase signs and displays. Additionally, the press is upgradeable, allowing customers to scale production according to their quality and productivity needs as their businesses grow.
New HP HDR245 Scitex Inks offer cost-effective production on flexible as well as rigid and select plastic medias, providing higher-quality at faster speeds.
The new, low odor inks enable longer runs with minimal maintenance intervention and can eliminate the need for additional protective overcoats due to their flexibility and surface durability, ultimately reducing production times as well as operational costs.
HP HDR245 Scitex Inks provide a wide color gamut with up to 86 percent Pantone coverage and print longevity of up to two years outdoors.

The HP Scitex 9000 Industrial Press will be commercially available beginning June 1, 2016.

"Customers can start with the 9000 and upgrade to the 11000 if they want to as their production increases," said Meged. "It's field upgradable to the 11000 specification involving adding automation, software upgrades and new print modes. It takes about a week to upgrade it."
HP at FESPA Digital 2016
In addition to announcing its latest HP Scitex HDR technology advancements, HP was also showcasing its broad portfolio of industry-leading large-format solutions, including:
The HP Latex 310, HP Latex 360 and HP Latex 370 Printers, representing the No.1 low-volume printer series,(7)which help customers efficiently expand large-format applications with improved durability and image quality.
The HP Scitex FB750 Industrial Printer providing increased quality, versatility, ease of use, compactness and reliability, as well as the ability to print on rigid and flexible media.
The HP PageWide XL 8000 Printer, the fastest large-format monochrome and color printer ever,redefining technical production with up to 50 percent savings in total production costs.
HP also used FESPA Digital, from 8-11 March in Amsterdam, to show the latest incarnation of its WallArt Suite, its web-to-print platform for SMEs in the decoration space. Developed for Latex users, it's the first HP web-to-print platform to integrate everything from design to quotes to customer orders.
At the HP booth, FESPA TV spoke exclusively to Gido van Praag, VP & General Manager Graphics Solutions Business EMEA at HP, to discuss the company's latest launches, the benefits for the end users and his thoughts on FESPA Digital 2016.
Interested in joining our community?
Enquire today about joining your local FESPA Association or FESPA Direct