Industry
Heidelberg sets sights on €3 billion in sales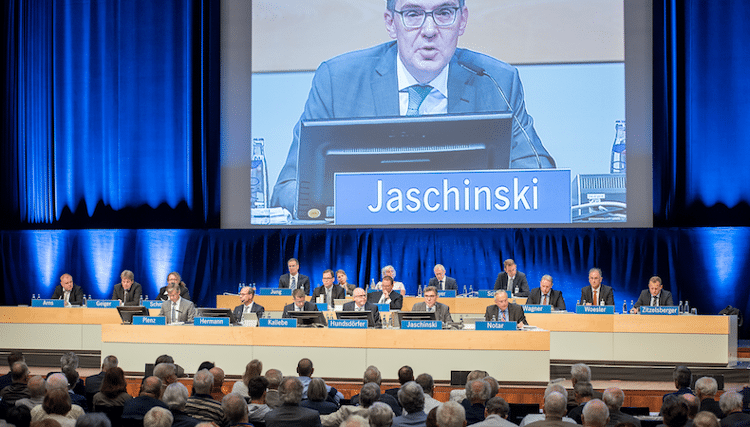 Heidelberg will aim for €3 billion in sales by 2022, an increase of €500 million over its current sales figures.
At the manufacturer's annual general meeting in Mannheim, Germany, around 1,600 shareholders approved all items on the agenda with a clear majority, including the election of Oliver Jung to the Supervisory Board.
Heidelberg CEO Rainer Hundsdörfer introduced the "Heidelberg Goes Digital" strategy, which will focus on technology leadership, digital transformation, and operational excellence.
"Over the next five years, Heidelberg will once again become a leading light in the sector, enjoying strong growth and profits. We've defined the relevant success factors and have already introduced initial measures. This marks the start of a new era of growth for Heidelberg," Hundsdörfer said in a statement.
Heidelberg's digital strategy was rewarded on June 30 when investors converted 95% of a €60 million mature convertible bond into Heidelberg shares, reducing the company's debt and costs of interest.
"We are very pleased to see the capital market's confidence in the future of Heidelberg further strengthened. The increased share price and the conversion of the bond into equity are important indicators for us that we have been able to convince investors of our 'Heidelberg goes digital' strategy," said Dirk Kaliebe, CFO.
He explained how Heidelberg's Push to Stop principle was like moving from a satnav to guide an operator through the process steps needed to run a machine as speedily and efficiency as possible, to an fully autonomous vehicle. "The Push to Stop concept has set a standard in the market," Hundsdörfer explained.
The company has more than 40% of the sheetfed litho market worldwide, meaning there are limited opportunities for expansion, especially in a flat market. But it also has less than 5% of the worldwide market for digital press and less than 5% of the worldwide market for consumables. Both offer opportunities for sales growth, Hundsdörfer added.
The opportunity in its core sheetfed offset market is to tap into consumables and service revenues which are currently being missed. Over a five-year period a printer can spend as much as 70% of the initial investment price on these areas which again is an opportunity for the business.
Much of these sales can be captured through Heidelberg'sexpanding online shop. It wants to become the Amazon for the printing industry, shareholders were told. Printers would be able to buy non-Heidelberg products through the online store. This is a step further than predecessor Gerold Linzbach had envisaged. "We want to offer everything that our customers need to run their operation," he said.
The 2016-17 financial year saw Heidelberg finish with an EBITDA of €179 million and €2.5 billion in sales. Attendees at the event comprised close to 30% of the company's share capital.
Interested in joining our community?
Enquire today about joining your local FESPA Association or FESPA Direct