Industry
Glendining Signs catapults into 2020 with an EFI VUTEk h3 from CMYUK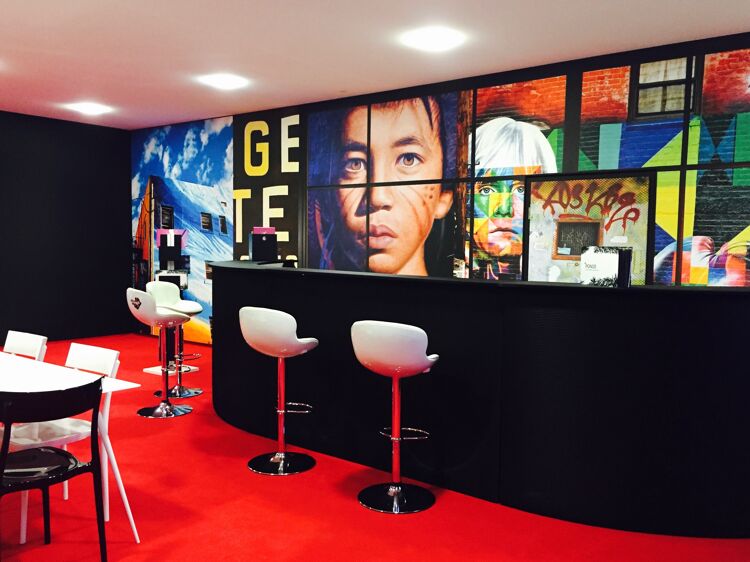 Berkshire-based Glendining Signs has installed an EFI VUTEk h3 hybrid LED printer from CMYUK. This production powerhouse is set to replace the company's three HP FB500 printers and will migrate workload from existing HP Latex machines. The investment, which includes an Esko Kongsberg X24 digital cutting table also installed by CMYUK earlier in the year, amounts to nearly £500,000.
Choices, choices
The decision to buy the h3 came about after a review of existing equipment. Initially, Glendining Signs was looking for direct replacements of its HP FB500s, and was interested in a UV hybrid to work alongside its other UV production printers. However, after seeing the h3 in action at CMYUK, all other plans were blown out of the water.

"It was clear that this would be a real step up enabling us to offer print on a different level," says Chris Lake, Operations Director. "The h3 was described by our Technical Print Co-ordinator, Andrei Laurentiu as 'the Lamborghini of the print world'! It is truly impressive in form and function. We were impressed with its stylish looks but moreover the speed and quality that's possible with it. We have always had to compromise either speed or quality with other printers. If you print fast the quality suffers and if you print quality, it's slow but not with the h3! We were seeing a printer being pushed to speeds that we hadn't even dreamt were possible whilst still maintaining great quality. It was truly stunning to watch. The hybrid printer model has always suited our operation and the h3 seemed to address all the issues that we had previously experienced. The wrinkle sensors and crash bars to protect the heads, larger ink reservoirs and more affordable inks along with LED ink curing sealed the deal," he says.
Affordability
While the h3 offered everything Glendining Signs could wish for, the only issue initially, was the price. The company was aware that while a premium product comes with a premium price tag, purchasing the h3 was much more of an investment than simply replacing old plant with like for like. Says Lake, "We were motivated to find a way to make this work and did some serious number crunching to analyse the true cost of this potential purchase. What was really surprising was that once we took into consideration the multiple maintenance contracts and ink costs on our old printers, we found that running the h3 in comparison was much cheaper. This saving over time could be offset against the depreciation of the investment making it much more attractive. This swung the balance and convinced us that investing in an h3 was investing in a successful future for our business and so we took the plunge."
Benefits
The obvious benefits of adding the h3 to the company's plant list are speed and ink costs, and the capability to offer customers faster turnaround times even if they order in bulk. The h3 directly replaces three older H.P. FB500 printers, and will also be taking some of the workload from existing HP Latex printers, traditionally used at the company for the output of banners. Now Glendining Signs can produce banners at the highest production speeds, all with uncompromised quality and reliable throughput. Its direct-to-board printing on standard substrates is also done at lightning speeds at far better quality than ever before.

"There are other features too like multiple layer printing and the ability to print white," says Lake. "We have always been able to do these things, but the hassle of changing over to white printing or layering up prints made it unattractive. Now these are standard features so we can increase our offering to the market to include products that use these processes.

"We can print to coloured substrates and still get punchy images, create acrylic signs with transparent and solid colour areas or produce double-sided block out window graphics in one process without having to layer up bits of vinyl. To fully utilise the speed potential of the printer we have started to print more on large boards than ever before. This ties in really well with our other recent purchase of a Kongsberg X24 Sign Starter package. We can print on a sheet and move it to the cutter for automated production. This is great for the substrates that are harder to cut such as the thicker foam PVC boards or Correx," he says.

The cutting crew
Glendining Signs had been interested in cutting tables for several years but had had never explored the option properly. However, with increasing amounts of jobs being cut by partner companies and following conversations at Sign and Digital UK, the company decided to visit CMYUK's demonstration and training facility in Shrewsbury.

"We were really impressed with the hardware and agreed it would benefit our business and help to bring our machine cutting processes in house," says Lake.

The cutter has quickly become an established part of the production process, and relied upon far more than expected. It is used to cut thicker and harder materials, and allows for the cutting of complex shapes easily without relying on outside third parties.

"We hadn't anticipated that is would be used for other things like, creating reinforced packing corners from cardboard sheets or allowing us to create an entirely new range of site marker signs requiring intricate cutting and creasing of Correx. Now that we have the h3 it is allowing us to cut larger sheets with ease, so it fits in perfectly as a production essential," says Lake.
The CMYUK factor
The installation of the h3 was the biggest and most involved installation process that the company had ever undertaken. With multiple site requirements, it proved to be a challenge but one that Glendining Signs, CMYUK and EFI responded to with aplomb.

"From the transport, through installation and training all of the people we encountered along the way were skilled, dedicated and professional. They made a daunting experience manageable. Even when things went off plan, they supported us and got us back on track. CMYUK added value to the EFI installation by sending its own experts Amira Bouchiba and Rob Cawston to help the printer bed-in and profile its output, this additional expertise was invaluable.

"Having a supplier like CMYUK means that we can tap into their resources and knowledge base at any time. We know fundamentally they are there to supply goods to us, but they also provide a valuable service supporting our business. In short, we know that CMYUK will always help if they can, and if not, they probably know someone who can," says Lake.
Future ambitions
Purchasing the h3 is a commitment to future growth and development not only of its business, but that of its valued customers. According to Managing Director Lee Crawford, Glendining Signs' guiding mantra is to reliably supply high quality signage at an affordable price and meeting customer deadlines. The purchase of the h3 is a way to safeguard this core tenet as the company moves forward.

Says Crawford, "With a challenging economical climate effecting our key markets our current focus is to maintain our client relationships and supply chain. We hope to do this by improving our offering to the market in both speed and quality whilst maintaining our exceptional levels of service. It is our hope that with investments both in people and equipment we will remain at the top of our game allowing us to thrive, even in challenging times."

Interested in joining our community?
Enquire today about joining your local FESPA Association or FESPA Direct