Industry
Gandy Digital to unveil new 5m roll-to-roll printer at FESPA Digital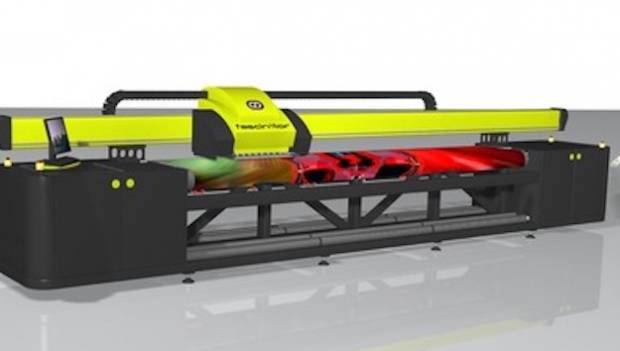 The Gandy Digital Fascin8tor offers higher quality regardless of speed, as well as lower cost per square metre, thanks to reduced ink consumption.
Wide-format equipment manufacturer Gandy Digital will present the latest addition to its growing portfolio of high-quality, high-speed large format printers at FESPA Digital 2016, from 8-11 March at Rai Amsterdam.
Set to make its global debut at the show, Gandy Digital's new Fascin8tor 5m roll-to-roll printer delivers large format prints with very low ink consumption, without compromising print quality and regardless of speed. This allows customers to increase productivity, extend their application portfolio and maximise job profitability.
Utilising Gandy Digital's advanced Blade technology, Fascin8tor combines eight Ricoh Gen4 print heads per colour to produce optimum print resolution. The printer uses fixed dot printing to ensure cost-effective, yet very high print quality in all printing modes and speeds.
According to the Canadian manufacturer, "printing with small fixed, high density ink dots results in cost savings for users due to lower ink consumption per square metre."
Building on the success of Gandy's other flagship printers, Fascin8tor enables printing directly onto mesh without a liner for applications including outdoor billboards.
Shmulik Lagziel, Managing Director EMEA at Gandy Digital comments: "At FESPA 2015, we launched Gladi8tor, a large format digital UV flatbed printer with increased application durability and flexibility. The combination of multiple speed and colour configurations combined with our 8-Blade print technology proved a tremendous success, enabling users to grow their businesses and increase profitability."
"The launch of Fascin8tor, underscores our continued effort to deliver large format print solutions that meet the direct needs of users."
Products demonstrated at the Gandy Digital stand (Hall 1, Booth H21) also include:
Gandy Digital Softjet
A direct to fabric roll-to-roll sublimation printer, using environmentally safe water based inks to provide vibrant and durable colours. Featuring the latest Ricoh Gen 5 print heads, Softjet is available in 3.3m (10'10"), 2.54m (8'4"), 1.88m (6'2") print widths.
Gandy Digital Sl8te
A highly competitive hybrid printer, roll-to-roll and flatbed LED printer. Available in 1.6m (5'3"), 2.2m (7'2"), 2.6m (8'6") and 3.2m (10'5") print widths, Sl8te utilises Ricoh Gen 4, six picoliter print heads to produce very sharp print quality.
Gandy Digital Termin8tor
A high-resolution, 3.2m (10'6'') roll-to-roll printer. Offering high quality at fast printing speeds, Termin8tor comes with 4, 8, or 16 Ricoh seven picoliter print heads. Printing at 320sqm/h, this printer uses environmentally-friendly inks and produces high-resolution prints in minimal time.
Come and see Gandy Digital's latest large format printers in action and pick up some samples during the big show, from 8-11 March at Rai Amsterdam.
To register to attend FESPA Digital 2016, visit the official website and use the promo code ADOZ0104 for FREE entry. Your ticket will include access to FESPA Digital, European Sign Expo, FESPA Textile and Printeriors 2016. Online registration will close on the 7th of March and tickets on the door will be charged at €40.
Interested in joining our community?
Enquire today about joining your local FESPA Association or FESPA Direct