Industry
Fujifilm to demonstrate the growing strength of its Acuity range at FESPA 2018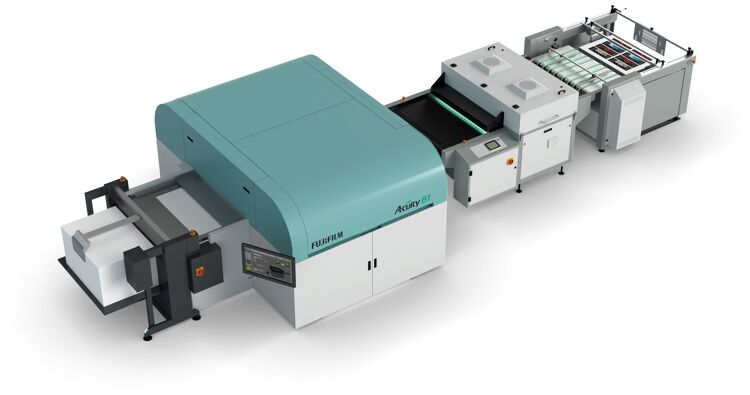 At FESPA 2018 Fujifilm will focus on two new high-end platforms, their Acuity B1 modular system and a ground-breaking new platform that will be announced in April 2018.
Fujifilm will be exhibiting at the Global Print Expo 2018 where they will be presenting their new Acuity B1 modular system which was first previewed at FESPA 2017. The second will be a new platform that will be announced in April. As part of FESPA's Digital Corrugated Experience and in combination with Inca Digital, Fujifilm will display the Onset X platform to produce corrugated displays and packaging in Hall 5.2, stand C30.
The Acuity B1 is a high quality, versatile modular printer for short run graphic display work and will be the star at Fujifilm's stand this year. Originally featured as a preview at FESPA 2017, the Acuity B1's full commercial launch will take place at FESPA 2018. The printer has the most advanced UV technology and features new Fujifilm Dimatix QFR printheads which delivers 7 picolitre drop sizes. It provides excellent print quality and high productivity at a reasonable price and can be used in a vast range of print businesses.
At FESPA's Digital Corrugated Experience Fujifilm will showcase the corrugated capability of the Inca Digital Onset X platform. The Onset X features the most advanced Fujifilm inkjet technology and high quality Fujifilm UV ink. This includes Uviijet LM, a new log migration ink range designed specifically for printing to secondary food packaging and corrugated retail displays. The Onset X now includes a brand new Inca Digital robotics system. Fujifilm experts will be available to talk to about the endless capabilities of the Onset X.
Fujifilm's Graphic System Europe Sign & Display Segment Manager, Tudor Morgan says: "Fujifilm's Acuity range is very popular for graphic display printers. In this past year we have added the Acuity LED 1600R roll-to-roll printer, the Acuity 15 flatbed and the Acuity B1 to the range. With the Onset X and our new ground-breaking platform that will launch in April, Fujifilm now has a machine to suit the requirements of every wide format graphic display printer. Fujifilm offers entry level to ultra high end production printers and everything in between and all offer excellent quality and reliability.
Fujifilm will be exhibiting in Hall 2.2, Stand D50 at the Global Print Expo 2018. FESPA's Digital Corrugated Experience will showcase the potential of digital print for corrugated packaging and display applications. To find out more about the Global Print Expo, see the full exhibitor list and to see information about how you can register to attend, visit the event's official website: www.fespaglobalprintexpo.com
For free entry use code FESJ801 when registering.
Interested in joining our community?
Enquire today about joining your local FESPA Association or FESPA Direct