Industry
First Landa Nanographic press goes in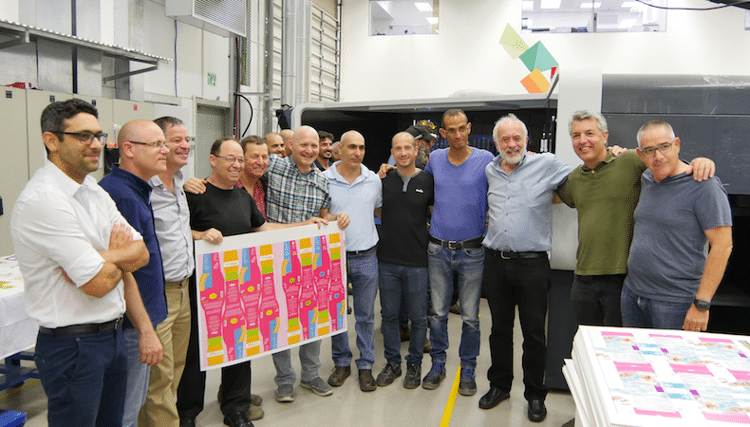 Landa Digital Printing has shipped its first press, hailing the event with the words "printing will never be the same again".
Just over a year since the launch of the revolutionary Landa S10 Nanographic Printing Press, Landa has shipped its first to a folding carton packaging and label convertor, Graphica Bezalel, which is located near to the Landa facility in Rehovot.
The firm's press is a straight printing B1 format sheetfed S10 Nanographic model, which prints at 6,500sph. A field upgrade to the 13,000sph high-speed version will be a future option.
The Landa S10 is the first of three announced beta installs for this year with another going to US-based point-of-sale and signage specialist Imagine! in November, followed by one to German-based packaging group Edelmann in Europe before Christmas. The first UK installation will take place next year.
According to Yishai Amir, CEO of Landa Digital Printing, the first shipment is a significant moment not only for the company but also for printing itself. "We have begun delivering our game-changing technology to the market. Now we are ready to deliver our presses to the first customers it's time to change the rules of the game… again. Printing will never be the same again. Stay tuned," he said in a press release.
The roll out is the culmination of a process that began in 2012 when Benny Landa, the father of digital printing, announced a new imaging format, nanography, employing nano-particle inkjet.
The initial showing was followed by a thorough revamp of the press conception as Landa re-engineered it upwards to match the performance of full-size offset production machines. The presses shown last year have since spent a year being fine-tuned before the release to beta customers.
Landa's caution in the roll out reflects his experience with criticism of the original Indigo digital print engines in the 1990s – the genesis of digital printing – which were released before the technology had been fully developed. This time around the Landa company has had to ignore claims the new system would never see the light of day.
The Graphica Bezalel press will be a focus of a customer event in September for the numerous early adaptors who've signed on to be in line for the Landa presses., revolutiona
In a video posted to mark the first installation, Landa founder and chairman Benny Landa charts the evolution of his latest print tech and says: "That really was worth waiting for."
Interested in joining our community?
Enquire today about joining your local FESPA Association or FESPA Direct