Industry
FESPA Digital 2016, an 'incredible sucess' for Ricoh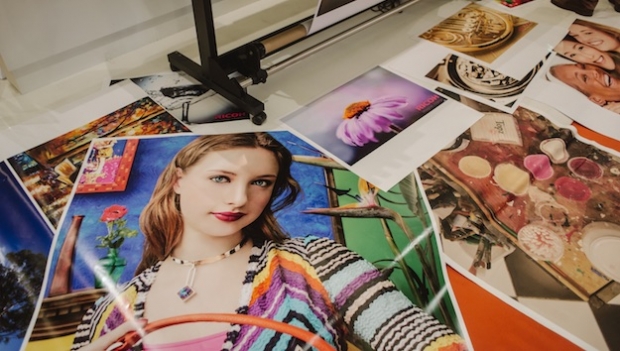 Ricoh used its FESPA debut in Amsterdam to signal its intent to become a serious player in the wide format sector.
To address the demands of its fast-growing sign and display graphics customer base, Ricoh launched its aqueous resin (AR) latex ink for the Ricoh Pro L4100 series of large format printers at FESPA Digital.
The firm's proposal at the show aimed to highlight the AR ink's ability to deliver sharper, richer, colour on a wider range of substrates with faster drying times and reduced energy consumption compared to the original latex ink.
Ricoh also presented, for the first time, the latest version of its Ricoh Pro L4100 series printers.
The six-colour plus white, roll-to-roll 4100 is an OEM version of the Mimaki JVX400 LX series, but is now fitted with the Ricoh variable drop piezo printhead technology and a new latex inkset, developed exclusively by Ricoh. The cold-cure inkset cures at 60˚C.
"In essence the new 4100 uses a Mimaki chassis, but with the heads and now the inks the technology 'inside' is all Ricoh," said Benoit Chatelard, Ricoh vice-president, production printing group, EMEA to PrintWeek magazine.
The 1,200dpi 4100 is capable of 33m2/hr and is available in either 1,371mm or 1,620mm widths.
"We are very determined as part of our commercial print initiative to expand and that's why it's a good time to be at FESPA. There will be dramatic growth for sure, we start small but we already have big plans," Chatelard added.
"We are very serious about wide-format and we will be a serious competitor in the near future. We will expand, over the course of this year and we will introduce additional things. We will also leverage our direct sales and service channel – our infrastructure in Europe is huge."
While initially the 4100 will be sold direct, Chatelard said the firm was looking to also establish a reseller network. He also hinted that wider machines and also flatbeds were on the horizon, as well as high-end, high-productivity machines.
While the 4100 will be the main focus for Ricoh, it was also showing the newest version of its MP CW2201SP wide format multifunction printer for CAD and AEC applications, which was 'refreshed' in February.
It was also running a Pro C7100X colour cut sheet press on its stand, demonstrating various commercial and banner applications.
After the show, we spoke to Ricoh Manager Business Development Huib Kolen, to discuss new inkjet offerings, future plans and views on FESPA Digital 2016.
"As a debut, FESPA Digital in Amsterdam was a huge success for Ricoh. We launched the new eco-friendly AR latex inks for the Ricoh Pro L4100-series and the new colour MP CW2201SP wide format multifunction device for graphic arts and AEC/CAD applications." On the Ricoh
"On the Ricoh stand we also demonstrated the BLI award-winning Pro C7100X colour cut sheet production system with a fifth colour station for clear and white toner."
"FESPA proved itself to be a perfect platform for Ricoh to inform the market of our ambitions in the sign market. A lot of visitors to the Ricoh stand were looking to add new and efficient services in the world of printing to broaden their range of application capabilities."
"Next to speaking to print and sign companies it was also an ideal week to talk to potential new distributors and OEM's that have used Ricoh's printhead technology for a long time."
While this year's show was Ricoh's first time FESPA, it indirectly had a double presence following its acquisition of California-based direct-to-garment printer manufacturer AnaJet earlier this year, which had its own stand at the exhibition.
Interested in joining our community?
Enquire today about joining your local FESPA Association or FESPA Direct