Industry
Fantasy Prints invests in new EFI Vutek GS2000LX Pro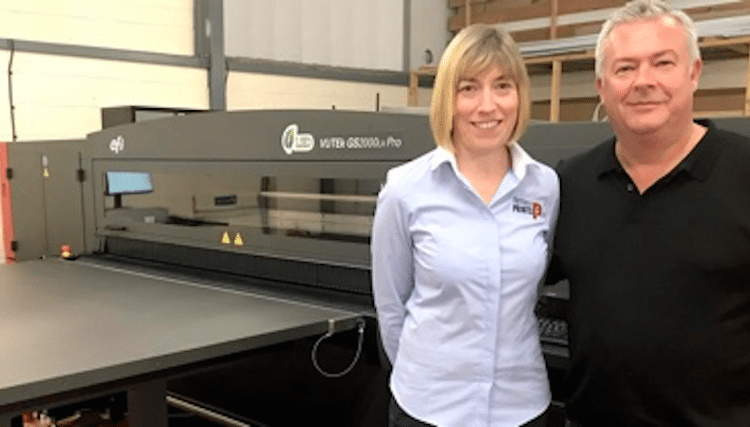 Digital and wide-format printer Fantasy Prints has invested around £315,000 in its first EFI Vutek machine to boost capacity.
Fantasy Prints combines the very latest technology and materials with years of experience. With a significant market share in leisure parks nationally, its Edinburgh office allows the company a clear and specific focus on Scotland, with a locally based team available to liaise with clients in Edinburgh, East Lothian and the Scottish Borders
Offering a complete printing and signage solution means that staying on top of the latest technology is key.
"Our investment in the new EFI Vutek GS2000LX Pro from CMYUK allows us to provide innovative new products such as bespoke printed wallpaper and large format graphics," commented Fantasy Prints managing director Sarah McMorn.
"Our highly motivated team has the knowledge and experience to deliver superb printed communications, and now we have the market leading industrial equipment to complement that."
Suitable for the likes of banners, exhibition graphics and signage, the LED-UV hybrid Vutek comes with greyscale technology for higher quality and prints at up to 186sqm/hr in Fast-4 mode, with Fantasy's machine running CMYK plus white.
It can handle a range of sheetfed media at widths of up to 2m and thickness of up to 5m, running off a Fiery XF production digital front-end with colour management workflow.
Working across broad sectors and offering a diverse range of materials, Fantasy Prints is currently in the final stages of ISO 9001 accreditation. Projects range from property development branding, corporate décor and event graphics, to retail display, personalised workwear and educational clothing.
This latest Vutek printer offers industrial production at the highest quality while also allowing organisations to print onto more environmentally friendly materials resulting in a much lower carbon footprint.
Sarah continued: "The installation and training from CMYUK was first class. We focused on three areas of implementation as key to success and ensuring smooth transition into production."
"We wanted to learn and become experts on the latest EFI technology, and available functionality. CMYUK provided superb application training on white ink, multi-layer, nest, print and cut workflows to ensure maximum efficiency. We really like the way this training blended into live production on real jobs involving both our prepress and press team."
Interested in joining our community?
Enquire today about joining your local FESPA Association or FESPA Direct