Industry
Exhibition specialist doubles its capacity with EFI VUTEk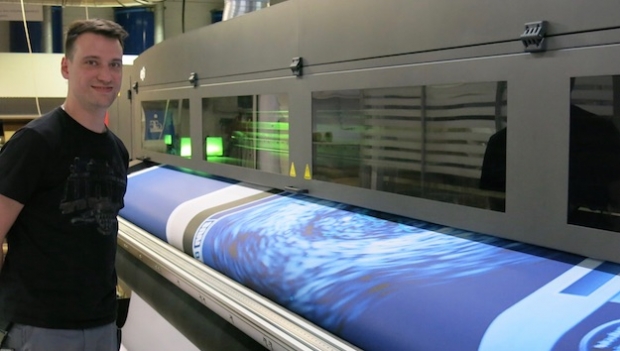 For over 24 years, Rodenkirchen Mediengestaltung GmbH, based in Erftstadt-Liblar near Cologne, has specialised in providing graphic services to exhibition stand builders.
Company founder, Werner Rodenkirchen is an interior designer and has always been passionate about materials and home textiles. Combining this passion with his exhibition experience ensures customers that the end result is both informative and attractive.
With 10 employees and seven large-format printers the company can meet any challenge. Exhibition companies value Rodenkirchen's competent consultations, the quality of his output, and the speed of delivery. His talents prove invaluable to Museums as well, who turn to him for temporary exhibits.
Meeting quality and speed challenges
While the company loved its Matan five-metre printer, the eight-year old technology could no longer achieve the quality Rodenkirchen needed. Boards would get warped and become statically charged.
Rodenkirchen chose the new EFI VUTEk GS5000r. "Using the latest EFI technology and thanks to the advent of greyscale technology, the eight colours with four as CMYK light, and the high resolution of 1000 dpi, we are achieving a visibly better print quality than before," he says.
Textiles are becoming ever more popular for exhibition applications so printing on banners and fabric panels has become exceedingly important. Printing performance of the older Matan UV printer on wide materials was good, but the prints were relatively susceptible and had a certain amount of stiffness.
This changed with the VUTEk GS5000r, because the 3M-inks from EFI are flexible and quick to cure during UV printing.
The textile material feels a lot smoother, is easier to stretch, and the colour does not chip off when folded. "In particular when back-lit, a wide range of colours including deep black come through in the screening, and at the same time, faces are depicted with soft and smooth skin tones. And that's with the machine printing twice the speed," says Rodenkirchen.
The is controlled by a Fiery proServer. Tobias Schöbel has been using the Matan for years so he was accustomed to working with 5-metre rollers.
He praises how user-friendly it is to operate, especially the colour management system of the Fiery. "We scripted a couple of new profiles, which are simply superb. This has enabled us to achieve a wide range of colours and a good grey balance," he adds.
Rodenkirchen also invested in the EFI H1625 LED. The hybrid machine can be used for web-fed printing or board printing. The EFI H1625 gradually moves the boards through the machine by way of a vacuum belt controlled by a variable drive, the configuration of which is determined by the selected resolution and printing speed.
.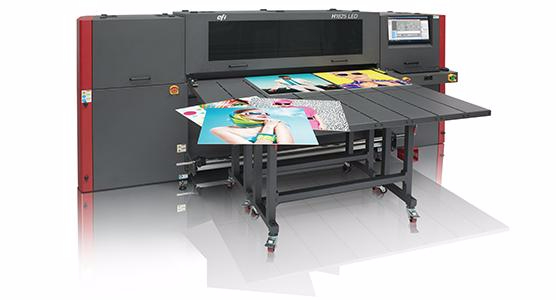 The EFI VUTEk GS5000r was followed by a EFI H1625 LED entry-level hybrid machine.
Martin May, head of sales at Rodenkirchen, is open in his admiration for the new machine: "Since 2011 we have been printing an increasing number of heat-sensitive hard foamboards. The LED curing process in the H1625 solved any problems we had experienced in this area and on account of the new transit principle, even boards of any length can be printed, in a width of up to 165cm."
The two white colours are particularly important, as they are used to print on both sides of acrylic and glass boards. White printing is done in the same way as each of the four CMYK colours, at high coverage, but at half the speed
The UV-cured 3M inks used with the H1625 are ideally suited for the entire range of soft signage applications like banners, roll-up and display media. In contrast to printing that uses solvent-based inks, there is no need for laminating, thereby preserving the full colour brilliance.
"With the introduction of the two new EFI printers, we are able to offer our most important customers, the exhibition-stand builders, better results in all respects. We have achieved a generational change by adding these two new printers from EFI. We are now more attractive to our customers and are in a better position to face the challenges emerging from the market," says Rodenkirchen.
EFI to launch two UV LED inkjet printers at FESPA 2017
The manufacturer has recently announced the launch of two new UV LED inkjet printers that is said to provide the fastest throughput available in their product class, the EFI VUTEk 5r and VUTEk 3r printers. Both machines will be on show at FESPA 2017, giving visitors the opportunity to see their efficiency and productivity in real time.
Taking place from May 8-12 in Hamburg Germany, the exhibition will play host to many major brands from across the global market.
EFI is just one of a number of industry heavyweights that will be in attendance and has committed to taking one of the largest stands at the show, with visitors able to find the company at booth E30 in the sold-out Hall B7, alongside the likes of Roland DG, Durst, Orafol, Drytac, SwissQprint and Avery Dennison.
For more information on FESPA 2017, the companies that will exhibit and to sign up to attend as a visitor, visit: www.fespa2017.com.
Delegates can save 70€ entry fee to the exhibition by registering via the website and quoting reference code: FESG702.
Discover how a visit to FESPA 2017 can benefit your business and register today.
Subscribe to Select Magazine
This article is part of the EFI Select magazine. If you subscribe now, you will no longer have to worry about missing the next issue. You will receive an email with a link to the Select pages in FlipSnack format, from which you can check previous issues and even download the magazine if you wish.

Here you will find the latest edition.
Interested in joining our community?
Enquire today about joining your local FESPA Association or FESPA Direct