Industry
Epson to prove unbeatable power of its SureColor range at FESPA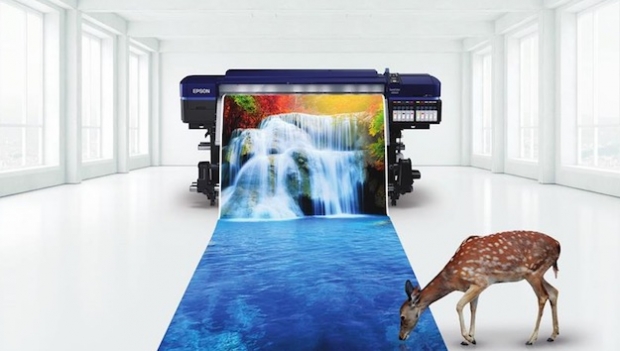 At FESPA 2017, Epson will demonstrate the versatility and efficiency of its latest wide-format SureColor SC-S eco-solvent and SC-F dye-sub and direct-to-garment printers.
Six different SureColor models will be action at the show and all have been developed by Epson to give print service providers a choice of flexible systems that tick all the boxes in terms of quality, running costs, flexibility, performance, ease of use and ability to maximize profits.
Highlights include the successful 10-colour 64-inch SureColor SC-S80600, which uses the UltraChrome GS3 inkset, including red, white and metallic for accurate corporate colour matching and exceptional print quality, even on the cheapest monomeric vinyl.
For durable soft signage and fabric with exceptional quality and very low cost per square metre, the top-of-the-range SureColor SC-F9200 dye sublimation printer features two high-capacity ink supply systems for longer, uninterrupted print runs at resolutions up to 720 x 1440 dpi and speeds just over 100 sqm/hr.
Onyx and Caldera will both be demonstrating their latest RIP and front end management software.
To show visitors the breadth of applications and production potential of the SureColor range, the booth will showcase a selection of aplications including:
high-quality signage and photographic products such as banners, soft signage, vehicle wraps, POS, and back lit displays on a range of substrates, including vinyl and canvas.=
décor products such as wallpaper, curtains, upholstery, splashbacks.
customised 3D promotional and giftware products including phone cases, mugs or keyrings.
textile items such as polyester and cotton T-shirts, tote bags, and fashion outfits.
In addition, Epson has announced it will be working with textile and fashion designer, and winner of the international H&M Design Award 2017, Richard Quinn at FESPA.
Richard's MA graduation show at Central St Martin's last year attracted international attention in the fashion world, including coverage in Vogue, The New York Times and Dazed and Confused Magazine.
Richard uses a variety of techniques, including Epson's SureColor inkjet printers, to print his colourful designs onto the fabric and Mylar foil he uses for his range of haute couture womenswear.
He is developing a special display for FESPA 2017, which will be unveiled at the show and displayed on a variety of décor and fashion items on the booth.
"No one can match us - and that's what we will be proving at FESPA," says Richard Barrow, senior product manager, LFP Signage at Epson Europe. "The industry now expects to be able to produce the best quality products at the best price, which is reflected in the success of our SureColor printers across the board."
"Our range of SureColors are unbeatable when it comes to quality, productivity, versatility, ink efficiency and low cost of ownership. To demonstrate this and show visitors exactly what it costs to produce different products on different substrates we are running a cost calculator on our booth throughout the show."
Register for free to attend FESPA 2017
Industry members that are keen to learn more about the new SureColor models, as well as the many other solutions on offer from Epson, can visit the manufacturer at FESPA 2017.
Taking place from May 8-12 at the Hamburg Messe, in Hamburg, Germany, the exhibition will play host to many major brands from across the global market.
Epson is just one of a host of industry heavyweights that will be in attendance at the event, with visitors able to find the company at booth D45 in Hall A1.
For more information on FESPA 2017, the companies that will exhibit and to sign up to attend as a visitor, please visit: www.fespa2017.com
Delegates can save 70€ entry fee to the exhibition by registering via the website and quoting reference code: FESG702. Discover how a visit to FESPA 2017 can benefit your business and register today.
Interested in joining our community?
Enquire today about joining your local FESPA Association or FESPA Direct