Industry
EFI releases new LED flatbed printer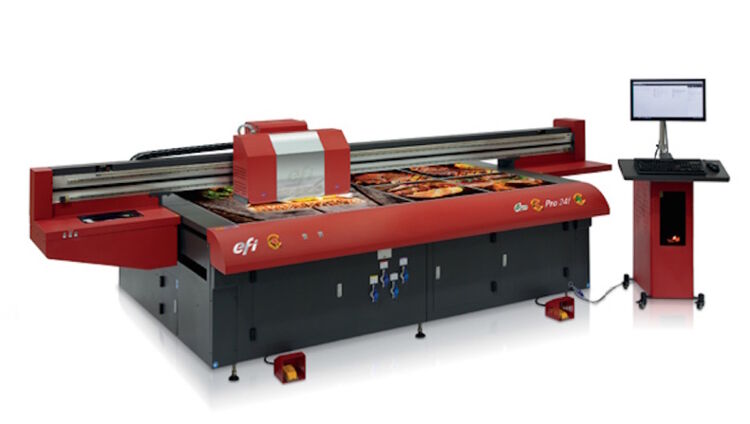 Aimed at signage and graphics providers, the Pro 24f LED flatbed printer can print fine imaging text on boards and is ideal for POP, retail, display graphics and gig-based works.
The new machine features EFI's LED and variable drop grayscale head technology, and provides precision imaging, fine detail and outstanding image quality, according to the company.
With a 4ft x 8ft bed, offering four-colour printing plus white ink standard, the device is designed for at signage, photographic backlit displays, art reproductions, membrane switches, graphic overlays, lenticular prints and other specialty applications up to two inches thick.
Scott Schinlever, SVP Inkjet EFI, noted that marketplace trends are driven by three main factors: brands, points of sale/point of purchase, and customer experience, new applications and increased regionalisation. Because of this, printed output is becoming more complex.
EFI has responded to the demands in the industry with new technology, including the EFI Pro 24f flatbed printer, that is designed according to EFI vicepresident marketing Inkjet Ken Hanulee, to "give signage and graphics providers a sharp competitive edge".
In addition, efficient hold-down with a multi-zone vacuum system eliminates masking while ensuring accurate registration for multiple over-prints or panels, and EFI's "cool cure" LED technology ensures low power consumption, minimal waste and compatibility with thinner and heat-sensitive substrates.
An EFI Fiery proServer Core DFE built into the printer features FAST RIP acceleration technology plus a host of colour management and production options delivering a turnkey solution.
Interested in joining our community?
Enquire today about joining your local FESPA Association or FESPA Direct