Industry
EFI launches Vutek, its fastest roll-to-roll printer at FESPA 2015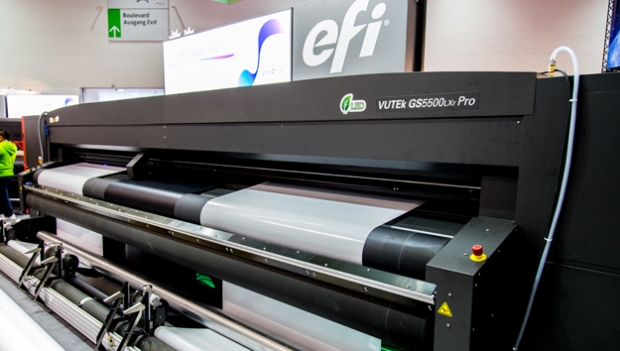 Customer demand has spurred EFI into launching a new fastest-ever 3.2m wide Vutek HSr Pro roll-to-roll printer at FESPA's flagship exhibition.
Electronics for Imaging (EFI) is introducing its new EFI VUTEk HSr press, its fastest production-class roll-to-roll printer, which is currently demonstrating at FESPA 2015.
The company's other offerings displayed at FESPA include end-to-end workflow automation, 7-picoliter grayscale UltraDrop Technology for near-photographic imaging, new SuperRange Ink and energy-efficient, "cool cure" LED imaging at full production speeds, and VUTEk GO, an innovative monitoring application for the high-end VUTEk HS Pro series.
With more than 500 LED inkjet printers installed worldwide, EFI delivers higher-quality, versatile imaging on a broader range of substrates, with virtually no VOC emissions and significantly reduced energy usage. EFI customers are gaining a competitive advantage from their ability to print on thin, inexpensive films, corrugated board and other materials that cannot withstand the heat associated with other drying or curing methods.
UltraDrop Technology offers an additional competitive advantage with the ability to print smaller drop sizes with more precise control thanks to its native 7pL printheads and true multi-drop addressability in each dot position. The results are outstanding smoothness in shadows, gradients and transitions, superb text quality with four-point text in both standard and knockout with fewer satellites and more clarity in all print modes.
"We're really excited about bringing the speed of our highest-end hybrid platform to roll-to-roll," said Scott Schinlever, Senior Vice-president and General Manager at EFI Inkjet Solutions.
"Customers said they wanted a machine optimised for that application, our customers dragged us into it, which is great."
EFI has already sold three, with shipping of the $899,000 device set to begin in July.
The new Vutek prints in six colours plus white at speeds of 322-297 m2/hr. "We're bringing our pin and cure technology into roll-to-roll, which is also unique. Users can adjust the gloss level dynamically, job by job, and our customers are excited about that," Schinlever stated.
Fleet graphics, banners and backlit displays are among the likely applications.
EFI has also developed a new ink with 3M, Superflex, which "has really high stretch and significantly better heat resistance" for vehicle graphics", he added.
Also new at this year's FESPA is VutekGO, a remote monitoring system for the HS Pro Series. It allows users to monitor machine status in real time, and receive push notifications.
Productivity Suite: fully integrated workflow with core MIS solution and Web-to-Print software
EFI is also demonstrating its mid-market Productivity Suite, which gives users an integrated solution to end-to-end automation including certified workflows and synchronized releases across multiple products.
It allows companies to simplify the implementation and maintenance of their management system and operations tasks as they need to grow into new markets and strategically run their businesses.
In its heart is EFI Pace, a browser-based, scalable and customizable print management system that streamlines operations and reduces costs by providing real-time data for estimating, production, accounting, sales management and e-commerce.
Other key elements of the Productivity Suite demonstrated at the show are EFI DirectSmile cross-media marketing software and the newest version of EFI Digital StoreFront, a Web-to-print software providing an industry-leading print buyer experience that extends variable-data and personalized print capabilities and highly-customizable responsive SmartStore libraries.
Printing companies can profitably produce more work using the industry's top online job submission solution offering real-time, bi-directional integration and data sharing with EFI MIS/ERP and EFI Fiery digital print workflows.
Separately, German web-to-print giant, Flyeralarm signed for a Vutek HS100 Pro at the show. It will replace two existing superwide printers at the group.
Interested in joining our community?
Enquire today about joining your local FESPA Association or FESPA Direct