Industry
EFI adds Reggiani COLORS to textile print portfolio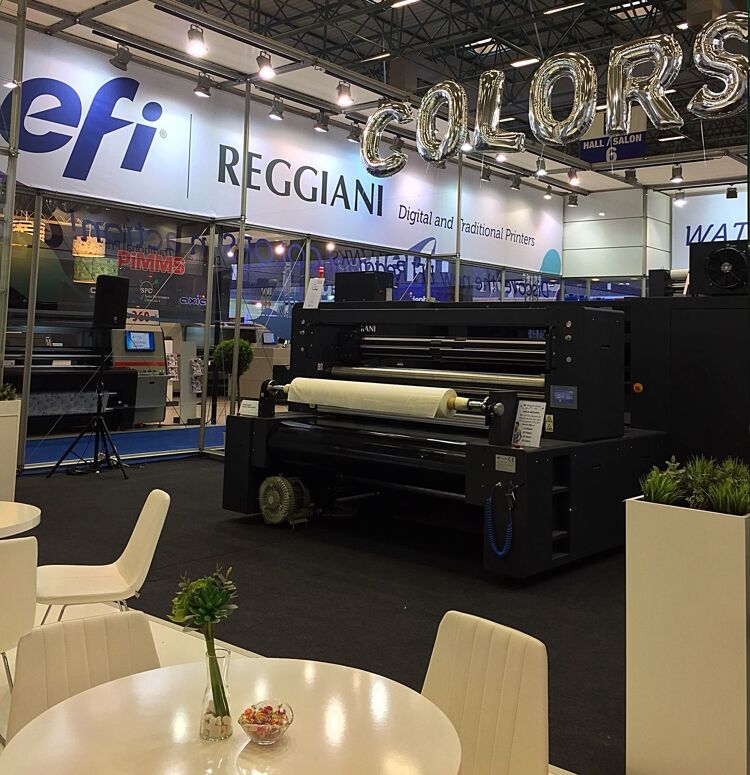 Rob Fletchers talks to EFI who are looking to capitalise on an increase in demand in the textile print market by launching its new EFI Reggiani COLORS printer
Boasting a top speed of 560sq m/hr, the device can print in up to 12 colours in a row and users can place the 12 colours in a high-productivity 6+6 configuration for what EFI describes as "superior imaging at much faster throughput speeds".

A continuous ink recirculation system ensures outstanding reliability, according to EFI, and lets users print with a wider variety of inks, including special inks, inks of different chemistry types, and chemistry for special treatments all at the same time.

Speaking to FESPA.com about the new EFI Reggiani COLORS, Adele Genoni, vice-president and general manager for EFI Reggiani, said that such is the flexibility of the printer that it will enable print service providers to expand into a number of profitable markets.

"EFI Reggiani COLORS plays an essential role in the fashion industry, and an expanded gamut gives textile producers that competitive advantage," Genoni said. "The printer therefore provides superior imaging at much faster throughput speeds, improving production workflows and including the ability to move to greener, environmentally friendly processes.

"It is for industrial textile producers, particularly those working doing applications with very demanding colour requirements."

Genoni added: "The Reggiani COLORS can print a broader range of colours as well as use different types of inks making it a much more versatile production option. So, textile manufacturers can grow their business by producing designs that their competitors cannot produce cost-effectively."

Although the EFI Reggiani COLORS will not be on display at the FESPA Global Print Expo 2018 in Berlin, Germany, next month, Genoni said the manufacturer will showcase a range of other kit that can help printers expand their business.

"We will be exhibiting the EFI Reggiani FLEXY, a digital printer equipped with a brand-new Dynaplast system which provides the ability to print complete on a wide variety of fabrics, ranging from knitted and woven to low-and high-stretch materials," Genoni said.

"Visitors at FESPA will experience the complete textile workflow. From design to digital print, showing visitors the advanced benefits of garment workflows featuring EFI Optitex design and digital software, EFI Fiery digital front ends and EFI Reggiani inkjet printers.

"This workflow makes it easy to collaborate globally and reduces the cost of both sample making and the manufacture of small-lot apparel. It is already revolutionising the fast fashion market by reducing the need to ship expensive samples around the globe, speeding up the design and manufacturing process."

To find out more about the FESPA Global Print Expo 2018 and to see the other companies that will exhibit, visit: https://www.fespaglobalprintexpo.com

For free entry use code FESJ801 when registering.

Interested in joining our community?
Enquire today about joining your local FESPA Association or FESPA Direct