Industry
Durst premieres first 5m dye-sub machine at FESPA Digital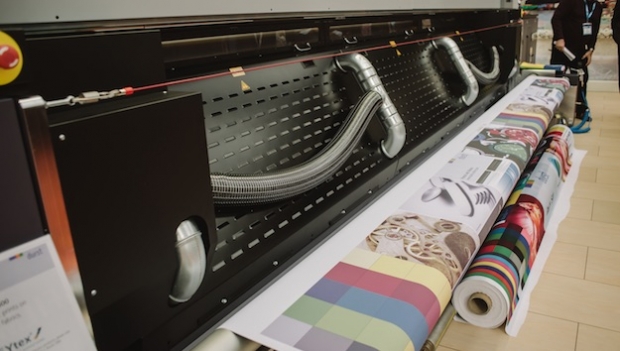 Durst used FESPA Digital 2016 as the launchpad for the world's first 5m-wide dye-sublimation printer for the seamless production of soft-signage and fabrics.
Durst, the specialist in industrial inkjet applications, WAS showcasing its latest innovations for the large-format printing segment at FESPA Digital 2016 in Amsterdam.
With the Rhotex 500, Durst was launching the first 5-meter dye sublimation printer onto the market which, with its extra-wide printing width, can offer seamless soft signage / fabrics applications, stepping up the use of textile advertising and information media.
The 9x3.5m, 7.5-tonne Rhotex 500 took centre stage on the Italian manufacturer's stand at the show, where it was running a wide-variety of live applications.
The 500 has a maximum speed of 310m2/hr in high speed mode, which reduces to 125m2/hr in two-pass production mode and 100m2/hr in high quality mode.
It uses Durst's Quadro S printheads with a 7pl, 14pl and 21pl variable drop size offering 400x600dpi. It has a standard CMYK colour channel configuration, with the option of additional light cyan, light magenta and light black and orange and violet colours.
"The quality of the print is no longer an issue – it's a given. What has always been the demand is seamless: the Rhotex 500 is about the feel, the touch, the look, our customers don't want to have a seam in the middle and that is why they want 5m," said Fabian Sottsas, Durst product manager, roll-to-roll printing.
The 500 can handle coated and uncoated polyester blend textile rolls up to 350kg and 5.05m wide. "For us the key technical challenge was the guide and transport system for textiles 5m wide," said Sottsas. "So what we did was build an entirely new patented transport system."
The first beta machine was installed at Van Straaten in Amsterdam in February, with a second beta due to be installed at Bonn, Germany-based company Thamm shortly. Figarol in Saint Pierre des Corps, France also signed up to be an early adopter and has taken delivery of its machine later last month.
Also making its debut at FESPA was the Alpha 190, the 1.9m-wide smaller sibling of the 3.3m-wide Alpha 330, premiered last year.
Durst is smoothing the path for LFP specialists who want to venture into traditional textile printing with one-step soft pigment inks which can be used universally for various types of fiber such as cotton and polyester and which do not require any pre or post-treatment in standard applications.
The Alpha can be factory configured to run pigment, reactive, dispersion or acid inks. The machine at FESPA was running Durst's specially developed one-step pigment inks designed for the active circulation printheads on the Alpha, which Michael Hofer, product manager for industrial textile printing said "were unique in the market" by allowing the Alpha to run coated and uncoated substrates.
Durst used also FESPA to show the latest advances in its Durst Water Technology, which was first shown at FESPA 2015 last year, with a Rho WT 250 HS being demonstrated on its stand. Also running live was a highly automated Rho 1312 AF.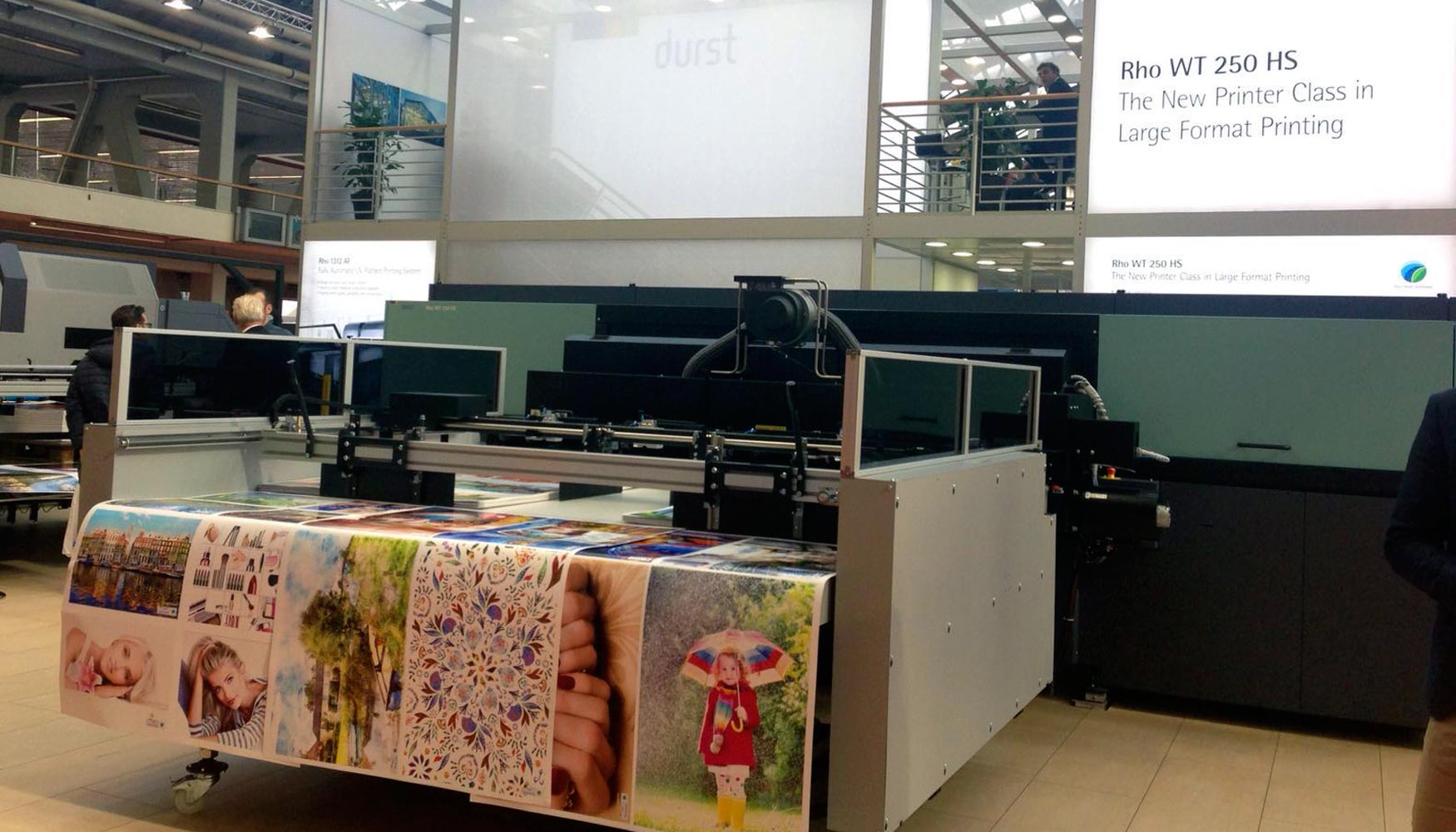 The updated Rho WT 250 HS is equipped with a newly developed feed, alignment and stacking unit to increase overall system efficiency even further.
The new Durst Workflow System also promises optimization of the printing processes and digital data and color management. The system has been developed by Durst's own software division and is being unveiled for the first time at the trade fair.
"Nine months have passed between FESPA Digital 2015 and 2016 and although it only feels like a few weeks, we will be demonstrating our innovative strength at this FESPA too," says Christoph Gamper, CEO of the Durst Group.
"We are developing for the present-day and future needs of our customers and focusing not just on machine construction, but also on the entire production process. Integration into production lines, process optimization and increased cost-effectiveness are what shapes our strategic focus, helping Durst to evolve into a solutions-oriented systems provider and therefore into a true partner for our customers."
With the Rho WT 250 HS, Durst was demonstrating the first flatbed printing system based on Durst Water Technology which offers optical and haptic offset printing technology on a range of coated and uncoated paper media such as displays and posters.
The Durst Rho WT inks are odorless and require no health and safety registration. As a result, the new Rho WT 250 HS is particularly suitable for sustainable advertising media in indoor areas.
"For Durst, FESPA is the key trade show each year, we will be showcasing more machines here than at Drupa for example. This is the right place to showcase our latest technology, but also to talk to customers about their applications and show them what is possible with our technology," said Sümer Cetin, Durst head of communications.
FESPA TV visited the Durst Stand at FESPA Digital 2016 to speak to CEO Christoph Gamper. Christoph discusses Durst's presence in the exhibition, their new launching, the future for the company and their thoughts on this year's digital show.
Interested in joining our community?
Enquire today about joining your local FESPA Association or FESPA Direct