Industry
Durst CEO Christoph Gamper unveils details for FESPA 2017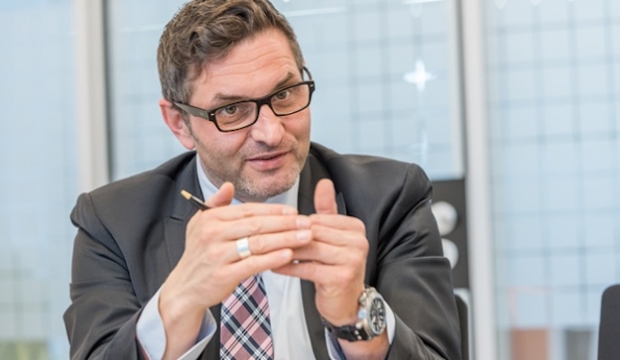 As Durst celebrates its 70th year Lesley Simpson from Image Reports Magazine asked CEO Christoph Gamper about the company's future direction and its commitment to large-format inkjet.
"It's time to extend beyond print." So says Durst CEO Christoph Gamper, speaking with Image Reports not long after the company announced it had established a joint venture with American photographer Steven Sebring called the Durst Sebring Revolution (DSR) to develop camera systems for the creation of 4D visual content.
"The DSR system is a disruptive technology, not only in terms of photography but in the way that content is created and distributed today," Gamper said at the time of the announcement this summer.
He added: "It offers visual content in the highest quality within a few minutes for various applications and platforms. This will enable entirely new concepts and experiences, especially in the retail sector."
So how big a focus is this development for Durst, and is there potential for PSPs - especially those operating in the retail space - to benefit from the technology?
"In a year I can tell you more, but I don't want to give too much away to the competition yet," says Gamper, explaining that Durst has an "incubator that looks at start-up projects - like DSR - and helps get product to market."
He explains: "Durst has already reinvented itself four times, and we will continue to reinvent. We want to grow but remain a private company, and although we have a nice portfolio of products we want to extend it with whatever we think will make an impact in the market."
"With DSR what we are doing is creating another visual experience. It's way too early to connect the dots yet, but yes, I think that will bring new opportunities for our existing users [PSPs] too."
Durst's existing large-format inkjet users - those owning Rho and Rhotex (soft signage) machines - account for 35 - 40% of the company's turnover, which last year stood at 250m Euro. Gamper says it will be "a bit more in 2016".
At the minute a quarter of turnover comes from the ceramic market, around 20% from textile, and the rest from labels print systems.
Of Durst's 700 employees, about a third are in engineering and R&D at the company's Brixen and Lienz sites. Gamper says 11 - 13% of annual turnover goes into R&D. From that pot large-format, ceramic, textile and packaging each take near equal shares, though as Gamper points out, "while we work in business units in R&D a lot of the work overlaps."
He expands: "Seven years ago we entered the ceramics and started paying real attention to the industrial print market because it's natural to leverage the technology we've been developing for the large-format inkjet market into new, growing ones."
"We're doing that with textile too, which is why we're looking at the likes of the Technijet deal. An on-demand pre-treatment for textiles can be useful for other things too - so we'll learn lessons and apply it elsewhere."
"It's too early to talk about specific applications for large-format - competitors are always looking at what we're doing! But I can say that there are likely to be ramifications there. For instance, a large-format PSPS starting to do some interiors textile print and wanting to do customised bed linen couldn't do it five years ago because real material textile print systems were so complex."
"A customer in one of our field tests can now produce on-demand customised bed linen because we have the whole system - the textile pre-treatment, the printer and the inks. By next FESPA 2017, we'll be able to show a lot more."
Gamper believes the requirement and demands of the textile market will also push the environment up the agenda once again. "I know environmental issues have been a bit out of focus but it's coming back into sharp relief," he says as he sits at his desk looking over the Alps and admitting that, for him personally, the environment is an important issue."
Of course Durst made something of a splash when it introduced its Water Technology, now incorporated in all the Rhotex machines, plus the Rho WT 250 and CPD corrugated printer. Including the Rhotex printers Durst has sold 200 Water Technology enabled machines, but only five otherwise "as they're still in field tests."
Gamper says: "We won't drop UV ink, but Water Technology opens new applications in areas where environmental concerns are important. I think that further down the line it will become a 'must have', but when that will be depends on how the markets develop."
"If environmental regulations demand it, it will happen more quickly - after all, it's a question of how much it makes sense for a PSP to invest in the technology."
At Durst there's plenty of continued R&D surrounding Water Technology. As Gamper points out: "There are still a lot of problems that can be solved in the area of inks for large-format systems. We're in field tests now for instance to optimise the adhesion process so that it works with more media etc."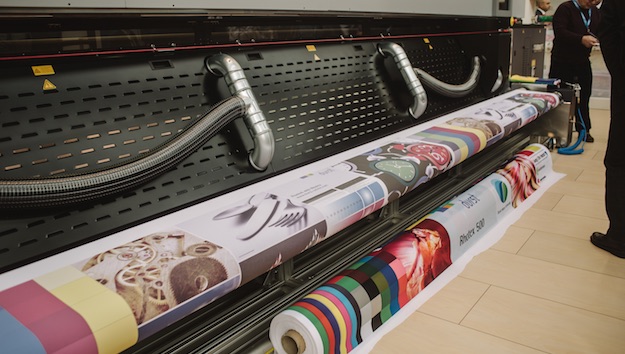 Durst used FESPA Digital 2016 to launch the Rhotex 500, the world's first 5m-wide dye-sublimation printer for the seamless production of soft-signage and fabrics.
But there are other key focus areas too when it comes to large-format R&D. "Large-format inkjet is coming out of baby shoes when it comes to Industry 4.0 and the focus now is on creating efficiencies."
"We don't need another speed bump because the machines in the market are generally considered fast enough. And print quality is established. Plus, a lot of capacity has been installed over the last couple of years, and people don't know what is coming around the corner, so what we are seeing is a focus on anything that creates business efficiencies," outlines Gamper.
"PSPs want machines to run for longer with less need for attendance and the whole workflow issue is now really up there, so there's a shift towards software and workflow rather than machinery development.
"Also, in large-format in the last few years a lot of players have concentrated into bigger groups and there's a need to look beyond the actual system to things like networking. We are at a point where large-format is becoming a mature market and so the R&D focus is now on inks yes, but also very much on surrounding systems.
"At Durst, we will certainly look at new growth markets, but in large-format we will also continue to be innovative because there's still a lot to be done."
Interested in joining our community?
Enquire today about joining your local FESPA Association or FESPA Direct