Industry
Dover buys Caldera Graphics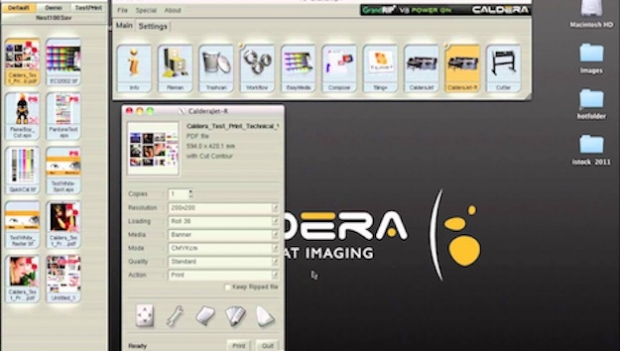 Dover has announced that it has acquired Caldera Graphics for approximately €35 million, including an amount related to achieving certain performance metrics.
Dover Corporation was a $6.8 Billion company in 2016, with global holdings served by almost 29,000 employees. The company's holdings are in four key areas: energy, engineering systems, fluids, and refrigeration & food equipment.
Over the past few years Dover has set its sights on the digital printing market and its related growth opportunities. This strategy has resulted in several acquisitions of which Caldera is the latest one.
Preceding this acquisition Dover acquired
MS Printing
, a manufacturer of textile printing solutions in February of 2014) and followed this with the acquisition of
JK Group
, a manufacturer of inks for the textile industry, in October of 2015.
These acquisitions of inkjet printing and inks companies were key to developing a value chain in digital printing, but one aspect was missing; workflow. The Caldera acquisition helps round out the solution set.
Based in Strasbourg, France, Caldera has been developing digital front-end solutions for wide format printing for over 25 years. Caldera provides a high-end color management, production management tools, web-to-print, automation and connectivity to most wide format type printers in this industry segment.
Over the past few years the Caldera team has focused on the demands of the sign & display industry and has begun to embed tools for advanced workflow solutions beyond simple RIPping and color management.
The company has added job management, accounting, and production dashboards that allow print service providers to evaluate their production environment from job timing to ink consumption.
Caldera also has begun to add solutions for emerging opportunities in industrial print segments and now offers solutions for textile printers and mixed environments for digital displays are in use side by side with printed output.
Following the acquistion, Caldera will operate within Dover's Printing and Identification platform, alongside MS Printing Solutions ("MS") and the JK Group serving the global digital textile printing market.
This acquisition will benefit both companies. Dover now has a workflow solution that integrates well with its existing assets, and through Caldera's industry network they gain access to other markets.
Caldera now benefits from the strength and market development capabilities of a large organization that sees digital printing in the graphics, industrial, and decorative markets as strategically important for future growth.
Dover's president and chief executive officer Robert A. Livingston said: "We are pleased to have Caldera join Dover as we extend our already strong position in digital textile printing, which began with the acquisition of MS and recent purchase of the JK Group."
"Moreover, this transaction, following our recent AWTI and Fairbanks acquisitions, demonstrates our desire and commitment to grow our software and service offerings as we continue to deliver expanded differentiated solutions to our customers."
About Dover
Dover is a diversified global manufacturer with annual revenue exceeding $7 billion. It delivers innovative equipment and components, specialty systems, consumable supplies, software and digital solutions, and support services through four operating segments: Energy, Engineered Systems, Fluids, and Refrigeration & Food Equipment.
Dover combines global scale with operational agility to lead the markets we serve. Recognized for our entrepreneurial approach for over 60 years, our team of 29,000 employees takes an ownership mindset, collaborating with customers to redefine what's possible.
Interested in joining our community?
Enquire today about joining your local FESPA Association or FESPA Direct