Industry
CMYUK partners with HP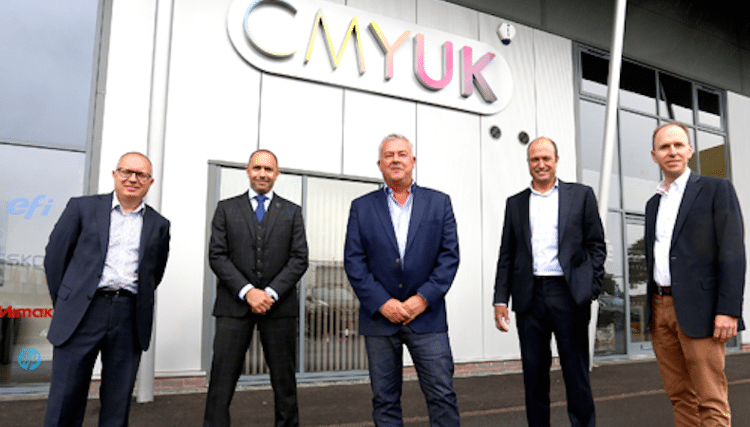 HP has seized an opportunity for its large-format printers, by announcing a new partnership with CMYUK.
CMYUK will be offering HP's full range of large-format flatbed and latex printers. HP believe that this will allow them to operate more in the textiles, decoration, and fashion market, which is a "fast-growing" area for printers.
On the appointment of CMYUK, Phil Oakley, HP's UK and Ireland country manager for large-format printing solutions, comments: "We've chosen to partner with CMYUK for three key reasons: their knowledge of the industrial inkjet market and sales coverage is excellent; they have experienced applications specialists in place to advise current and potential customers on the versatile range of applications our printers can be used for; and finally, with their state-of-the-art demonstration facility, they are able to showcase the entire printing process, from workflow software and RIPs through to printing and finishing."
Under the terms of the agreement, CMYUK will sell and support the full range of range of HP large format flatbed printers and HP Latex printers including: the HP Latex 315 Printer / Print & Cut solution; HP Latex 335 Printer / Print & Cut solution; HP Latex 365 Printer; HP Latex 560 Printer; HP Latex 570 Printer; HP Latex 1500 Printer; HP Latex 3200 Printer; and the HP Latex 3600 Printer; HP Scitex FB550 Flatbed Printer and HP Scitex FB750 Flatbed Printer.
Phil Oakley continues: "We see a huge growth opportunity for our large format printers, especially within the decoration, textiles and fashion marketplace. With the latest generation of HP Latex inks, we've made significant advances in print durability and scratch resistance. This makes bespoke textile applications a reality for all types of print businesses and has led to channel development with existing partners and the recruitment of new ones."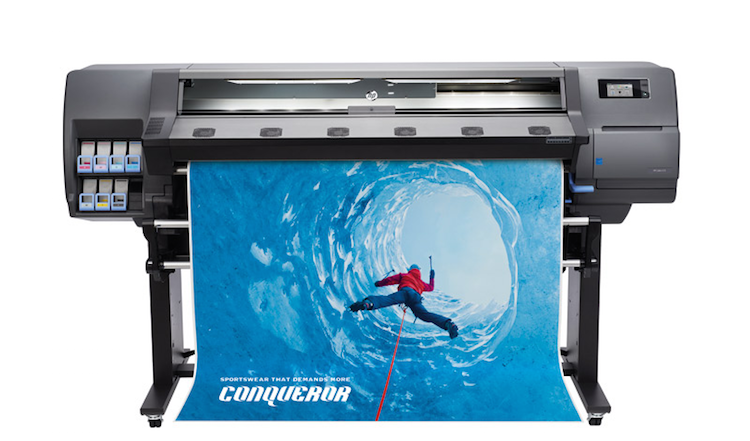 CMYUK will sell the HP Latex 315 along with other printers in the range
"CMYUK are very innovative in their approach to market development – with their recent CSAF initiative being a case in point – and go out of their way to help their customers. We're very much looking forward to working with the team to help more and more print businesses expand their offerings and enter the fast-growing textiles and fashion marketplace."
Robin East, group director at CMYUK, adds: "Since the launch of HP Latex technology in 2009, HP's constant innovation and development have led to it becoming the preferred solution for many applications. Many of our customers are now requesting to implement HP Latex into their production facilities to sit alongside other printing technologies, assisting in widening the material portfolio and applications they can offer."
"We are very excited to be demonstrating HP Latex as a perfect solution for producing premium finishes with many of our soft textile, décor and design materials from our extensive range. For many customers buying this technology specifically for these applications, our proven materials not only ensure 'best price policy' but significantly reduce their monthly finance cost with our innovative CSAF* reward scheme.
"At our Shrewsbury showroom, we will integrate the HP Latex portfolio and clearly demonstrate the benefits to customers. Dates for product open days and product training will be announced in early August."
HP to inspire print providers at FESPA Mexico 2017
HP is just one of a host of industry heavyweights that will be in attendance at FESPA Mexico 2017 and has committed to taking one of the largest stands at the show, with visitors able to find the company at booth D20, alongside the likes of Epson, Grupo Lozano, Celupal, Caldera and MS Printing Solutions.
Taking place from September 21-23 at the Citibanamex in Mexico City, the exhibition will play host to many major brands from across the global market.
For more information on the event, the companies that will exhibit and to sign up to attend as a visitor, please visit: www.fespamexico.com
Delegates can save the entry fee to the exhibition by registering via the website and quoting reference code: MEXH718. Discover how a visit to FESPA Mexico can benefit your business and register today.
Interested in joining our community?
Enquire today about joining your local FESPA Association or FESPA Direct