Industry
CMYUK experiences a 30 per cent increase in sales during lockdown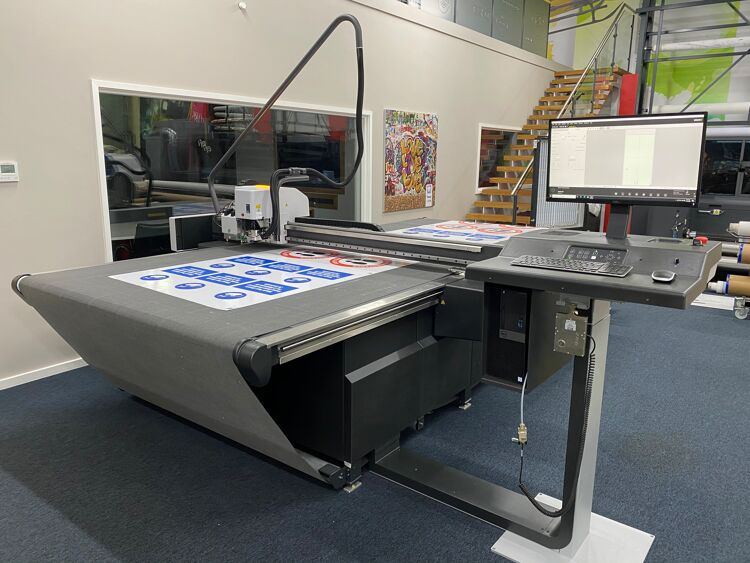 Between the Lockdown period of May to the end of July, CMYUK has experienced a 30 per cent upsurge in sales for its ESKO digital cutting tables.  
The driver for this has undoubtedly been the huge demand in social distancing signage for floors and walls. The sheer functionality of the digital cutters and their unique modular toolsets meant that many customers had the means to expand beyond their volume signage finishing to producing vital PPE equipment such as visors, facemasks, and aprons. Many customers used the ESKO's dedicated 1Kw router tool extensively to produce a variety of clear protection sneeze screens and countertop guards that you now see in shops.

During Lockdown customers were using the conveyorised bed to automatically load substrates to minimise the amount of human contact between the operator, material, and final product.

As ESKO tables are modular and come with the Multi-Cut Tool Head as standard, customers can buy extra tools when required and can adapt very quickly from what would be a traditional market into doing something far more specialised.

ESKO cutting tables have allowed many CMYUK customers the ability to provide new applications that only four months ago would not have been imaginable. The rise of the 2D football crowd is a good example of this, where individual life-sized corrugated cardboard cut outs of the heads and shoulders of football fans have been created to fill stadiums.

CMYUK ESKO customers have reported unprecedented volumes of work during the lockdown period, particularly with floor graphics. The ESKO i-Cut Suite software has been invaluable in handling this. Regardless of the type, source, and variety of job information, this software tackles all workflow bottlenecks from pre-flighting PDF files, prepping graphics, creating layouts, and minimising wastage, printing, and finishing in perfect registration.

The rotary cutter tool is designed to cut fabrics – perfect for the cutting of aprons and facemasks made from porous breathable materials. Traditional knife cutting can't handle these types of fabrics, as they are susceptible to snagging, whereas a rotary cutter pins the material down while it quickly and accurately cuts.

Robin East, Group Director at CMYUK said, "CMYUK is the exclusive distributor of ESKO Kongsberg digital cutting tables in the UK. This finishing equipment has almost gained iconic status and for good reason. Regarded as the ultimate in precision engineering, the impressive functionality of these cutters makes them an exceptionally versatile piece of equipment. Throughout Lockdown ESKO equipment has been repeatedly acknowledged not just as a lifesaver, but as a business enhancer. Print Service Providers are investing in them because they are vital to the future well being of their businesses.

"We are getting a number of enquiries now from businesses who are taking advantage of the last weeks of the government-backed CBILS Asset Management facility to invest in ESKO cutting technology to ensure maximum business resilience and flexibility in the months and years to come."

Interested in joining our community?
Enquire today about joining your local FESPA Association or FESPA Direct