Industry
CMYUK and 3 Sixty meet the demand for floor graphics during lockdown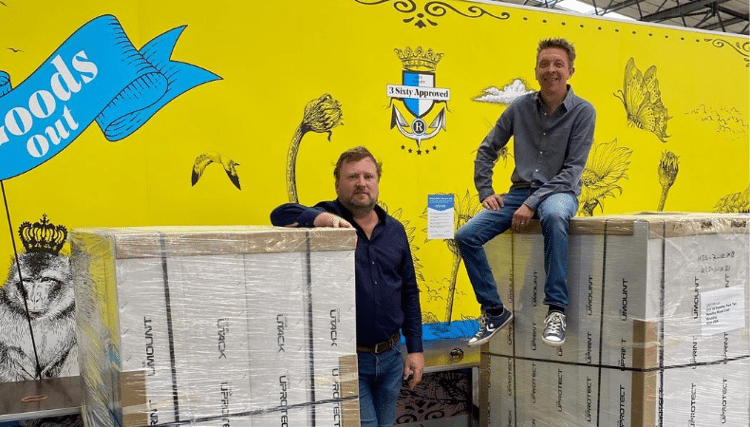 During lockdown, 3 Sixty a Cardiff-based wide format digital print business saw an increase of its floor graphics production by 80 per cent, equating to volumes of up 100,000 floor graphics per week "a colossal rise," says Richard Inkin, the company's Managing Director. 
Unlike many printers, who prior to lockdown rarely had the demand for floor graphics, 3 Sixty has always enjoyed a reputation for the application.

"We've always been really strong on plastics and adhesives with floor graphics being the perfect example," says Richard. "Even nine years or so ago with an HP printer bought from CMYUK, we were producing floor graphics back then and they have always been a compelling part of what we offer."
Floor graphics for Lockdown
Throughout the Lockdown period, CMYUK helped to ensure that the company could keep on top of the rapacious demand.

"The availability of the floor graphic material was the most challenging aspect and working with CMYUK we were never in a position where we did not have stock," says Richard. "We were having to plan 3 weeks in advance but even then when a substantial order hit us unexpectedly, CMYUK pulled out all the stops to supply us with material when it looked near on impossible."

Pre-COVID, 3 Sixty printed to a wide array of materials using Dye Sublimation process for polyester fabrics, wood and specialised aluminium and on the UV side printing fabrics, vinyls, magnetics and rigid and roll to roll PVC's but for the first two months of the Lockdown, floor graphics materials dominated demand.
During Lockdown, 3 Sixty has largely printed interior floor graphics, purchasing large volumes of materials from CMYUK. These have included CMYUK UTACK Multi-Surface Textile and CMYUK UProtect Sand Textured laminate.
CMYUK UTACK Multi-Surface Textile is a unique adhesive coated textile designed for indoor and outdoor wall and floor graphics. It works extremely well on carpet, wood, tile and concrete surfaces and leaving no residue. It is also anti-slip to R12 standard and has F3 and M1 fire certifications.
CMYUK UProtect Sand Textured laminate is a clear matt embossed PVC over laminating film. With minimal glare and coated with a permanent acrylic adhesive, it is suitable for over lamination of all ink types including UV inks. It has a rough texture, excellent anti scuff properties, BS476/R9 slip and Class 0 fire rated for 6-month indoor use.
Supplier relationship
3 Sixty has remained open throughout Lockdown. Until mid-April it operated with 20 per cent of its workforce, after which, the about 80% was brought back to work.

"Our figures have proven that this decision was right – to support our clients during this worrying time was important to us as we have always provided our clients with the best possible service," says Richard. "Protecting our staff during this time has been at the forefront of our business process and we changed protocols throughout the business to make sure that we protected our staff at all times," he adds.
One of the main reasons that 3 Sixty was able to operate throughout Lockdown and rise-up to meet demand was because of its belief in the power of three – supplier, client, and printer.
"Both our clients and our suppliers have been key to 3 Sixty since we set up ten years ago. We work exceptionally closely with all our suppliers to make sure both parties gain out of the relationship," says Richard.

"Understanding how they work and their challenges is as important to us as understanding our own to make sure continuity of supply remains constant.

"We're able to scale up because of our knowledge, our relationship with CMYUK, our volume buying power and the rates that it's given us. It all comes down to that three-way partnership between suppliers clients and the printer," he adds.

Its continuity of supply and the fact that the company remained open throughout this period has bought in some notable large retail clients. "It's been word of mouth," says Richard. "These customers might have struggled to keep getting their floor graphics from their existing suppliers, but the first questions every time have been, are you open? Have you got the material? What is your price? What are your lead times? And obviously we have provided favourable replies."

Floor graphics aside, CMYUK has worked with 3 Sixty for almost a decade, supplying it with printer hardware and inks, and in the last two to three years a wide range of materials for different applications including textiles for its dye-sublimation output.

"I have known CMYUK for a long time,' says Richard. "Its openness, willingness, and general servicing are second to none. Our account handler Damien Clarke is brilliant."

Has Lockdown taught Richard any lessons? "Control of overheads is key and not to let sales run the business. Clients, staff, and suppliers all need to work together to make any business work. These have always been our key objectives and this pandemic has hopefully proved that our focus on these is right," he says.
Interested in joining our community?
Enquire today about joining your local FESPA Association or FESPA Direct