Industry
Canon launches Océ Arizona 1200 series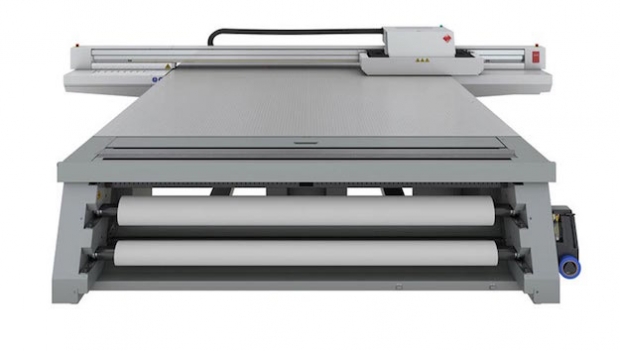 Canon has announced the launch of three new Océ Arizona UV flatbed printers, which offer significant improvement in quality, versatility and ease of use. 
The Océ Arizona 1240, 1260 and 1280 models are ideal for businesses in the sign and display industry, speciality print producers, reprographers and photo labs, and print at up 35sqm per hour in express mode.
This is the fourth generation of Océ Arizona machines, of which 5,000 have been sold worldwide. The range borrows features from the 6100 series launched at FESPA 2015 in Cologne and introduces a number of new features. There are two bed sizes: 1.25x2.5m and 2.5x3.08m and an additional roll media option for flexible media up to 2.2m-wide.
According to the company, the true flatbed architecture of the new series has been designed to deliver the most versatile platform in wide format printing. Print service providers (PSPs) can print directly to unusual materials with varied shapes such as canvas, wood, ceramics or glass and are able to print multiple times in perfect registration for high density or textured applications, such as packaging or wall cladding.
A stronger vacuum system provides reliable drawdown of even warped, rigid media, whilst the new UV curing system reduces surface heat for printing up to the thinnest, most heat-sensitive media, making it a perfect solution for retail displays and POS signage.
For PSPs looking to increase their overall production capacity or target higher quality applications and markets, the Océ Arizona 1200 series is an ideal addition to their fleet that delivers quality, versatility and reliability whilst remaining easy to use.
The intuitive user interface archives printed jobs for later reprints and the quick-change ink system automatically prevents the user from loading the printing incorrectly.
The devices use up to six-colours and can also be equipped with white and varnish. The optional addition of light cyan and light magenta ink enables superior print quality for photographic and fine art applications.
Both printers use the award winning Océ VariaDot imaging technology to produce sharp text and lines, alongside smooth gradients and solid colours. Offering the best ink economy in the market, with an average 8ml used per m², the Océ Arizona 1200-Series is ideal for high quality printing at a competitive price point.
Pierre-Olivier Esteban, European TDS/DGS Marketing Director at Canon Europe, commented: "There is an enormous opportunity for mid-volume PSPs to continue growing their business – whether they are focused on graphical communication, packaging, industrial printing or retail."
"However, in order to remain competitive, they must be primed to deliver a range of high quality products, quickly and cost-effectively. The Océ Arizona 1200 series was designed and developed specifically with these requirements in mind."
"The result is an extremely high quality, robust and reliable machine and a testimony to the innovation and expertise behind Canon's line of products within this sector. The wide format market is growing and we are committed to helping our customers grow alongside it, every step of the way."
Canon has also launched imagePrograf iPF770 MFP and iPF770 MFP L24, two new entry-level wide-format multi-function printers aimed at office users in sectors such as construction, engineering and architecture.
The company will be exhibiting its newest technologies as well as discuss the latest trends and developments at FESPA Digital 2016, from 8-11 March in Amsterdam.
Visitors will see a large range of applications being produced on-stand, as well as being able to explore the opportunities in a broad range of interesting and lucrative markets.
To register for FREE to attend FESPA Digital 2016, please use the promo code ADOZ0101. Your ticket will include access to FESPA Digital, European Sign Expo, FESPA Textile and Printeriors 2016. Online registration will close on the 7th of March and tickets on the door will be charged at €40.
Interested in joining our community?
Enquire today about joining your local FESPA Association or FESPA Direct