Industry
Canon focuses on UK growth with new production showroom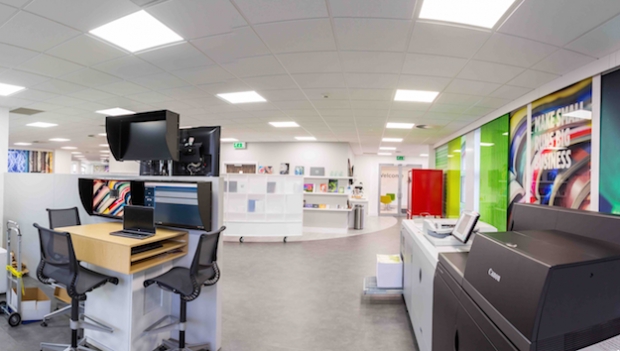 Canon has moved to strengthen its position in the UK print market by opening a new production showroom facility in Birmingham, England.
Located near to Birmingham International Airport, the manufacturer said that 'The Centre' has been designed to help new and existing customers learn more about how Canon technology can grow and transform their businesses.
Visitors to the facility will be able to view at least 14 Canon products, such as the imagePRESS C10000VP model that can print at speeds of up to 100 pages per minute. Also set for demonstration at The Centre is the Arizona 1280GT UV flatbed printer, as well as a range of third-party finishing devices and 3D print solutions.
In addition to technology, Canon will use the new showroom to stage a series of networking events, training courses and partner events, where attendees can find out more about the latest developments within the company.
Adam Poole, business-to-business marketing director at Canon UK, said the site will form a "key part" of the manufacturer's growth strategy in the UK moving forward.
"We're delighted to be opening this new facility; at Canon we are committed to working collaboratively with our customers, helping them to realise, understand and exploit the opportunities available in print," Poole said.
"The Centre will play a key part in our offering and enable us to demonstrate the possibilities and how best to evolve and grow their business.
"Professional printers face fierce competition and customers have high demands. However, print is now more powerful than ever before and The Centre will help provide support and expertise.
"We look forward to welcoming new and existing customers and partners to this fantastic venue."
The opening of The Centre comes at a busy time for Canon, which is currently preparing for its appearance at FESPA 2017 next month.
Running from May 8-12 in the German city of Hamburg, the show, alongside the co-located European Sign Show and Printeriors, will welcome a host of major brands from across the global industry.
Canon will be based on Stand B55 in Hall A1 of the main FESPA 2017 show and will display a range of print products including the Arizona 1280GT UV, which will also take centre stage at its new site in Birmingham.
Other solutions that visitors can view on the Canon booth at the show include the imagePROGRAF PRO-6000S, which can print large-format work in widths up to 60 inches, as well as the imagePROGRAF PRO-4000, which has a maximum print width of 44 inches.
For more information on the show, the companies that will exhibit and to sign up to attend as a visitor, please visit: www.fespa2017.com
Interested in joining our community?
Enquire today about joining your local FESPA Association or FESPA Direct