Industry
CANAPA Paper Technologies will exhibit at FESPA 2019 with its smart sublimation papers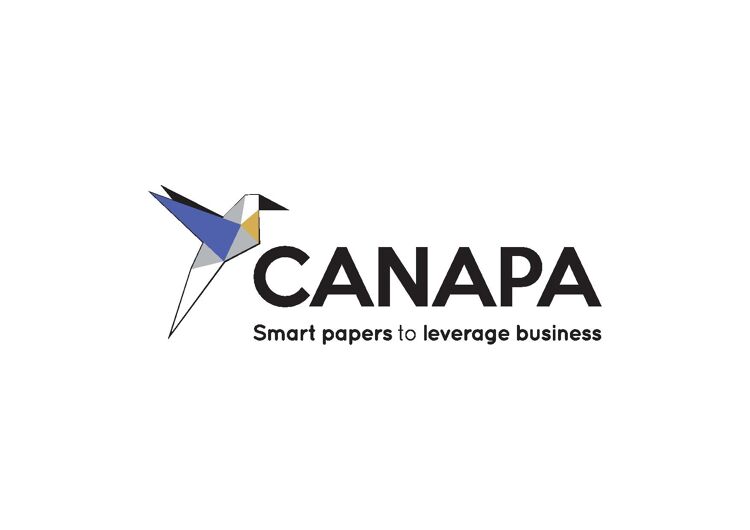 CANAPA Paper technologies will meet its visitors with the sublimation paper range it has developed according to needs of textile manufacturer at the Global Print Expo 2019.
The Global Print Expo 2019 will host visitors from around the world. Aiming to respond to high quality sublimation paper needs of textile print manufacturers who visit the fair, CANAPA Paper Technologies will host its visitors this year at stand D18 in Hall B6.
CANAPA this year will meet its visitors with a brand new identity
CANAPA Paper Technologies will meet the FESPA visitors with its renewed corporate identity. The company's new slogan "CApture NAture on PAper" is combining CANAPA's nature friendly and environmentalist manufacturing approach with the creative and innovative character of the textile sector it gives service to. Focusing on a more innovative and sustainable quality mission, the company, with its new identity, is focusing on a more creative, innovative, higher quality, more environmentalist and sustainable manufacturing understanding with the sublimation transfer papers used in the textile printing sector.

"Nature" expression used in CANAPA's new identity has two different meanings. While it represents authenticity that comes from nature of paper, creative power, quality obtained and being unique; on the other hand it is also emphasizing CANAPA's environment friendly manufacturing. CANAPA sublimation papers are manufactured with a raw material acquired from industrial trees grown in Scandinavian region. Paper raw materials, obtained from these forests only grown for industrial means and not harming the natural ecosystem, and also the transfer paper raw material is continuously obtained from the same forest. This way, CANAPA sublimation transfer papers always maintain the same quality. This enables the textile print manufacturer to obtain the same print quality in all its productions and attain a standard and stable print quality.
Meet the CANAPA Ventus and Vivus series
CANAPA's product range is entirely renewed. The new "Ventus" and "Vivus" series sublimation print papers are offering high quality solutions for different textile applications like ready to wear, sportswear, interior decoration, flags, home textiles, textile based advertisements. Answering the needs of all digital textile print manufacturers with its different weight, size and coating options, the product series guarantees high quality stable prints with its fast drying period, high transfer rate and high ink absorption. CANAPA Paper Technologies will meet the visitors with its brand new identity at the FESPA 2019 Fair and will introduce its 18 different sublimation papers to the visitors throughout the fair.
What do CANAPA sublimation papers offer to textile print manufacturers?
The biggest advantage of CANAPA sublimation papers that comes forth is its stronger paper base structure compared to many of its equivalents in the market, its stable print quality and its double layer coating technology. Tests done by R&D engineers prove that CANAPA transfer papers have stronger paper base features regarding measurement criteria such as bursting strength, bursting index, breaking strength and bending resistance compared to known European, Korean and Chinese brands. Moreover, CANAPA base papers having less additives show that it has a more pure paper structure and thus rate of variance in paper quality is much less.

Strong structural features of the base paper of CANAPA transfer papers correlate closely with the raw materials used in manufacturing of CANAPA transfer papers and their manufacturing process. CANAPA sublimation transfer papers are manufactured from bleached pure cellulose and contain entirely prime fibers. Obtaining of these fibers from slowly grown Scandinavian forests come forth as primary component that strengthens the structure of the base paper used in manufacturing of CANAPA transfer papers.

The most important of the many advantages all the features provide is its elimination of the problems faced during printing. Today, one of the most significant problems faced during printing is the wrinkling problem caused due to transfer paper not having a strong structure to carry sufficient amount of ink. The biggest problem the transfer paper which coils up because it cannot carry the ink is head collisions. This causes colliding head to leave a mark on the print and even worse, technical malfunctions which may require full replacement of print heads which cost thousands of dollars and also loss of time.

One of the biggest advantages of CANAPA sublimation transfer papers is also ensuring these printing machines to function on designs where the most dense ink consumption is needed without facing any problems. Dense ink carrying ability of strong base paper structure of CANAPA transfer papers prevent head collisions, thus; prevent material waste and therefore increase production capacity.

FESPA Global Print Expo 2019 is Europe's largest speciality print exhibition for screen and digital wide format print, textile printing and signage solutions. Visit CANAPA at stand D18 in Hall B6at the Messe Munich between the 14-17 May 2019 and discover the available features. Please use promo code FESG902 to register for free.
Interested in joining our community?
Enquire today about joining your local FESPA Association or FESPA Direct