Industry
C3 Midlands chooses Dyss to banish bottlenecks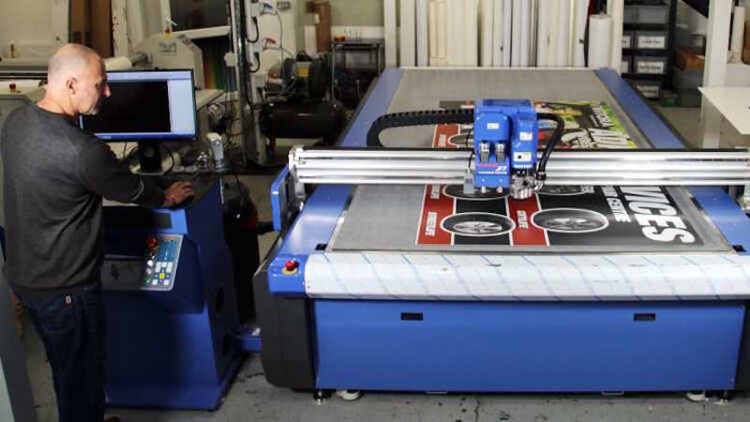 UK-based C3 Midlands has invested in a Dyss X7-1630T digital cutter from AG/CAD to eliminate cutting and trimming bottlenecks.
Formed over fourteen years ago and currently operating with two large format SwissQprint UV printers and a number of small roll-fed solvent printing machines, C3 Midlands Creative Design & Print Solutions built its business supplying brochures, fliers, POS displays, exhibition stands, signage.
As the quantity of large scale POS work grew, the volume was pushing the company's 10-year-old entry level KM626 2.5m x1.6m knife cutting machine to its limits.
"Discussing our specific requirements with AG/CAD, they recommended the static bed Dyss X7-1630T with a 3.2m by 1.6m (10'x5') bed, K-CUT Vision system and Kasemake CAD software," said Steve Maycock, production director. '"The Dyss came out top for build quality, robustness, reliability, back-up, software and the ability to integrate with our SwissQprint flatbed printers."
The new cutter was installed in May, and the benefits were instant. Mr Maycock recalled: "Firstly, we wiped out subcontract cutting costs. Whilst the old KM cutter could knife cut Correx, Vinyl, Display board and Foamex PVC up to a limited thickness, customer demands have seen us taking on more Dibond (aluminium composite), Acrylic and thicker Foamex work that we simply couldn't process on the old machine."
"Additionally, we are cutting many other materials, some up to 25mm thick. The Dyss has enabled us to bring all these processes back in-house, halving the turnaround times on jobs that were previously cut externally," stated Mr Maycock. "We have also eliminated upwards of two days of manual cutting every week."
The Dyss X7-1630T specified by C3 Midlands has the two-tool Combo-Head with a third station that currently houses a routing spindle attachment.
"Our Dyss has a very high quality router that handles all of the many materials that cannot be knife cut," explained Mr Maycock. "However, we wanted a future-proof machine so the router is designed to be removable allowing it to be swapped with other tool options as they are developed."
"In our case, we are looking at an automatic adhesive tape applicator tool that is already on the market. This will enable us to add tapes to our FSDU work ready for assembling which is currently a time-consuming manual process. This isn't generally a task you would associate with a digital cutter but AG/CAD has developed it and we will be adding this feature in the future."
"I don't know where we would be without the Dyss," he concluded. "We'd certainly need two extra staff as we wouldn't be able to cope with demand without the cutter. We're open from 7.30am to 5.30pm every day and the Dyss runs constantly for pretty much the whole time."
Interested in joining our community?
Enquire today about joining your local FESPA Association or FESPA Direct