Industry
Brother to demonstrate flexibility at FESPA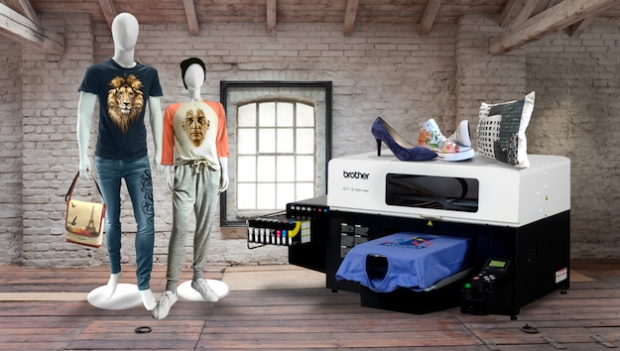 Brother has issued an invitation to FESPA 2017 attendees to visit its stand and learn more about how its direct-to-garment print technology could help improve their businesses.
The digital direct-to-garment printer manufacturer will demonstrate to visitors how its new Camera System and Projection Tools, developed by its partner Brain Industries, can reduce misprints when producing print with the Brother GT3 Series direct-to-garment printers.
Brother will also show off various new options for e-commerce und IOT, such as networked solutions for the production process presented by company partner Smake. Other options include process optimisation by using a barcode system, as well as Same EPS Jump for embroidery and Same EPS Tree as a projection tool.
In addition, on Stand D39 in Hall B6, Brother's dealer Walter Schulze GmbH will be handing a debut to what it said is the world's first self-contained industrial pre-treatment device for the full process of preparing garments, including pre-treatment, drying and pre-pressing of textiles for direct-to-garment printing.
Brother picked out a number of key advantages of using the device, including the fact that it is fully automatic, has a high quality standard, is compact and space-saving, offers high performance in terms of per-hour-productions, while only one operator is required to run the machine, thus freeing up staff to work on other processes.
Visitors to the Brother stand will also be able to view the PRETREATmaker LINE will be shown for the first time at FESPA 2017 in Hamburg.
"Brother will showcase success stories you can virtually touch," the company said in a pre-show statement.
"Learn from successful customers how to create a complete fashion brand with just one printer, see printing on shoes perfected and be fascinated by various printing possibilities when combining direct-to-garment printing with embroidery and foils (ScanNCut).
"New printer platens and other options will give you the flexibility you need for your business. Brother as manufacturer of direct-to-garment printers, with more than 10 years of experience in this field, is your perfect partner when it comes to high-volume productions and/or unique fashion products."
"On our Brother stand, we will gather experts from the complete direct-to-garment sector, successful customers, dealers and specialists for textiles, graphic design as well as software and many more, ready to show you the complete printing process and provide you with useful information for your business – frank and fair."
Register today to visit Brother at FESPA 2017
Industry members that are keen to learn more about the latest print solutions from Brother can visit the manufacturer on the stand D39 in the Hall B6 at FESPA 2017.
Taking place from May 8-12 at the Hamburg Messe, in Hamburg, Germany, the exhibition will play host to many major brands from across the global market.
To learn more about the hundreds of other companies that will exhibit at the show, as well as the conference programme and many other exciting in-show features visitors can look forward to at this year's event, visit the official FESPA 2017 website www.fespa2017.com.
Delegates can save 70€ entry fee to the exhibition by registering via the website and quoting reference code: FESG702. Discover how a visit to FESPA 2017 can benefit your business and register today.
Interested in joining our community?
Enquire today about joining your local FESPA Association or FESPA Direct