Industry
Bright Young Things Take Hackney competition winner partners with Mactac Europe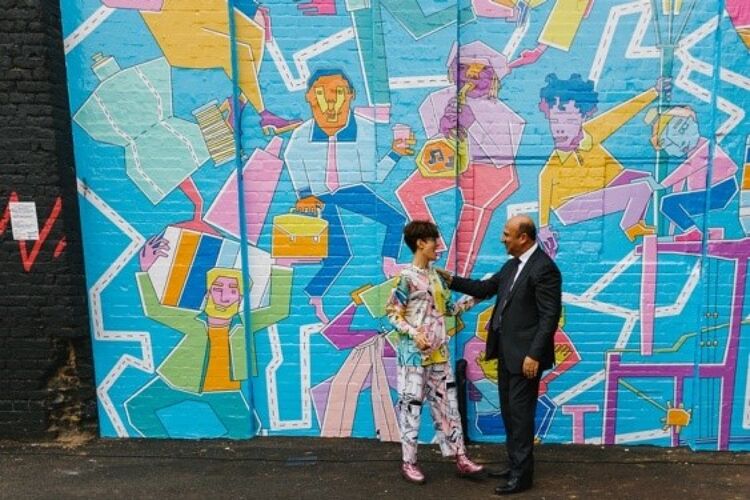 The graphic design competition took place in East London in September. Linea Matei's colourful mural was printed and applied using Mactac's WW (Wall Wrap) 100 Pro.
Originally launched in December 2017, "Bright Young Things Take Hackney" was open to 2016/2017 graduate artists, designers and students studying art and design in Europe. Countries included Cyprus, Turkey, Russia, Ukraine and Israel.

Entrants to the competition created high-impact, large-scale displays for exterior retail walls.

The winner, Linea Matei attended with her family to see the big reveal of her design on a large outdoor wall located at Bohemia Place in Hackney, London. This was a fantastic opportunity for the young designer to show her work and reveal her artistic talent. Linea works with conceptual and illustrative art, textile print design and workshops. She explores relations, behaviours and cultural norms through her art. Linea explained that her artwork was inspired by the diversity and multiculturalism of the Hackney community. This was expressed in a large-scale mural featuring bright colours to promote love, energy and connection.

Avery Dennison and Mactac Europe's, Creative Director Angus McGuffin said: "The mural, was printed and applied using Mactac's WW (Wall Wrap) 100 Pro. It has transformed the black brick surface of the railway arch into a colourful and meaningful piece of art. The colour and size creates a fantastic instagrammable moment!"

Hackney Walk's Chairman, Jack Basrawy commented: "I believe this installation will be an iconic part of Bohemia Place and will set the tone for the creative and inclusive environment that we are building here. The graphic really has transformed the arch!"

As well as the installation of Linea Matei's mural there was the opening of the pop-up store for the new brand West Carolina. West Carolina was created by fashion designer Ana Carolina who was also a finalist of the Bright Young Things competition. The first collection for West Carolina was designed for the creative self-made woman. The collection was titled "Wavy" and is inspired by both colour and movement and is made to enhance the wearer's passion for art and expression. The pop-up store was decorated with Mactac wall and window graphics and was located at 103 Morning Lane, Hackney, E9 6ND.

The project and events have been made possible due to the help and expertise of Mactac's design and large format print partner, Onward Display, along with the company's installation partner GESS.

To find out more about the inspiration behind the winning design and to learn more about the Mactac products used at the event visit: mactacgraphics.eu/Bright.
Interested in joining our community?
Enquire today about joining your local FESPA Association or FESPA Direct