Industry
Bend it like ALB at the European Sign Expo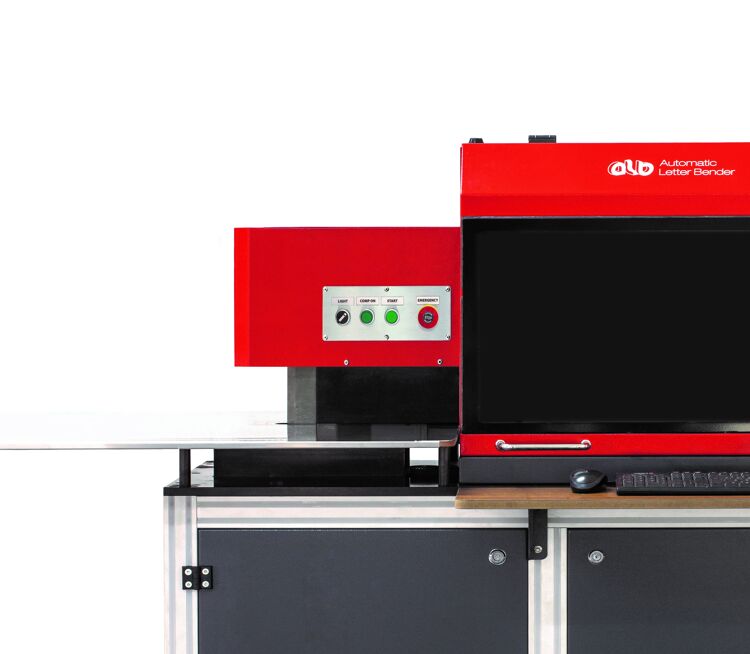 In a special series of articles, FESPA.com speaks to companies exhibiting at the European Sign Expo this year to find out more about the services they offer and what we can expect from them at the event in May. In this article we speak to ALB.
With just two months to go until to this year's edition of the European Sign Expo, the industry is starting to get a feel for the key talking points and trends that will form the topic of many discussions at the event. From transitional sign-making techniques and LED, through to wide-format print and digital signage, there is plenty up for discussion this year.
The European Sign Expo runs alongside FESPA 2018 in Berlin, Germany, from May 15-18 and is due to feature a wide range of exhibitors, each well placed to offer advice and guidance on current market trends.
One such company is Automatic Letter Bender (ALB), which, as its name may suggest, offers a range of bending machines. ALB is also able to provide CNC routers, laser welding machine and accessories for 3D letter production such as aluminium and stainless steel tapes, profiles, adhesives and hand tools.
FESPA.com spoke with Dariusz Wiszenko, owner of ALB, ahead of European Sign Expo to find out a bit more about the business, its services and what we can expect from the company at the event in May.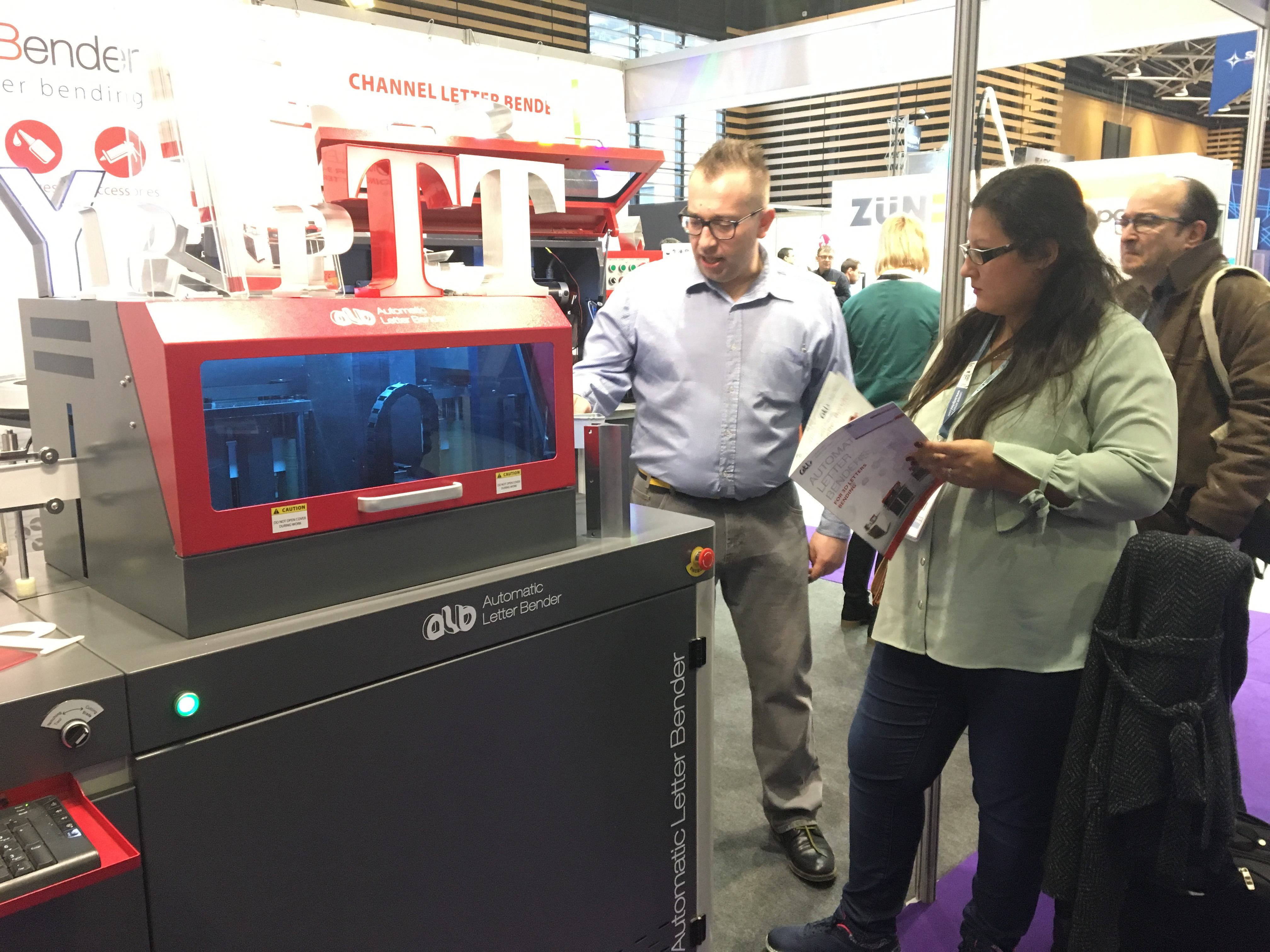 Caption: Automatic Letter Bender says participation at trade fairs like the European Sign Expo are important to meet with new and existing customers.
FESPA.com: Can you tell us about your company and the services that you offer?
Dariusz Wiszenko: Automatic Letter Bender is a leader in the market of bending machines. We offer a complete solution for 3D channel letters production - bending machines, CNC Routers Black Series, laser welding machine and accessories: aluminium and stainless steel tapes, profiles, adhesives, hand tools.
Customers can pick from a wide choice of tapes and profiles, so they can create even the most sophisticated forms of letters or logos using our machines. The quality of both bending and precision is ideal, thanks to cutting technology leaving the edges smooth and aesthetic.
On the market, we distinguish with high-level technology that gives a very good quality and a precision of feeding (± 0,1-0,2 mm) and bending. It means there is a possibility to achieve the same parameters of bending forms.
We offer fully stable machines, guaranteeing long-time of faultless work, easy service, availability of replacement parts of machines and the best quality of materials. Using our machines enhances the company's performance in the production of letters. We help to our customers in every aspects, ensuring mobile and online service, specialist training, technical support and reaching quickly to customers in countries worldwide.
How was the last year in business for ALB and what has 2018 been like for ALB so far?
ALB is developing continuously in order to become abreast of the increasing expectations among our customers. Our priority is to recognise our clients' individual expectations and provide the machines that offer the best solutions.
2017 was very good for us and 2018 has also started splendidly. There are many orders from January from new customers and we see participation at trade fairs as a key way of bringing in new business contacts.
We are aware that in the world of advertising and visual creation of the brand, a good idea, personalisation and the highest quality of production are essential factors. It all contributes to distinguishing our products on a competitive market and attracting the new customers. Automatic Letter Bender ensures this success.
ALB bending machines are famous worldwide; our technology is appreciated in Europe, Asia and Africa. For example we have clients in Spain, France, Greece, Slovenia, Serbia, Montenegro, Romania, Iceland, Norway, Sweden, Lithuania, Latvia, Estonia, Russia, the Middle East and Israel. In 2017, we established a new trade office in Italy, and in March 2018, we also opened a showroom at the office in Birmingham, England.
Why have you decided to exhibit at ESE this year? What are your main hopes and goals for the event?
Developing our company, we believe that participation in trade fairs is very important. It is a very important business platform for meeting our customers and establishing new contacts. At the fair, we can see in what direction sign and logo markets are heading in.
We like a fair atmosphere and are always meet interesting people; it is very important to us to exchange of experiences. The FESPA Global Print Expo and European Sign Expo serve as a centre of a business. Thanks to these events, last year, we won new clients from Germany.
Focusing on your products and solutions, do you have any new launches lined up for this year?
At the European Sign Expo we will be presenting our most universal machines.
First, the ALB-04 UNI 180 is perfect for bending aluminium tapes with thickness 0.4 to 2.0mm and stainless steel tapes with thickness 0.4 to 1.0mm. The ALB-04 UNI 180 uses two cutting systems; an industrial knife for stainless steel and a cutter for aluminium. With this machine, we can bend flat tapes and profiles: F-profile, trigonal profile TGP, Rectangle profile RCP and super letter profile.
Another machine, the ALB-02 COMBO 160, bends aluminium tapes with 0.4 to 1.2mm and stainless steel tapes from 0.4 to 0.8mm. In this case, minimal radius is 3.0mm. The machine also offers two ways of bending: by roller and patting system. The roller bends perfectly curved profiles double folded tape, trigonal profile TGP, rectangle profile RCP and supper letters. The patting system bends flat stripes made of aluminium or stainless steel. Two systems of cutting ensure work with both types of materials.
We also have new machines; the ALB-03 SSA 300. ALB-03 SSA 300 is an answer for customers who want produce very big 3D letters made of aluminium up to 2mm thick and width 300 mm, stainless steel up to 1mm. It's rare to meet such possibility on the market, but our machines gives it.
Generally, we recommend the ALB-03 SSA 300 not only for flat tapes made of aluminium and stainless steel, but to mild steel, cooper and bronze tapes too. The machine is perfect for letters with completed front. This model is upgraded from the previous ALB-03 SSA 180 device and is proof we are alert to customer's needs and creating new solutions for them.
Automatic Letter Bender is just one of a host of innovative companies that will not only be exhibiting at the European Sign Expo this year, but also using the event as a platform to showcase new technologies.
To find out more about the European Sign Expo, see the full exhibitor list and to see information about how you can register to attend, visit the event's official website: https://ese.fespa.com
For free entry use code ESEJ802 when registering.
Interested in joining our community?
Enquire today about joining your local FESPA Association or FESPA Direct