Industry
Beith Digital responds to demand with EFI purchase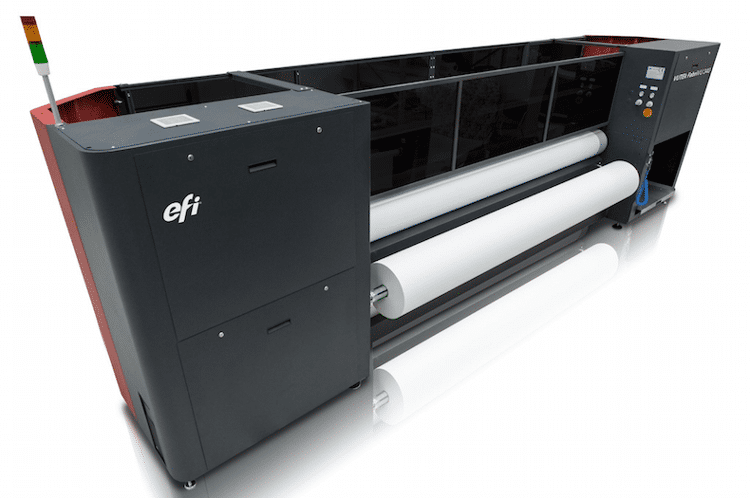 South African print company Beith Digital has invested in an EFI VUTEk FabriVU 340 printer to support its soft signage business and offer its customers a greater range of service.
Already established in the display graphics sector, Beith Digital has witnessed a significant increase in demand for soft signage work and although the firm was able to provide a limited service with an existing EFI VUTEk LED inkjet machine, the new piece of kit will allow it to establish a full offering.
The EFI VUTEk FabriVU 340 is a 3.4m-wide aqueous soft signage printer that is able to produce prints in qualities of up to 2,400dpi. The machine can operate at speeds of up to 500sq m/hr, as well as 250sq m/hr in production image quality mode and 165sq m/r in POP image quality mode.
Devyn Wagner, managing director of Beith Digital, says the new EFI will enable the company to print onto a range of materials traditionally associated with soft signage, including four-way stretch polyester knit fabric and carpet, as well as Texflex and sharkfin banners, telescopics, gazebos, event bins, banner walls, A-frames, cubes and stage backdrops.
Wagner said: "We knew the deadlines for soft signage were just as challenging as with traditional large-format jobs, so we wanted a machine that could perform as fast as our roll-to-roll VUTEk LED machines. EFI's machines are robust and deliver consistently high quality throughout a run, and we knew the FabriVU was going to be as reliable as it is fast."
Wagner went on to say that despite having only been in place for a short period of time, the VUTEk FabriVU 340 has already had a major impact on day-to-day life at Beith Digital.
He said: "We have already penetrated the soft signage market as well as the promotional items, flags and gazebos market, and we are seeing some good growth.
"We were getting 70 percent of our soft signage business from existing clients, but now we are getting up to 90 percent, We now expect to grow even further, for sure."
The investment comes after EFI this month completed the acquisition of Escada Systems, a provider of Corrugator Control systems for the packaging market. Based in the UK, the company also has operations in the US and has a wide range of customers on its books.
Gabriel Matsliach, senior vice-president and general manager, EFI Productivity Software, said that the deal will help to establish EFI as a "one-shop-shop" for packaging solutions.
Matsliach said: "The addition of Escada makes EFI a one-stop-shop for enabling packaging companies to improve the quality, efficiency and profitability of the corrugation process, using their existing corrugators."
Interested in joining our community?
Enquire today about joining your local FESPA Association or FESPA Direct