Industry
Agfa unveils new UV LED printers at FESPA 2017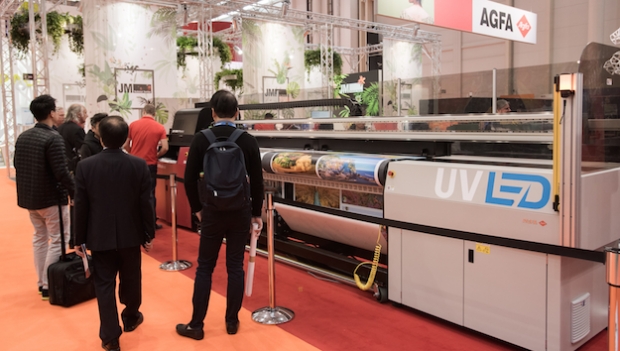 At FESPA 2017, Agfa launched its new Jeti Tauro H2500 LED UV printer, featuring an integrated roll-to-roll system for continuous and automated media feeding. 
The 2.5m-wide roll-to-roll hybrid UV printer can reach 275m2/hr and prints in six colours with optional white or primer.
Agfa product manager Reinhilde Alaert said the UV LED lamps come with a number of economical and environmental benefits:
"LEDs have minimal heat output, for example, which allows for printing on thin heat sensitive media such as styrene sheets and rolls. They also ensure very stable bi-directional calibration and higher system up times (no warming up or cooling down time) on top of the significant power savings. All of that has a positive effect on the ROI of the system," Alaert commented.
Agfa was also showing other UV inkjet printers with LED curing, including its new Jeti Ceres RTR3200 LED, Jeti Mira 2732 HS LED, and Anapurna H3200i LED.
Making its European debut, Agfa Graphics' new soft signage dye-sublimation printer Avinci DX3200 was also on show at FESPA 2017.
The 3.2m-wide machine enables users to create large-format soft signage prints at 1,440x540dpi. Agfa declined to reveal the price of the machine, which is available for order immediately.
The Avinci features six channels, CMYK plus light cyan and light magenta, and uses a fixed 14pl droplet size that offers a wider colour gamut. Printing at speeds of up to 173sqm/hr for flag applications and 60sqm/hr in high-quality mode, the machine can handle a variety of polyester-based applications, such as banners, POS, outdoor graphics and flags.
Alaert said: "The reason we bring this on to the market is that we have seen that many of our sign and display customers are looking for different technologies, especially one like this that brings soft signage.
"Soft signage typically has very vivid-like images in backlit or display, the softness of the fabric itself gives a different impression than what you have with paper or with typical media that you find in a UV printing environment. That is the reason why we started in this market segment and here our unique selling point would be low ink usage combined with productivity and excellent images."
Agfa's Asanti 3.0 workflow software, which was launched in March and is integrated with the machine, uses an algorithm to drive its low-waste colour management platform.
It also has automatic pre-flighting and integrated tiling, which means oversized banners or billboards that extend beyond the maximum printing width of the Avinci can still be produced. It creates mounting instructions and adds necessary marks to tiled prints to help operators mount swiftly.
Miss any of the action from FESPA 2017? Catch up here with full show coverage.
Interested in joining our community?
Enquire today about joining your local FESPA Association or FESPA Direct